| | |
| --- | --- |
| Renowned Israeli conductor inspires Myanmar with an appreciation of music | |
Israeli pianist Maestro Nir Brand visited Myanmar in February and gave a series of special performances in the country, organised by Israel's Embassy in Myanmar.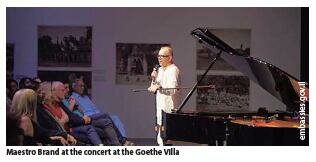 Brand is a conductor of orchestras, a presenter on the Israeli Galgalatz radio station, and an educator with a love of classical music.
On 12 February he performed in a concert titled Life is a Concert at the Goethe Villa, co-hosted by the Embassy of Israel and the German Goethe Institute.
The next day he conducted the musical workshop at the National University of Arts and Culture, followed by an evening performance at the Novotel Hotel Max for an "Israel Tourism Celebration" event. Then on 14 February he gave a special performance for children at Yankin Children's Hospital.
Brand regularly travels around the world, promoting music to people in less fortunate regions and countries. He was born in Beersheva to Romanian parents, and was raised with a profound appreciation for music from an early age. "My mother and grandmother insisted that I nurture my talent and pursue piano lessons," he said. "My parents both loved the piano, but had no means to learn how to play in Romania. They invested in my learning, and my grandmother would accompany me to lessons regularly, taking two buses to get me there." He added: "Because of their commitment to me despite our modest circumstances, I feel I must make an effort to change the world through music and bring its beauty to others."
Please login or register to see the full article