| | |
| --- | --- |
| China-Israel Spring Festival Celebration | |
A Spring Festival gala was held in March for Chinese and Israeli youths at Kalay High School in the city of Givatayim, Israel.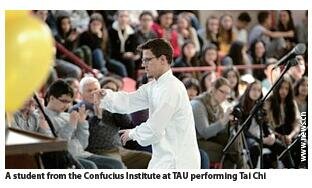 The celebration was organised by the Kalay High School, the Chinese Students and Scholars Association Israel, the Confucius Institute at the Tel Aviv University and the Confucius Institute at the Hebrew University of Jerusalem. The Chinese Embassy in Israel sponsored the event.
The gala event was held in the school's gym, which was decorated with red Chinese knots, lanterns, folding fans and colourful balloons.
The Chinese traditional song Jasmine, performed in Chinese by a young female singer and a band of Kalay High School students, kicked off the festival. Students from the school also staged a dance performance to the cheerful background song Little Apple.
Chinese students presented some traditional music with Chinese instruments, and some opera singing. The event also included a Tai Chi performance from the Confucius Institute of Tel Aviv University and a Kungfu performance by the national martial arts team of Israel.
Please login or register to see the full article