| | |
| --- | --- |
| Art exhibition honours anniversary to Bauhaus | |
An art exhibition and tribute, entitled Less Is More: Israeli Art Homage to Bauhaus, is currently being showcased at the Diaghilev Hotel in TelAviv until end of July.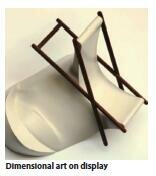 It marks the 100th anniversary of the founding of the Bauhaus school in Weimar, Germany, which combined fine art with craft arts, and influenced both Israeli architecture and design in the twentieth century.
The exhibition is curated by Ilan Wigan with participating artists including: Zoya Cherkassky-Nnadi, Liat Elbling, Michal Levy, Ohad Meromi, Uriel Miron, Hilla Toony Navok and Nahum Tevet.
This exhibition showcases two-and-three-dimensional works which offer a glimpse of the history of Modernism and highlights both the conceptual and formal revolution that the Bauhaus school created and continues to influence to this day. In 2003, UNESCO declared Tel-Aviv's White City neighbourhood a world heritage site due to it featuring the world's largest collection of International or Bauhaus style buildings from the 1930s. There were largely designed by German Jews who had emigrated to escape the Nazi uprising.
Please login or register to see the full article