| | |
| --- | --- |
| InfinityAR joins Alibaba Group's Israel operations | |
Israeli startup Infinity Augmented Reality, based in Ramat Gan, announced on 21 March that it has been acquired by Chinese ecommerce company Alibaba Group.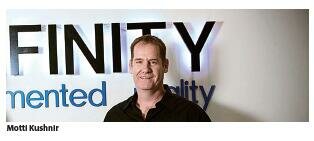 It will join Alibaba's Israel Machine Vision Laboratory after a three-year partnership, a collaborative effort to accelerate the development of frontier technologies, including AR, computer vision and AI.
"We look forward to be joining Alibaba, a world-class, innovative global technology company. Alibaba's expertise in turning technologies into next-generation products will be a great platform for the future technologies of computer vision, AR and AI," said Motti Kushnir, Chief Executive Officer and Co-founder of Infinity Augmented Reality.
Prof. Lihi Zelnik-Manor, head of Alibaba Israel Machine Vision Laboratory, said: "Alibaba is delighted to be working with InfinityAR as one team after three years of partnership. The talented team brings unique know-how in sensor fusion, computer vision and navigation technologies. We look forward to exploring these leading technologies and offering additional benefits to customers, partners and developers."
InfinityAR's research and development team will now be working from Alibaba's lab in Israel, which is one of the labs rolled out by Alibaba's DAMO Academy to explore fundamental technologies such as computer vision and navigation.
Please login or register to see the full article