| | |
| --- | --- |
| Family business educates clients about investing in precious metals | |
Affluent individuals have an abundance of choices for investing their funds, and one alternative or complementary vehicle for building or diversifying an investment portfolio is precious metals.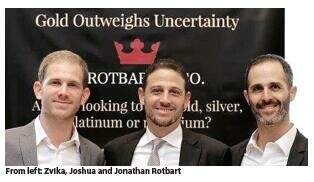 One company that helps such individuals to understand the importance of gold and other precious commodities is J. Rotbart & Co, which recently celebrated its third anniversary in Hong Kong. The company hosted a special reception for invited guests in March.
Israeli-born Joshua Rotbart is the founder and managing partner. He previously worked for Malca-Amit, a secure logistics company in Hong Kong, and has advised hundreds of clients on their portfolios of physical precious metals.
His brother Zvika Rotbart is responsible for business development, and a third brother, Jonathan Rotbart, is a fellow director. Together with their team, the three brothers have quickly established a niche operation, helping high-net-worth individuals, investment firms and private banks to invest in physical precious metals – gold, silver, platinum and palladium.
Please login or register to see the full article