| | |
| --- | --- |
| India and Israel collaborate to boost AI in Indian TB healthcare screening | |
The Global Innovation and Technology Alliance, under India's Department of Science & Technology, and the Israel Innovation Authority, under the Government of Israel, have granted funding to HealthNet Global in India and Zebra Medical Vision in Israel to validate, co-develop and deploy medical imaging Artificial Intelligence (AI) across India and to increase tuberculosis (TB) screening capabilities in rural areas.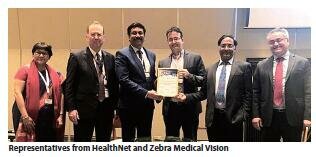 HealthNet Global is part of the Apollo Hospitals Group, one of the first and largest corporate hospital chains in India, with over 70 hospitals and 200 care and diagnostic clinics. HealthNet Global works with Apollo Radiology International by deploying cutting-edge AI systems to increase the efficiency of India's healthcare sector.
Israel's Zebra Medical Vision is a start-up that uses AI technology to help read medical scans, and will collaborate with the Apollo Hospitals network to deploy its technology across the country and collaboratively develop applications suitable for the Indian market.
Zebra and HealthNet Global will get support from the IndiaIsrael Industrial Research and Development and Technological Innovation Fund for the US$4.9 million project to jointly develop and provide clinical validation and evidence of the efficacy of radiology Al-based tools in India.
Please login or register to see the full article