| | |
| --- | --- |
| China-Israel Innovation Hub in Shanghai established | |
In the continuing effort to bolster cooperation between both nations, China and Israel have now officially launched the China-Israel Innovation Hub.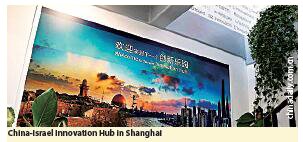 Located at the Taopu Smart City in Shanghai, the complex is intended as a symbol of the two nations' aim of promoting and developing scientific innovation. The hub, which is situated near the Putuo District in Shanghai, will mainly be housing firms and institutions that will work on different research and development projects from both nations.
Different universities, research institutions, and tech firms from Israel will also be invited to set up their respective bases of operations within the innovation hub.
To further spur innovation and research projects, both countries have set up a US$145 million innovation fund, which will be part of the first phase of the hub itself. According to China's Minister of Science and Technology Wang Zhigang, the main goal of the hub is "To promote different breakthroughs and achievements in the science and technology fields."
The innovation hub will also serve to attract financial capital from investors, as well as being a melting pot for top talents from both countries. Wang hopes that the hub will set an example for the rest of the world to promote global cooperation to spur further innovation in various industries. Wang also stated that they are welcoming all scientists, engineers, and businessmen from all over the world to work and invest in China.
Please login or register to see the full article