| | |
| --- | --- |
| IIA announce partnership with Singapore Technologies Engineering | |
The Israel Innovation Authority (IIA), the Israeli government's funding arm for research and development (R&D) and innovation, announced in June a partnership with Singapore Technologies Engineering (ST Engineering), a global tech and engineering group, to scout for Israeli tech.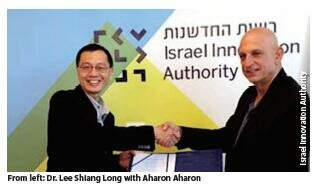 This programme "offers a unique framework for technological cooperation between MNCs and innovative Israeli companies," an IIA spokesperson said.
As part of the deal, the IIA will support ST Engineering by helping to identify tech development,s and scout Israeli companies that fall within its sphere. Funding will be provided for these Israeli startups by the IIA, and ST Engineering will support their testing, marketing, and other global endeavours.
"The Innovation Authority is pleased to announce the first MNC Collaboration agreement with a Singapore-based engineering and technology group, ST Engineering," said Aharon Aharon, CEO of the Israel Innovation Authority, "It will serve to strengthen R&D and commercialisation relationships between the two countries," he explained, noting the agreement is in addition to the SIIRD Foundation (Singapore Israel Industrial Research and Development) agreement between the Israel Innovation Authority and Enterprise Singapore.
"R&D collaboration with the government of Israel marks an important milestone for ST Engineering, as it facilitates our work with the Israel Innovation Authority and leading Israeli companies who can become technology partners for our mobility solutions," said Dr. Lee Shiang Long, President of ST Engineering's Land Systems sector.
Please login or register to see the full article