| | |
| --- | --- |
| Jewish communities in Spain comment on Catalan independence | |
With separatist movements in the Catalan region now in full stride, the main umbrella group of Spanish Jews has blamed separatists for the kingdom's crisis and has declared allegiance to the constitution.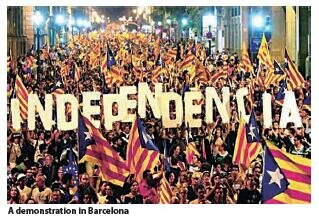 The Federation of Jewish Communities in Spain, or FCJE, did this in a statement on 27 October, released just hours after Catalan lawmakers voted to declare independence from Spain, as Madrid vowed in turn to "restore legality" and quash
the region's secessionist bid.

Expressing "deep concern over the grave national crisis", the federation stated that the crisis was "caused by the unilateral declaration of independence" of the regional government of Catalonia through its parliament.

"As Spanish Jews we wholly support the Spanish Constitution, the rule of law as applied in accordance with the law, solidarity and equality between all Spanish people and the unity of Spain," read the statement. Authorities will "restore normalcy in Catalonia", continued the anti-secessionist statement, along with "fratemity and peaceful coexistence as Spanish citizens".

The Madrid-based federation's statement notwithstanding, the Jews of Catalonia, who, according to the European Jewish Congress, make up a third of Spain's total Jewish population of 45,000, are deeply divided on the issue of independence, according to Victor Sorenssen, the leader of the Jewish community of Barcelona, the capital of Catalonia, "This is a political matter that doesn't directly concern Judaism, so the community has no position on it as such,"Sorenssen said about the organisation representing Barcelona's Jews.
Please login or register to see the full article