News
| | |
| --- | --- |
| RECORD YEAR FOR ISRAEL'S CHIP SUPPILERS SPURRED BY CHINA | |
Israel's exports of computer chips to China soared in 2018, according to new data supplied by the Israel Export Institute. Semiconductor exports to China rose 80% to US$2.6 billion.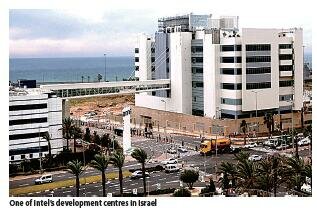 Chinese firms purchased more semiconductors manufactured in the country, mostly at Intel's plant based in Kiryat Gat and a few other companies. Moreover, Intel Israel accounted for close to 80% of those sales.
The data will be welcome news to the government of Israel as it seeks deeper ties with China, also because semiconductors equalled US$3.9 billion of the total goods exports in 2018, according to the export institute.
According to sources familiar with the development, the two countries have begun negotiations on a trade deal, and technology is projected to be a significant part of the discussions. In general, exports of Israeli goods to China, excluding diamonds, increased 50% to US$4.7 billion.
In 2017 Intel announced an investment of US$5 billion in a bid to expand capacity in its Kiryat Gat plant in the south of Israel. The plant produces some of the world's smallest and fastest chips.
Please login or register to see the full article
| | |
| --- | --- |
| Israeli billionaires in Forbes list 2019 | |

As in previous years, Forbes magazine has published its annual list of the world's wealthiest individuals.

According to the Forbes 2019 World Billionaires list, 21 Israelis are in the rankings. Technically speaking, Roman Abramovich, ranked 107, is now the wealthiest Israeli, with a fortune of US$12.4 billion. He received Israeli citizenship last May, but Forbes lists him as Russian.

The wealthiest Israeli as defined by Forbes is again Eyal Ofer, who is ranked 149, with a fortune of US$9.4 billion, down from 145 last year with US$9.2 billion. In second place is Stef Werheimer, ranked 303, with US$5.7 billion, down from 269 in 2018 with US$5.6 billion. In third place is Israel's wealthiest woman, Shari Arison, ranked 355 with US$5 billion, down from 334 last year with US$4.9 billion. In fourth place is Idan Ofer, ranked 394 with US$4.7 billion, up from 631 last year with US$3.1 billion. Teddy Sagi has risen from 631 last year with US$3.1 billion to 546 this year with US$3.8 billion. Patrick Drahi, who has Israeli citizenship but is listed as French, is ranked 190, with US$8 billion.

Please login or register to see the full article

| | |
| --- | --- |
| Arkia airlines to launch India flights | |

Arkia Israel Airlines Ltd. recently announced that it would introduce two new flight routes to India. They will be flying to Goa and Cochin in the state of Kerala.

Arkia is joining El Al Israel Airlines Ltd., which operates direct flights to Mumbai, and Air India, which flies from Tel Aviv to Delhi on a shorter route passing above Saudi Arabia.

Arkia will operate the new flights from September 2019 using recently acquired Airbus 321neoLR airliners. Flights will take seven hours and will take place all year round, except for the summer in Israel, which is the monsoon season in India. The flights to Goa will take off on Tuesdays, while there will be two weekly flights to Cochin. Flights will take off on Mondays and Fridays in SeptemberOctober, and on Sundays and Thursdays starting on 27 October.

Since the frequency of the flights does not meet the criteria for obtaining grants from the Ministry of Tourism for operating flights to new destinations, Arkia will not receive a grant. Last year, Arkia began direct flights to Bangkok, joining EL AL. Arkia CEO Nir Dagan said that the airline would offer direct access "to preferred destinations at equal prices for everyone... For India, the state of Kerala, and the destinations that we selected have been the dream of Israelis from all parts of the tourist spectrum."

Please login or register to see the full article

| | | |
| --- | --- | --- |
| Beresheet spacecraft takes selfies | | |

In March, the Israeli spacecraft Beresheet took its first selfie more than 23,000 miles from Earth.

The selfie shows Earth in the background – with Australia visible – as well as a plaque installed on the spacecraft that shows an Israeli flag and the words Am Yisrael Chai (the nation of Israel lives) and "Small Country, Big Dreams". The spacecraft transmitted the image back to the control room, located in Yehud in central Israel.

It also recently sent home a video of a sunrise from the spacecraft's point of view before it enters the moon's orbit. The lunar lander is expected to land on the moon's surface on 11 April. The landing site has been identified as the northeastern part of Mare Serenitatis, or the Sea of Serenity, a flat area on the moon's surface. The Beresheet spacecraft is a joint venture between private companies SpaceIL and Israel Aerospace Industries.

| | |
| --- | --- |
| David Irving not welcome in Poland | |

Poland's Ministry of Foreign Affairs said that British Holocaust denier David Irving is not welcome to visit Poland, reported the Jewish Telegraphic Agency.

Irving is taking deposits on his website for the tour of Nazi historical sites scheduled for September, including visits to the sites of the Nazi death camps Treblinka, Belzec, Sobibor and Majdanek. "British Holocaust denier David Irving probably will not be able to enter Poland due to the fact that his opinions are unacceptable from the point of view of Polish law," Foreign Minister Jacek Czaputowicz said at a news conference in March.

Irving is planning to spend nine days in Poland in September. In addition to the former Nazi death camps, he plans to visit the bunker headquarters of Adolf Hitler known as "The Wolf's Lair" and the headquarters of SS chief Heinrich Himmler. Similar trips took place in 2013 and 2010.

Please login or register to see the full article
<<

Start

<

Prev

1

2 3 4 5 6 7 8 9 10 Next > End >>