| | |
| --- | --- |
| Canada issues first Chanukah postage stamp | |
Just in time to celebrate the eight-day Festival of Chanukah, Canada has issued its first Chanukah stamp in the 150-year history of Canada Post, its official mail carrier.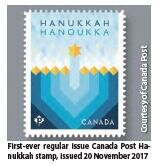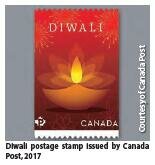 Described as part of an initiative to highlight the nation's cultural diversity, the stamps from Canada Post feature two colourful geometric designs: of dreidels and the menorah. Each pattern also has an online explanation of their relevance to the holiday.

"In offering the great products, Canada Post is enabling our community to share the beauty and inspiration of Chanukah with all Canadians," said Shimon Fogel, CEO of the Centre for Israel and Jewish Affairs.
Please login or register to see the full article