| | |
| --- | --- |
| Adolf Hitler waxwork removed from museum in Indonesia | |
A museum in Yogjakarta, Indonesia, which until recently had allowed visitors to snap selfies with a full-sized waxwork figure of Adolf Hitler against the backdrop of the Auschwitz death camp gates, has taken the figure down following a storm of criticism.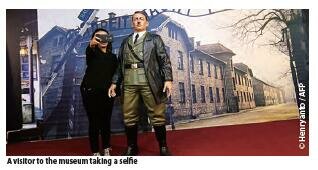 The De Mata De Arca visual effects museum has around 100 waxworks of celebrities, politicians and fictional characters, according to its website.

The figure of Hitler could be found standing between Star Wars' Darth Vader and Indonesian leader Joko "Jokowi" Widodo. It was placed against a wall-sized banner depicting the Auschwitz-Birkenau extermination camp with the notorious "Arbeit macht frei" ("Work sets you free") sign.

The wax Hitler, which had been on display since 2014, proved popular with locals, who shared their selfies on social media platforms. The snapshots even showed some of the visitors doing the Nazi salute.
Please login or register to see the full article