| | |
| --- | --- |
| US aircraft carrier gets a Torah scroll | |
Jewish sailors aboard the US Navy aircraft carrier USS Gerald R. Ford now have a Torah scroll to use during their six-to-eight-month stints at sea.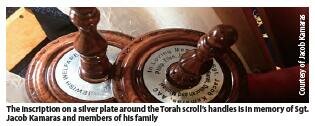 The umbrella body for Jewish chaplains, the JWB Jewish Chaplains Council, dedicated the scroll on 29 November aboard the ship in Norfolk, Virginia. It was dedicated to the memory Sgt. Jacob Kamaras, a veteran of the US Army Air Corps during WWII. On hand for the ceremony were his son, Philip Kamaras, a New York lawyer, and his namesake grandson, Jacob Kamaras, a journalist and publicist in Houston.

The Kamaras family helped pay for the US$36,000 scroll as part of the chaplains' council's "Torah for Our Troops" campaign, which equips chaplains with travel-size Torah scrolls. The scroll, slightly smaller than those used in most synagogues, is designed for use in the shipboard chapel.
Please login or register to see the full article