| | |
| --- | --- |
| Istanbul's new airport to house two Synagogues | |
Turkey's new international airport, which will eventually be the world's largest after construction of all terminals completed, has two dedicated Jewish prayer rooms for both Ashkenazi and Sephardic communities, initiated by Turkish Airlines. The new airport officially opened in April 2019.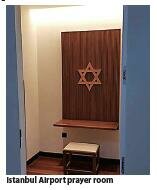 The prayer rooms are situated in the airport's regular and business class lounges. The city's old Istanbul Atatürk Airport, located on the eastern side of the city, did not have a dedicated Jewish prayer room.
The new airport is the global hub for Turkish Airlines, the world's largest passenger carrier. It conducts flights to 122 countries, including ten daily flights between Tel-Aviv and Istanbul.
"There are more Turkish Airlines flights from Tel-Aviv to Istanbul then from Istanbul to London," said Rabbi Mendy Chitrik, the Chabad emissary and Ashkenazi rabbi of Turkey. "They supply between 600 and 5,000 Kosher meals daily, certified by the Rabbinate of Turkey, under my supervision."
Please login or register to see the full article