News
| | |
| --- | --- |
| David Irving not welcome in Poland | |
Poland's Ministry of Foreign Affairs said that British Holocaust denier David Irving is not welcome to visit Poland, reported the Jewish Telegraphic Agency.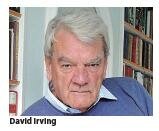 Irving is taking deposits on his website for the tour of Nazi historical sites scheduled for September, including visits to the sites of the Nazi death camps Treblinka, Belzec, Sobibor and Majdanek. "British Holocaust denier David Irving probably will not be able to enter Poland due to the fact that his opinions are unacceptable from the point of view of Polish law," Foreign Minister Jacek Czaputowicz said at a news conference in March.
Irving is planning to spend nine days in Poland in September. In addition to the former Nazi death camps, he plans to visit the bunker headquarters of Adolf Hitler known as "The Wolf's Lair" and the headquarters of SS chief Heinrich Himmler. Similar trips took place in 2013 and 2010.
Please login or register to see the full article
| | | |
| --- | --- | --- |
| Smartphone zombies in Tel Aviv, please pay attention | | |

Following the trend of other major cities around the world, the Tel Aviv-Yafo Municipality has installed the country's first LED light strips at a pedestrian crossing, to warn people who are engrossed in texting on their smartphones.

Strips of LEDs connected to existing traffic lights have been installed at the pavement
edge and change colour at the
same time as the eye-level lights. The ground-level lighting is designed to warn pedestrians who are focusing obsessively on their smartphone screens rather than paying attention to the traffic.

Such distracted pedestrians are called "smartphone zombies", or "smombies", and are a worldwide phenomenon, so similar devices and warning signs have been installed in Europe, Singapore and Australia in recent years. In Tel Aviv, the LED lights are located on either side of the intersection of Ibn Gabirol and David Bloch Street, opposite the Tel Aviv-Yafo Municipality's office. They are part of a trial that will be expanded throughout the city if it is deemed a success.

| | |
| --- | --- |
| EL AL AIRLINES UNIT SUN D'OR TO LAUNCH ISRAEL-JAPAN CHARTER FLIGHTS | |

El Al Israel Airlines Ltd charter flights unit Sun D'Or has announced it will operate the first-ever direct flights between Israel and Japan. Details of this new arrangement were announced at a press gathering on 6 February at Israel's embassy in Tokyo.

At present, only two flights have been scheduled in each direction in September from Ben Gurion Airport to Tokyo's Narita airport, but the aim is for permanent direct flights.

Israel's Ambassador to Japan Yaffa Ben-Ari said: "This is the first step on the way to achieving our main aim: direct and scheduled flights."

The September Sun D'Or flights are being chartered by three Japanese travel agencies. The flights from Israel to Japan will take 11.5 hours, and 12.5 hours between Japan and Israel. This is a saving of four hours on the current shortest routes between Israel and Japan, which require connection flights.

Ben-Ari added: "The flights will help put Israel on the Japanese tourist map and signal to that market that Israel is an attractive destination. At the same time, Israeli tourists can enjoy a shorter and more convenient route to Japan, which is one of the fastest-growing tourism markets for Israeli tourists."

Israeli Ministry of Foreign Affairs deputy director general for Asia and the Pacific Gilad Cohen said: "We hope that this new step will also encourage Japanese businesspeople and contribute to strengthening economic and trade relations."

Please login or register to see the full article

| | |
| --- | --- |
| Malaysia loses right to host sports event | |

The International Paralympic Committee (IPC) has stripped Malaysia of the right to host the 2019 World Para Swimming Championships after the country banned Israeli athletes from participating. The event had been scheduled to take place from 29 July to 4 August in Kuching.

"All World Championships must be open to all eligible athletes and nations to compete safely and free from discrimination. When a host country excludes athletes from a particular nation, for political reasons, then we have absolutely no alternative but to look for a new Championships host," said IPC president Andrew Parsons in a statement on 27 January.

As reported in the February 2019 issue of Jewish Times Asia, Israeli Paralympic swimmers had been denied visas to compete in the event. Israeli sports authorities had been attempting to obtain the visas for two months but had received no response from the Malaysian Government. Malaysia, which has a pro-Palestine stance, does not have diplomatic relations with Israel.

Please login or register to see the full article

| | |
| --- | --- |
| Thai singer sorry for wearing Nazi T-shirt | |

After a member of Thailand's most popular all-girl band, BNK48, wore a shirt portraying Nazi Germany's state flag with a swastika emblazoned across it during a televised rehearsal on 27 January, the deputy chief of mission of the Israeli Embassy in Bangkok took to Twitter to express "shock and dismay" at the outfit.

Images of Hitler, swastikas and other Nazi regalia are fairly commonplace on T-shirts and memorabilia in Thailand, a phenomenon blamed on people's lack of historical understanding rather than their political leanings.

The 19-year-old singer, Pichayapa "Namsai" Natha, later apologised onstage during a concert. "I want this to be an example for everyone, please forgive me," she said, bursting into tears. She later claimed full responsibility for her ignorance in an apology posted on her official Facebook page. "Please give me advice so that I can grow up to be a good adult in the future... I cannot fix the mistake but I promise I will not let it happen again," Namsai wrote in Thai. She also posted an apology in English to her Instagram page.

Fans of BNK48, a domestic offshoot of Japanese girl group AKB48, came to Namsai's defence. "I'm over 40 and I don't know anything about this topic. When I saw the shirt, I didn't think it would be a problem," said fan Prasit Rudeekriengkrai. Others blamed Thailand's education system, which does not focus much on world history.

Please login or register to see the full article
<< Start < Prev 1 2

3

4 5 6 7 8 9 10 Next > End >>