| | |
| --- | --- |
| Indonesian Islamic leader attends conference in Israel | |
A top member of Indonesia's largest Islamic movement visited Israel in June, at the invitation of the American Jewish Committee (AJC), a US advocacy group that was holding a major conference in Jerusalem.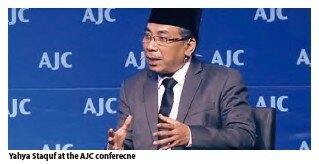 Yahya Staquf is the Secretary General of the 60-million-member Nahdlatul Ulama movement, the largest traditionalist Sunni Islam Muslim organisation in Indonesia, established in Jakarta in 1926.
Braving angry protests at home, he was in Israel in order to spread what he called a message of interfaith compassion. Indonesia, the world's largest Muslim country, does not have diplomatic relations with Israel, and support for the Palestinians there is strong. Staquf's presence triggered angry reactions, as seen on Indonesian social media.
However in an interview prior to the visit, Staquf said he remained committed to the visit and hoped the controversy would bring more attention to his message of tolerance. "Some people here are amazed by my decision to come, because they think it must be dangerous for this man to come, thinking that many, many Muslims must be threatening him with death or something," Staquf told The Associated Press.
Staquf addressed the AJC conference, appearing alongside a rabbi in his discussion. His also had meetings at Israel's Hebrew University and talks with local Jewish, Christian and Muslim leaders.
Please login or register to see the full article