| | |
| --- | --- |
| Senior delegation visits China Israel Changzhou Innovation Park | |
On 14 March, Dr Eyal Propper, the Consul General of Israel in Shanghai, accompanied Zhou Minhao, District-Mayor of Shanghai Putuo District, and Cao Jiazhong, Standing Committee Member of Changzhou Municipal Committee and Executive Vice Mayor, to the China Israel Changzhou Innovation Park (CIP) initiative in Jiangsu Province.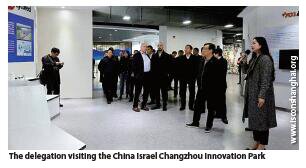 Since the official launch of the CIP last year, it has attracted significant investment and interest from both sides. The park has so far gathered 81 Israeli and Chinese-Israeli co-operative enterprises, including the CI3 incubator, with more than 20 Israeli companies.
During the visit, the participants agreed that Shanghai has the best resources in the country in terms of innovation platform, innovation resources and financial capital, while Changzhou has a strong foundation in terms of industrial co-operation.
Please login or register to see the full article