| | |
| --- | --- |
| Ex-Pakistani leader calls for diplomatic relations with Israel | |
Former Pakistani president Pervez Musharraf, who in 2005 established contacts via Turkey, told a journalist in Dubai that there is no harm in establishing relations with Israel. The news was first reported by The Media Line.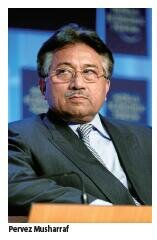 Musharraf said he believes it's time for Pakistan to consider establishing ties with Israel. He was speaking at a press conference on 22 February in Dubai, where he has been living in selfexile to avoid what he believes are politically motivated court cases back home.
"There is no harm to establish a relationship with Israel," Musharraf said, adding that "it will help Pakistan counter India" by accessing an "elite club" of "influential" nations.
His remarks came as tensions between Pakistan and India spiked recently over the contested Kashmir region.
Musharraf led Pakistan from 1999 to 2008. He was a strong critic of Israel until 2005, when he established contacts with the help of Turkey. Since then he has been a staunch supporter of ties between the two countries.
Please login or register to see the full article