| | |
| --- | --- |
| First ever Israel-Hong Kong Women's Forum held | |
Five outstanding Israeli women, each an expert in her own field, came to Hong Kong to engage in discussions with their counterparts at a halfday forum titled: "IsraelHong Kong Women-toWomen Bridge" on 31 May.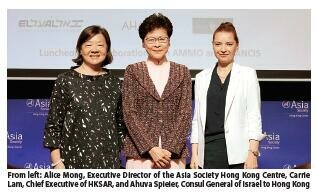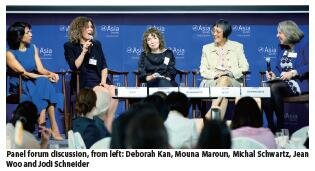 The forum coincided with the 71st Independence Day of the State of Israel, and according to Israel's Consulate in Hong Kong, it was the largest, most important event to be held by them this year.
The event was co-organised by the Asia Society Hong Kong Centre, and featured panel discussions on three topics: innovation and technology, medical sciences, and finance and economy. It served as a unique platform to connect entrepreneurial women in Israel and Hong Kong, tasked with a duty to inspire, empower, and celebrate their achievements whilst building networks and enhancing international relations.
Israel's Consul General to Hong Kong, Ahuva Spieler, mentioned that she had been dreaming of this forum since her arrival in the city two years ago as the first woman Consul General of Israel to Hong Kong. This was coincidentally the same year in which Chief Executive Carrie Lam was sworn in as the first female to hold such a title in Hong Kong.
Please login or register to see the full article