Tianjin, also known as Tientsin, is an urban area, located along the Hai He River. It now ranks as the third largest urban area in modern China, after Shanghai and Beijing.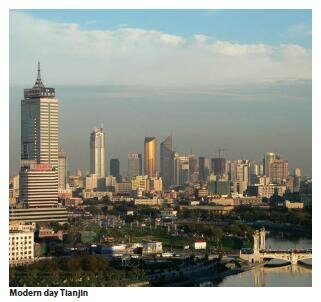 Today there are still traces of the thriving Jewish community that once called Tianjin home. While this community was much smaller in number than the former communities of cities like Harbin and Shanghai, its accomplishments are truly remarkable.

A news article in the Jewish Times Asia, in April 2007, reported the current controversy over the fate of the former Tianjin Synagogue. The Synagogue was built in 1939 by the Tiajin Jewish Union. After the Jewish community was dispersed, came under the control of the Tiajin Catholic Church. Igud Yotzei Sin (Association of the Former Residents of China) made a formal plea to completely rebuild this crumbling historic landmark. A mere restoration does not seem practical due to the extensive damage that the structure has suffered over the years.

The Central Archives for the History of the Jewish People (CAHJP) hold the archives of hundreds of Jewish communities including original files from the archives of the Jewish community of Tientsin (1920-1957) deposited by Igud Yotzei Sin. The archives include a number of documents and photographs of Jewish institutions and prominent community members in Tientsin. The CAHJP is located on the Giv'at Ram Campus of the Hebrew University in Jerusalem.
Additionally, a few of the former residents of the Jewish community of Tiajin have published their personal memoirs. One notable published novel is China Dreams: Growing Up Jewish in Tientsin by Isabelle Zimmerman Maynard.

Maynard, recently deceased, was born in 1929 in Tientsin. She was the daughter of Jewish Russian refugees who fled to China to seek relief from the Russian Revolution.
Her story, like others, gives much insight as to the status and lives of the former Jewish residents of China. Along with the other Russian Jews, they lived somewhat between worlds, holding passports stamped with "stateless."



Like other Europeans, she and her contemporaries didn't learn Chinese and lived sheltered in one of the "concessions" carved out by the European communities, cut off from the surrounding impoverished Chinese. She left China for the US in late 1940's.
Not unlike the history of the Jewish community of Harbin, Tianjin saw its first Jewish residents in the early 1900's. There are reports of Jewish businessmen in the city as early as 1860, during the second Opium War, however it is likely that these traders merely used the city as a base for trade and commerce like their non-Jewish fellow European counterparts.
In 1900, the first wave of Jewish settlers began to arrive. The early days of the community, in 1904 list ten Russian-Jewish families as residents. This small group formally registered their community.

The Hebrew Association of Tientsin (THA) was officially registered with the Russian Imperial Consulate in Tientsin. They acquired a plot of land for a cemetery and shortly thereafter began to regularise religious worship. The foundations for a Jewish relief organisation were also quickly established to provide for those in need.

The community rapidly expanded as the situation in Russia worsened for the Jews. By 1917, the revolution in Russia accounts for a population expansion to as many as 500-600 Jewish families who found their way to Tientsin via Manchuria. These Jewish residents were involved in a variety of occupations and trades. There were a large number of respected physicians as well as businessmen, craftsman, jewelers, traders, engineers, lawyers and teachers.

Wealthier families often immediately went on to places like the United States and Europe via Shanghai. Others adapted rapidly to their new surroundings and contributed significantly to the already structured presence of the community.

In 1920, the THA built a beautiful synagogue, employed a rabbi and a shochet and were able to provide full religious services. A number of committees were formed under the framework of the THA including committees for the development of social activities, cultural actitivities, arbitration, and a committee for Eretz Israel affairs.

A hospital, located at No. 66 Street, was similarly founded to treat Jewish patients. The hospital also provided medical assistance for people of all nationalities who could not obtain medical services from other communities. Likewise, the Benevolent Society was also formed in 1920 in order to assist new Jewish refugees in need and help them during their transition period as they settled into life in China. A home for the elderly was also erected.

The information office for Eretz Israel was established in 1921, later renamed The Zionist Organisation of Tientsin. This organisation was a central force in the creation of much of the community's social and cultural activities.

The Tientsin Jewish School (TJA) was established in 1925 at No.126 in the old British concession. It was a truly remarkable institution that made its mission to provide free education in Hebrew and English to those in need. Most of the students were in fact grant recipients of the free education at that time. Many received discounts, while others were able to study entirely free of charge. The funding for the school's budget was provided through donations as well as through income received through the community's annual party to celebrate the New Year.



The curriculum was based on the British Grammar School system and the level of English was such that students were reportedly able to sit for the Cambridge Overseas Examinations. The extensive curriculum incorporated the following subjects: Hebrew, Bible (Reading in Hebrew), Jewish History, English, Chinese, Russian, English Literature, General History, the History of England, Geography, The reading of the Bible in English, Arithmetic, Algebra, Geometry, Handicrafts, Gymnastics, Art, and Singing.

Interestingly, in 1935, the student body of 95 included 79 Jewish students as well as 16 non-Jewish students of different nationalities. By 1936 the student body reached 110 students and 15 teachers.

In 1928, a dramatic society was established called Kunst, or 'art' in German. This society evolved into the social club and was expanded to include club facilities, a restaurant, meeting halls, a theater and an impressive library collection.

In 1937, the Jewish Club or Kunst Club was built at No.24 Street in the former English concession (modern Qufu Road). The club, after it ceased to be used for its original purpose, became the Tianjin People's Art Gallery. It was entirely demolished in 1999.

The Charity Society was established in 1931 to provide interest free loans to needy applicants. There were also other social welfare schemes to provide food for the needy. The Women's International Zionist Organization (WIZO) was also established in 1931 and the youth movement Betar followed in 1932. The Jewish Agency set up a permanent presence in Tientsin in 1936, but a presence was recorded and activities conducted beginning in 1932-1933. THA served as a central committee, coordinating the numerous different organisationsunder one general umbrella organisation of which the directors were the presidents of the various individual clubs and programmes. It functioned in this 'umbrella' capacity beginning in 1934.

Functions were categorised by the following committees: Religious, Cultural, Arbitration, Archival and Taxation. In 1935, a resolution was passed creating a mandatory tax on community members, on a sliding scale according to the individual's means. Births and deaths were also registered by the THA.

By 1935, Tiajian, like other cities in China, opened its doors to an influx of Jewish refugees fleeing Nazi persecution. The Jewish population expanded to about 3,500 in 1935 and 5,000 at its peak.


Unlike other Jewish communities in China, however, the community was centered on the original organisations established by the former Russian Jews. These organisations expanded to include and absorb later arrivals to the community.

On 8 December 1941 Japanese occupation of the municipality began. Japanese occupation lasted until 15 August 1945, the surrender of Japan marking the end of WWII.

After 1945, Tianjin became base to American forces until they pulled in June 1947. Communist forces took power in Tianjin on 15 January 1949. The end of the 40s, saw the end of the Jewish community. Long unable to call places in their memories like Russia or Germany home, they mainly left for places like Israel, Australia and the US.

The eventual fate of the long abandoned synagogue, which has suffered severe damage, remains unknown. The Jewish cemetery has also been destroyed but many of the former Jewish residences can still be found throughout the city.

Despite years of war, earthquakes and rapid urban expansion, the former Jewish presence can still be felt throughout the Jewish ghetto. It was a community small in terms of numbers but strong in its commitment to building a life for itself in the throws of turmoil and displacement.

Photographs and information contributed by Igud Yotzei Sin

Jewish Times Asia February 2008
---
Growing Up In Tientsin – From The Memoirs Of Benjamin Kabuliansky
This story evolves from my personal experience and depicts (I believe) a pattern of behaviour, or mode of thinking, characteristic of a considerable number of Jews who lived in Tientsin in the 1920s and 1930s, irrespective of their post-China destinies. Of course, my youthful thinking has been broadened throughout the years
that followed.



The Jewish community of Tientsin consisted of approximately 3500 people in the 1930s. It was headed by Leo Gershevich. There were a number of Jewish communal institutions established. The Tientsin Jewish School (TJS) was opened in 1925, the Jewish Club "Kunst"in 1928. One of the most remarkable characteristics of the Jewish community in Tientsin is that, in a relatively short period of time, it managed to create conditions, allowing Jewish children to obtain initial school education, and provide conditions for cultural and religious activity of grown-ups.

My father, up to the year 1935, worked in a fur trading company as an accountant. Our family lived on Dublin Road in the 1930s not far from the Tietsin Grammer School, which I attended along with my sister.

I liked to watch the long pontoon boats being propelled along the narrow canal using poles; the Chinese boatmen were skilled in their craft. Across the Haihe River there was a drawbridge allowing the passage of vessels underneath. I am sure that there are still some Tientsiners who remember the fateful day when a mishap brought the bridge into motion in the morning, when it was full of pedestrians and vehicles. There were some serious casualties.

It was a place that would make for colourful childhood memories. I liked to go to the bund on the river and watch the stevedores unload ships, which came inland from port Taku. This was at times a disturbing observation even for a boy, as I would watch a toiler, clearly underfed and weak, carrying heavy loads out of the ship's hold. He would get a counting stick for each journey from a foreman, and after receiving his meager pay (several tungdzer) would buy 'manto' and a bowl of tea or just hot water.

Recently I came to know that the Haihe River has become much narrower and big ships don't reach Tianjin.

While the river was a central place for commerce and activity amongst all residents of Tianjin, for the Jewish community, the Jewish communal organisations were clearly central as well. The synagogue I recall was probably a temporary one, which I went to with my father. It was not the one so often pictured in journals and books. Because our family was not really religious, I probably only visited the synagogue several times a year on Jewish holidays.
As to the TJS and the Kunst Club, I can still recollect some events and remember that my mother G.J.Kabuliansky (nee Gershevich) was very active in the formation and development of the Jewish school in Tientsin.



I remember that while my sister Annie and I studied in the Tientsin Grammar School, our mother devoted a lot of time to the improvement of teaching standards at the TJS. At home I could often hear about the splendid work the school staff was accomplishing.

In spring, Jewish children were usually taken to the outskirts of Tientsin where they celebrated the Lag B'omer holiday in the woods. Here we played all sorts of games and took part in different competitions.

Children also took part in the school fees all those years, prioritising and economising on less important expenses. The only other preference, demanding additional savings was the much anticipated annual summer vacation in Peitaiho. Peitaiho, located in China's Hebei Province, was a popular retreat for Tientsin's residents at the time. We loved going to the seaside as a family!

My oral Chinese began with my amah. I even knew several rhymes, one of which began with the words: "a little mouse went to the market – At this stage, my family and I automatically accepted the Chinese name given to me by my amah. It was Siau Bina (Small Ben). When I was about ten, my parents wanted me to learn writing and invited a qualified Chinese teacher, but I failed utterly: the most difficult character, which I "saddled" was that designating "ma" (horse).'

My next teachers were rickshaw pullers, waiting for clients on the corner, not far from our first rented apartment on Elgin Avenue N383 (English Concession). I would come up to them and say "Ning hau". They had a habit of squatting and their heads and mine were on the same level — this allowed us to have a very nice chat.

I clearly remember that some of them would pat my knees (I wore shorts). This was only one of the first signs of affection of Chinese people in respect to children, which I observed again and again. Here I should note that the language in my presence was totally respectable. As to some words involuntarily pronounced by rickshaws "in action" on the streets, describing "family relationships", these, I am sorry to say, were firmly implanted into my vocabulary. Our parents thought that we, children, should not take a ride with a rickshaw, considering that it would be humiliating for the latter. However, when they themselves did hire a rickshaw, it was thought to be acceptable, since these toiling people "had to make a living".

My parents allowed me to communicate with people on the streets, and I did so, practically without any restraint.

When I got older, I often came to a neighbouring workshop to repair my bicycle. This was a great occasion for an exchange of views in Chinese. The interesting thing about my 'machine' was that it really was a lady's bike. My sister swapped it with me for a fountain pen, which I received as a birthday present. You can imagine the quality and reliability of my vehicle.

In this way, during more than 10 years, I received an important part of my own education in the streets. I spoke to hundreds of Chinese people, young and old. Here are just some cases, which I happen to remember most of all: I spoke
Chinese in Tientsin shops and with grocers in Peitaiho who carried their fruit and vegetables in huge baskets. Living there in summer, I would get up early in the morning, run to the seashore and watch fishermen coming in on their boats with a catch of
flat fish and huge crabs. I was always with a fishing rod and thought that this gave me the privilege to drop a word or two, and expect a short answer from those people, busy selling their take, right on the spot, and loading their baskets with fish to be carried around and sold all over
Peitaiho.

Any money saved by me was used for a donkey-ride; striking a deal with the donkey driver demanded fluency in the language, and more often than not, we were allowed to take the donkeys, promising to bring them back to the donkey-drivers at a certain time.

In Tientsin, in one of the recreation grounds, together with the local Chinese children, I flew a kite, and gazed with envy at a beautiful sample of a hawk "piloted" by some lucky boy.



Of course at my age, the only educated person whom I had a chance to speak to in Chinese was an oculist in a Peking hospital. I was so grateful to him for helping me to get rid of the squint I had.

Whenever I came to the office where my dad was working (he was an accountant-bookkeeper in a fur-trading company) I stole the opportunity to speak with the Chinese employees. Several times I attended dinners, rather — feasts, on the Chinese New Year. Here I really came to truly know the meaning of Chi Boula (I'm quite full).

But, most of all, I was eager to see these people being invited to our home by my parents for the Jewish holiday, Chanukah, because I knew that I would be presented with "Chanukah Gelt" — coins worth 1 Yuan each (not so bad for pocketmoney). There were many opportunities to mix with the Chinese in social and business interactions.

Our lives were rich with communal activities and a vibrant community. As children we played with not only members of our community but with local Chinese as well. The only Chinese name I remember is that of a youth by the name of Ma-Ting-Yu, who helped us around in preparation for our departure to the Soviet Union in 1936. He was about three years older than I. We were friends for several months and our favorite activity was wrestling around the apartment (sometimes Chinese style).

We were surrounded by Jewish friends and relatives. Out of the ten children born in Siberia in the Jewish family of Gershevich (my mother's family), five found themselves in Tientsin, China at the beginning of the 20th century. This included the elder brother, Leo, another brother Moses, their sisters Sarah, Tsiva and my mother. Leo had 3 children: Norman, Vera and Fishel (Fisha). Fisha moved to Israel from Tientsin in 1933 and served for many years in the Israel Defense Force. Vera later lived in Canada. Tsiva married Ilya Fligil who was, for more than 20 years, the Vice- President of the Tientsin Jewish Community and was also a member of the Kunst Club board.

I remember several other Jewish families — good friends of my parents: the Bihovskies, the Epsteins, the Jacobsons.and the Bihovsky family.

In pre-war China (1934- 1936) I witnessed several events involving the Japanese military. In about 1934 or 1935, the Japanese had already been pushing from occupied Manchuria into Northern China. That year my father was jobless. The fur company where he had worked went bankrupt. Our mother was already in Peitaiho, organising the vacation boarding for several families, including ours.

Our father saw us off from Tientsin. I and my sister Annie who was two years older than I, were sitting in a hard-seated carriage. Not far from us were several Japanese soldiers with baskets full of pigeons. About two hours after we left Tientsin, something horrible happened: all of a sudden, there was a terrific blast and the train stopped.

We soon found out that between our carriage and the steam engine, there were two carriages, and in one of them there was a huge explosion, which killed many people and injured a lot of others. Most of them were Chinese.

A woman came into our carriage and asked for some dressing; my sister found a couple of bed sheets in our suitcase and gave them to the woman for bandaging the wounds. Through the window I saw the horrifying results of the carnage. Very shortly, the Japanese soldiers wrote several messages and sent them off with the carrier pigeons. Then they climbed up the telegraph poles and, probably sent a message by wire. The train reached Peitaiho several hours behind schedule.

Our mother was among those meeting the passengers; everyone was, of course, deeply agitated about what had happened. As far as I remember, the main version explaining the explosion was that this train was the first to open a new service on the Tientsin-Mukden route. Many people were against it, considering it to be an intrusion into North China. The bomb, which went off in the carriage was apparently meant to provoke tension.

In another incident, once while I was riding my bike in Tientsin, on the other side of the road there was a quarrel between a Japanese officer and a rickshaw about the price charged by the latter. The officer unsheathed his sword and struck the rickshaw with the flat side of the sword. What a humane act!

In either 1934 or 1935, together with a group of boys, we drove donkeys and reached the dunes north of Peitaiho. We were approached by a detachment of Japanese military men on horseback. I don't remember in what language they began asking questions, which we couldn't answer. Then they drove to the north in the direction of Shanghaigwan, and we safely returned home.

My childhood in Tientsin soon ended. We returned to the Soviet Union in 1936, the rough times of that period quickly brought my sister and me to maturity… but this is another story. Tientsin, though just a part of my past, remains very much alive for me. It is at the heart of my childhood memories and an important part of Jewish history.

Supplied by Benjamin Kabuliansky

Jewish Times Asia October 2008