Established more than 6 years ago, Jewish Times Asia is the primary platform for news gathering, event highlighting and community awareness for the region's Jewish communities.
With such a diverse community spread across 10 countries and different backgrounds and nationalities, to find a consensus that the stories are relevant to all is quite a challenge.
However, Philip Jay Publisher and Founder, strongly believes that the more diverse the community the stronger the paper. "It is good we have 5-6 different Jewish communities in Hong Kong alone, the more to report on and cover for the newspaper," Jay said.
"Most of the members are more interested in what is happening in the other communities, so they don't loose track and may even want to attend those other events," Jay added.
Jewish Times Asia is unique in its editorial independence. It reports on all communities in the region and maintains a balanced and unbiased outlook, recognising each group's contribution to Jewish life in Asia.
The region has a very diverse and mixed spiritual community. Apart from local news round-ups, the paper covers regular business news, art and culture, and a balance of topical features, articles and one-to-one interviews.
The paper has now become essential for diplomatic news for Israel's embassies and organisations to promote important strategic partnerships with countries in the region.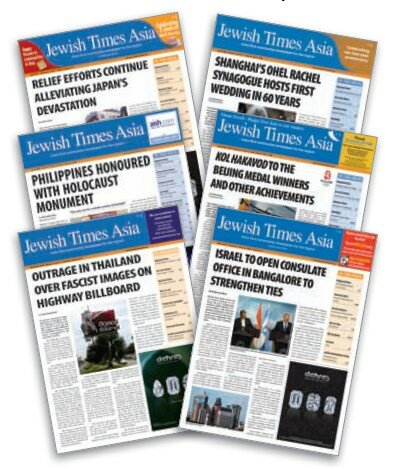 "We also have many readers from outside the region, especially the business traveller and tourists that find our communities and our hospitality in Asia extraordinary," Jay commented.
The paper is widely available to be picked up at all the various Jewish associations and community centres in the region. Jewish Times Asia also launched an on-line flipbook version a few years ago to cater for departing Jewish expatriates and others who want to keep in touch with Asian Jewish news.
"Our biggest readership online is in the US followed Israel and then the Asia region. Some countries where we do not mail copies to are strong such as Malaysia and Indonesia," Jay explained.
"There was no previous title or points of comparison, when I established Jewish Times Asia, it was done from scratch and happy with its growth. It is most fulfilling to be useful as a relevant read, lets hope we can be just as relevant in the years to come," Jay concluded.
(Issue April 2012)