The current Ambassador of Israel to China, Amos Nadai,  as born in Romania in 1948. Three years later his family immigrated to Israel.
After serving in the Israel Defense Force, he joined the official tourist guide programme at the Ministry of Tourism and in 1970 he attended Hebrew University's Law School.
In 1974 Nadai finished law school and became a member of the Israeli Bar Association. He started working in security abroad and in Israel and joined Ministry of Foreign Affairs in 1981.
"Since then I have been with the diplomatic service. Everything happened by chance. Nothing was planned, but I have one of the most interesting careers anyone could have," he says.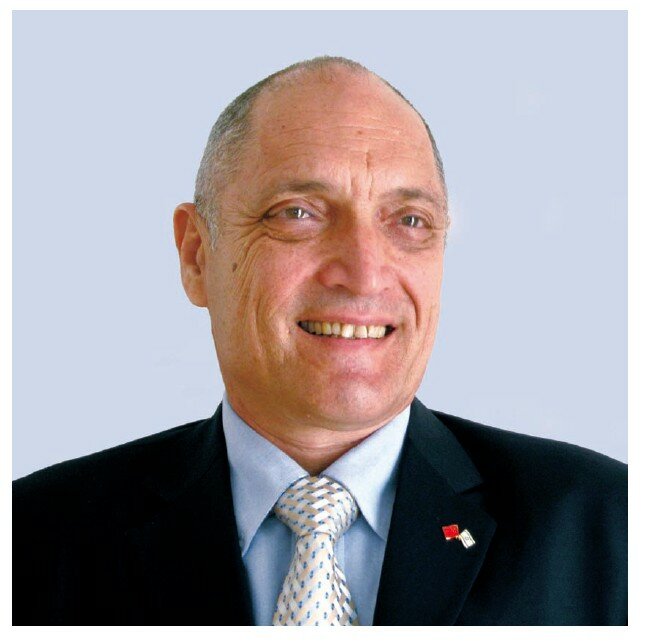 Nadai spent almost half of his career dealing with Asia, both in Jerusalem and in Asia itself. His postings included Thailand and Japan. His last osting before Beijing was as the Deputy Director General for Asia and the Pacific for the Ministry of Foreign Affairs.
"The time came and there were a few slots opening including Canberra, Tokyo, New Delhi and Beijing. I could choose because of my position. I knew China was the most interesting posting and that's what I requested and what I was granted."
In August 2007, Nadai took the post as Israel's Ambassador to China in Beijing. "It is a four year posting, but every year in Beijing is like three years in any other posting."
Nadai says his job is very interesting, very rewarding and a bit frustrating at times, however he noted, "it s a very nice combination. Being in China in these days when China is assuming a very important role in international politics is something very unique. It is very special in the
sense that there is something big in the relationship that doesn't exist anywhere else."
The Chinese see themselves as a very old nation, with a long history and old traditions. The country has seen major changes and development in the last 60 years.
"The only nation that they see similar to themselves is Israel and that gives the diplomatic relations, the people to people relations between China and Israel a dimension that doesn't exist anywhere else. It is a privilege and it gives you a very good basis to start working with."
On a daily basis Nadai and his team continue to find ways and means to bring Israel into a positive focus. "It is very difficult because this is a very large country and you have to do things that are very special."
"The Chinese media is much more balanced towards Israel than the media in other places in the world. They are much more willing to present what we call the positive sides of Israel, like our achievements in science and technology, agriculture and so on," he added.
One excellent example is CCTV's documentary Walk into Israel – The Land of Milk and Honey. "This is the best production ever, not in China, but in the whole world, about Jewish civilisation. The product is really amazing."
The ambassador is now bringing his attention to Szechuan province. "It is one of the fastest developing provinces in China. Not that we don't work very hard with others, but Szechuan is developing so fast that Israeli know-how and its capabilities are very relevant to its development."
The Party Secretary of Chengdu visited Israel a few weeks ago and the embassy is planning a high-profile participation in the West China Fair in Szechuan this November. The plans include a number of cultural events, exhibits, medical and business seminars.
The most important project Nadai will be carrying out during his fourth year in Beijing will be a symposium with a handful of Israeli Nobel laureates.
The Ministry of Science and Technology of China will be involved, but the event has not officially been announced. "The perception is that Jews/Israelis have special talents and creating a platform in which our best will be able to have a dialogue with the Chinese is something that is very important to our relationship."
Diplomacy as an important aspect of the role, "60–70% of the activities of the embassy are around promoting Israeli businesses in China." This means introducing Israeli capabilities to the Chinese market and something the Ambassador considers of "extreme importance."
"I'm seeing business people every day and we're using the embassy's excellent contacts in order to basically create a better environment for Israelis to work here in China. Trade between Israel and China is growing, but Israeli exports don't grow fast enough. That is a challenge."
A couple of weeks ago the embassy sent to Israel the Commissioner of the International Property State Authority of China. There was a perception amongst Israelis that there were issues in the area, so the Commissioner spoke directly with hundreds of Israeli businessmen
who were hesitant about coming to China.
"The potential is so great and so immense that no matter how hard one works, no matter what one achieves, one still feels that there is so much more to be done and when I say it is challenging and interesting and frustrating, the frustration is that in spite of what you have done, there is still a lot to do."
Two lesser-known facts about Nadai are his hobbies. He is an enthusiastic photographer and a passion to travel.
On the day of our interview the ambassador was having his photography exhibit debut. As it happens, the embassy got a booth at an exhibit in Ditan Park at a very late stage. Due to the timing they couldn't find someone to exhibit.
"They asked me to submit some of my photos as they were the last possibility for the embassy to be present there." Nadai's exhibit included images from Israel and China.
"The image Chinese sometimes have of Israelis is one that comes from the international media so to get images from an Israeli  ambassador who has travelled in their country and appreciates the people and the country is something that is serving our goals."
"I'm also a sailor," he added, "and I'm going to participate in a sailing competition." He was referring to the 4th China Cup International Regatta, which will take place from 29 October to 1 November. Nadai is part of the Israeli Team called Tashoot.
When asked about his next move, Nadai said, "As they say in Hebrew, 'I start seeing the light at the end of the tunnel'; as we retire at 67 and I'll be 64 by the time I get back to Israel. In good time I'll start travelling around the world and I'll enjoy my grandchildren."
Interviewed by Jessica Zwaiman Lerner
(Issue September 2010)