Carmi Gillon, ex-head of Shin Bet - the Internal General Security Service of Israel (ISA) - passed though Hong Kong on a speaking tour in October, 2011. He speaks with some authority on Israel-Palestine issues as he was head of the ISA at the time of the political process with the Palestinians in the early 90s - while at the same time Hamas suicide bombers were newly on the street.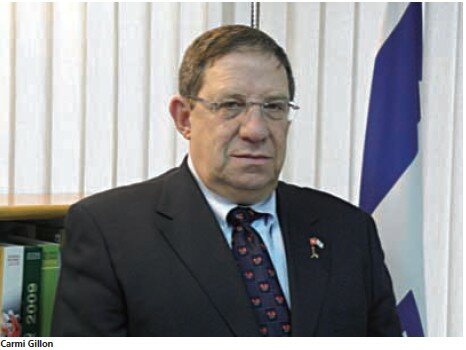 It was said then that: 'You have to continue with the political process as though there was no terrorism; and you fight terrorism like there was no political process'. He still says, "I think from then until now, 2011, that is the best way to tackle the situation and the best way to deal with it."
He was not speaking to Jewish Times Asia on behalf of the Israeli government but as a very loyal citizen of Israel, as he stated his position: "I believe we should proceed with the peace process with the Palestinians taking any opportunity possible. I think that the risks are not that high and we should take the risk."
"On the other hand, we need to be strong when we combat terrorism in our different ways," he continued. "And, because of this latter stance and opinion, I was publicly attacked by human rights organisations like Amnesty and others. But, I feel those terrorist acts of killing children, women, and old people - on behalf of an ideology, a criminal ideology - that by adopting such policies as we did, then we could give the right answers to those rockets from Gaza as we had to redeploy settlements and carry out other such problem operations. I believed Israel had no alternative."
Jumping into the present Jewish Times Asia asked: what are the most promising avenues for peace in the immediate future?
Gillon: "To answer that let me begin by saying, to hark back again, that the good thing about Yasser Arafat was, he was very powerful. The bad thing about Yasser Arafat was, he had no intention to reach peace, not inside him. I met Arafat at least one hundred times - and that's a real number - when he came into Gaza now and then, from July 1994 onwards.
I met him almost every night in those days, usually at 2-o'clock or 3-o'clock in the morning. I did not believe he ever wanted to reach peace. However, I also think he was the only leader who could sign an agreement like the Oslo agreement. But it's like business first you have the initial strong advance but then you have to have a more structured approach, a democratic form.
"Mahmoud Abbas, what can I say, he is a good symbol, his problem is he got into his position after the second infintada with all that violence and after many steps backwards so he does not have the political power and he needs continuous support. That can come from someone like Ahmed Saadat, the head of the Popular Front for the Liberation of Palestine, the PLA - who is in jail in Israel. He is the main political power of Fata, the only political power that can balance Hamas; otherwise in three, five or seven years the whole of Palestine will be Hamas which means fundamentalism and there is no way to reach any compromise with Hamas because of one single reason - too much religion. They cannot compromise. The land is from Allah.
"You can even negotiate with violent secular groups like Baader Meinhof or the Japanese Red Army, or with Fata, but you cannot negotiate with fundamentalist Islamic groups as can be seen with Al-Qaeda, in Afghanistan, in Iraq, in Lebanon, in Gaza. They get their instructions from Allah and not the politicians. I don't blame them!
"If I were in the shoes of the prime minister of Israel I would chose a policy that moves on with the political process even if it means releasing Ahmed Saadat. Not because I love the Palestinians but for the sake of Israel. I don't want to see the West Bank in the hands of Hamas. Gaza is hell. I don't want to see the West Bank like Hell."
Jewish Times Asia: Is anything in the Arab Spring or Jasmine Revolution actions indicating anything new?
Gillon: "I don't know if it is positive or not. To see the young Egyptians in Tahrir Square, in my heart there was a very pleasant feeling. I liked it very much. But, as time has gone by what I see in Egypt is now quite terrifying. I don't mean that recent terror attack that came from Egypt as that can happen and is part of the game. I mean what's going on inside Egypt with the political situation and the disappointments and the frustration and the fact that the regime is the same regime and only some top people changed.
"We know from history, as Karl Marx said, 'religion is the opiate of the people' and that's what am afraid of - religion.
"Don't forget they have a very stable base of Islamic Brotherhood membership which means they can be elected and govern the biggest Arab country in the world, population about 80 million people. The country is a bridge between Europe and Africa.
"The situation is very dangerous. I don't know how much of Hong Kong oil comes from that region but most of the western world oil supply comes from Gulf countries. We seen for the first time in Saudi Arabia that the regime was challenged by revolutionaries. This is a risk for the whole western democratic world. Libya is not that important, it is important for Italy only.
"I would like to introduce a word I used in response to an enquirer who asked if I was optimistic or pessimistic these days and I said, well it's 'Balagan'. A lovely word, it means 'a mess'. I answered I have no alternative but to be optimistic as I have three daughters and three grandchildren living in Israel. I am optimistic because I believe in the wisdom of people. Not only among the Israelis but also among our neighbours whom I know quite well.
"When Sadat signed that important agreement with Israel so long ago he had Egyptian interests in mind. He did not sign for the interests of Israel, but for Egypt, and also for the economic support and security support of the US. They could not afford to lose US$3 billion. So what can they do? They needed to compromise."
Jewish Times Asia concluded, by asking how he got into the security service?
Gillon: "I got into this game from the times I was at university, the Hebrew University of Jerusalem, a friend came to me and offered a position with Shin Bet. In those days it was not allowed to speak of the Shin Bet so the way they got new people was a friend asks a friend who would asks a friend and I am one of those cases. The Shin Bet is not underground anymore and the name of the head of Shin Bet is well known and is in the public domain. However, in all of my 27 years with the organisation the head was a secret.
"My eldest daughter was fourteen years old before she came to me and said, 'don't you know the neighbours ask me all the time why as a civil servant you get a big car, a driver and escorts which is more than usual for a government worker!' No one knew my status, not my family nor my neighbours and that was when I was head of Shin Bet, which was a very comfortable position economically. While it is much easier for anyone as a high official but all that security around, well, it's not really comfortable. We loved that life though in the early days but afterwards, when my name was too well known and the security was tight and you couldn't even get into my street, our life was really miserable. Now I feel free. It's good, 15 years already has passed since those days."
Gillon was born January 1950 into a well known family of lawyers who resided in the Jerusalem neighbourhood of Rehavia. Today he travels for his country as a retired Israeli politician and the vice-president of the Hebrew University of Jerusalem. He is a former Israeli ambassador to Denmark and once head of Shin Bet, the Internal General Security Service of Israel (ISA).
Interviewed by Tony Henderson
(Issue December 2011/ January 2012)