In early June, Jewish Times Asia was invited to interview Dan Meridor, former Israeli Deputy Prime Minister, former Minister of Intelligence and also son of a former Knesset member.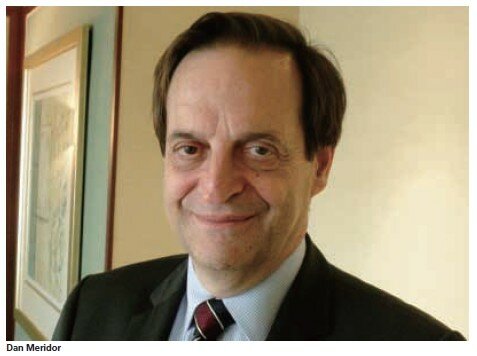 Meridor hails from and extremely powerful and successful family. His father, Eliyahu Meridor was a member of the Knesset. His younger brother, Sallai Meridor was appointed Israeli ambassador to the US in 2006.
His son, Shaul Meridor, one of Dan and Liora Meridor's four children, is the Deputy Director of the Allocation Branch at the Ministry of Finance and his nephew holds a senior position at the Trump Foundation.
Now free from his political roles, he opted to come to Hong Kong with his wife on an unofficial visit. Jewish Times Asia met with him in a private meeting room at the Conrad Hotel Hong Kong. Also in attendance was Ambassador Amikam Levy to Hong Kong.
Jewish Times Asia: What is the purpose of your visit to Hong Kong?
I am no longer a member of the government, I am free at last to do what I like. A few months ago the Consulate General invited me to Hong Kong because he felt it would be beneficial to give the Hong Kong Jewish Community the chance to meet Israeli visitors so I am now here for a four day visit. I am attending three or four large lunch engagements including giving a speech at the Israel Chamber of Commerce in Hong Kong. Some events hosted by the Asia Society and a lunch with leading figures in the Hong Kong Jewish Community.
We have also met the Secretary of Justice. Plus I have had the chance to enjoy seeing parts of Hong Kong that I haven't been able to see on previous visits and sampling the delicious cuisine. I particularly enjoyed visiting Stanley Market.
Jewish Times Asia: What impression has Hong Kong made on you both on this visit and from your official visits in the past?
Hong Kong is an extremely generous city. There is nowhere like Hong Kong. It is unique and interesting and this doesn't surprise me as I knew this from my previous visits here. It is a melange of two cultures. The blend of British and Chinese culture is unique.
Compared to Europe and US, there is no weight of latent or simmering anti-semitism and the safety for Jewish families in Hong Kong is noticeable. Hong Kong is extremely pro-Israel. It sees Israel in a positive light and as a success story with its economic achievements, success in Science and Nobel Prize winners. Israel is highly appreciated by Asia.
Jewish Times Asia: Now that you no longer have an official political role, what are you doing with your time now?
I took on some pro-bono public functions in Israel and have also been offered positions in two law firms which I need to think carefully about over the coming weeks. I have been invited to lecture at Harvard University and I also now have time to focus on my seven grandchildren.
Jewish Times Asia: Alongside your political career you have also enjoyed a successful career in the legal profession. What areas did you specialise in?
I mainly focussed on constitutional law and human rights law alongside my political work but I was private contract lawyer before that. I have also worked in criminal law. As you can see, I did not focus on just one area of law, that wasn't the custom in those days.
Jewish Times Asia: Do you have any hobbies that you can now dedicate more time to?
I have discovered that time is not a question of your job but a question of your character. My interests have not only been limited to politics. I love classical music and used to play the piano but now I prefer to attend concerts rather than play – it's been a long time since I played an instrument. I am also obviously very keen on the field of law and all aspects of culture. If a person limits themselves to just one field then their life is poorer.
Jewish Times Asia: What are your views on the current affairs in the Middle-East?
The Middle-East is going through a major turmoil. We are still in the eye of the storm and not near the end of it. The Arab world is going through a major historic change. The Arab world never allowed itself to be affected by the changes going on in the rest of the world in terms of ideas of democracy, freedom, justice and equality.
But now, at long last, on the wave of Western technologies, Western ideas have finally penetrated. However, the majority of the traditional Arab world still oppose these modern and positive ideas of equality and women's rights and there is therefore an uprising of religious fanatics and a clash of civilisations. I hope for them and for us that modernity will win over the Middle Ages, to put it perhaps a little dramatically.
Arab Nationalism may be losing ground to religious identity. It is a changing world and a developing story if we look at what is happening in Turkey and Iran. In order to make peace nations like these need stability and strong leaders and they should look at Israel as a great success story whose enemies are weakening.
I think it is great that the current US Secretary John Kerry is trying hard to resume talks with the Palestinians. He is trying to arrange people around the table and I hope the Palestinians will come. It's not just about the photo opportunities any more.
Jewish Times Asia: How is Israel's economy performing?
Unemployment in Israel is very low and the economy is thriving with a growth rate of 3-4% per year. Against all the odds, there are now six million Jews living in Israel. This is historic and cannot be overlooked.
In 65 years the broad spectrum of achievements should make all Israelis very proud. However, there are some hurdles ahead. Gaps in society are growing and the gap between rich and poor needs to be focused on.
Jewish Times Asia: What do you define as the high points of your political career?
I'm not in the habit of praising myself, this is something I don't really like to do. Looking back, I would say that serving as the Secretary of the Cabinet under Prime Minister Begin in 1982 was a great part of my career.
I was given the opportunity to be a part of many key decision-making processes. As Minister of Justice I am proud to have passed the first ever human rights basic laws. I am a liberal person and believe very strongly in human rights and have tried to maintain levels of human rights in times of conflicts.
My passions often caused tensions between myself and Yitzak Rabin so it was by no means easy. I believe I have made good contributions to Israeli society over the years and I take pride in this.
Jewish Times Asia: Did you ever have ambitions to become the Prime Minister of Israel?
No, this was never my ambition. In 1998 after I resigned from the cabinet which was big political news in Israel, people around me spoke of the possibility of this whilst we were building up the Centre Party. However, it didn't happen and it was never my goal and I focussed on the new Party instead. Former US Secretary of State Colin Powell once said that if you run for president or prime minister you need to want it very very very much and I never did.
Jewish Times Asia: What is your vision for your future?
I don't consider myself officially retired. Of course I no longer have a role in the government. However, I am now doing work that I enjoy. I enjoy public speaking, exploring Law again and lecturing and I think this will continue to develop. I will be lecturing at Harvard University in the Autumn. Depending on how the political world develops, I may even return to Politics one day!
Interviewed by Nina Soloway
(Issue July/August 2013)