Rabbi Michael Schudrich was born in New York City in 1955. He was educated in Jewish day schools in the New York area and graduated from the State University of New York at Stony Brook in 1977 with a major in Religious Studies. He then attended Columbia University and in 1982 graduated with an MA in History. He received a Conservative rabbinical ordination from the Jewish Theological Seminary of America and later received an Orthodox one through Yeshiva University.
From 1983 until 1989 he served as the Rabbi for the Jewish community in Japan. During his early years he took many people to Eastern Europe and met the remains of the Jewish communities in various places. He knew something had to be done and in 1992 he moved to Warsaw and worked with the Lauder Foundation until 1998. In 2000 he became the Rabbi of Warsaw and Lodz and in December 2004 he was appointed Chief Rabbi of Poland, which is the position he holds until today.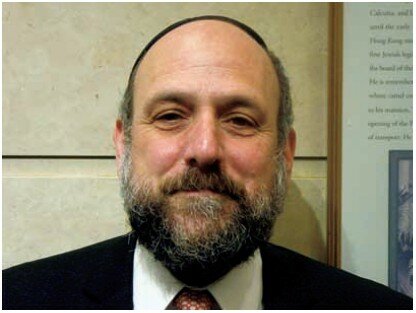 Rabbi Schudrich serves on behalf of Poland's Jewish community as the official intermediary with both the Polish government and the Catholic Church. In addition, he works to protect and preserve the innumerable sites that are relevant to the Jews. "You can't go into a town in Poland where you don't find something Jewish that still remains until now."
He oversees a number of programmes but is especially proud of the time he spends counseling Poles who have recently discovered their Jewish identity. Through the occupation and Communism, nothing Jewish happened in Poland, that was until 1989 when the country became a democracy. And then all of a sudden, not so young Jews who were hiding their Judaism for all these years started confronting the question of revealing their true identity. "So over the last 21 years, thousands of Poles have discovered that they have Jewish roots and nobody knows how many thousands they are."
When asked how many Jews there are in Poland today, he answers, "Pick a number; double it. It is too small." Then he adds, "I don't know, but tomorrow there will be more." Estimations say there are somewhere between 30 and 50 thousand people who have Jewish roots, "Of which the majority know it and want to do something about it, although there can be many more than could be discovering" their Jewish identity.
People discover their Jewish roots in many different ways. "To put it in one sentence, it is Madeline Albright times thousands." He shared a number of stories during his recent visit to Hong Kong. The astonishing fact is that each and every story is different. There are layers and layers of information and the range of emotions covers the spectrum.
Rabbi Schudrich says this is an unfolding story and the fears and traumas of the war and the years that followed do not dissipate easily, even after 20 years of democracy. For example, a man in his 50's visited him a few years ago in November. He was born during the war and his mother had died that May. After the funeral the neighbours told the man that the woman he just buried was not his mother. He was told he was a Jewish baby, his biological mother was a Jew and she gave him to this woman who never told him the truth. The woman he called mom risked her life and for 50 years she didn't say a word. "That's what you call having a bad day in Poland," jokes the Rabbi.
Yad Vashem gives people who saved Jews during the war the title of Righteous Amongst The Nations. "If you call inexplicable evil what happened in the Holocaust, then the Righteous Amongst The Nations is what I would call inexplicable goodness."
People often ask him why when a Pole discovers they have Jewish roots would they want to become Jewish. One would assume these people already have an identity. Rabbi Schudrich says they have a number of deathbed confessions. He tells the story of this girl who found out she was Jewish after a deathbed confession by her grandmother. At 16 years of age she was curious and attended a session the rabbi offered. "She told me at the end of the session she felt something come alive in her that she had never felt before. This Pintele Yid – the spark of the Jewish soul." That is "the most logical and simplistic answer."
Rabbi Schudrich believes that though we cannot change the number of Jews that were murdered during World War II, we can change the number of Jews lost. "No matter how a Jew today observes, practices or lives their Judaism, it is pretty much as a result of what happened – if it wasn't created, then it blossomed in Poland: Zionism, Hassidism, Yiddish literature, Jewish news papers, Jews involved in politics, theatre and lots more. This is a rare historical opportunity for us to give back to the descendants of those people who created the Yiddishkite that we live today."
He took a moment to reflect on the Marranos and how even today, 500 years later, people are finding out they were Jewish because their grandmother lit candles in the basement on Friday night and they couldn't figure out why. "If we could have gone back to Spain and Portugal and worked with the children and grandchildren imagine how
many would have come back to Judaism? How would we have changed the Jewish world? Except history never gave us the chance. We are 60-70 years later in Poland and the only obstacle for us to help these Jews come back to the Jewish people is our own will to help. We are faced now with a historic challenge."
One of the biggest tests for people looking for their Jewish roots is finding the original last name of the family. Most of those who survived changed their name, yet the rabbi says that with the original name there is a pretty good chance people can trace their background.
The Jewish community in Poland is growing, there are around 10 communities and many of them offer a daily minyan service. In Warsaw, 4 years ago, there were 250 family members and today the number is closer to 600. The median age has dropped from 70 to 40 years old in 4 years.
Until 10 years ago there was only one community in Warsaw, now there is a Reform community. "The integration for specific reasons has not taken place, but some individuals are close to both communities. I think it is a shame because in a small reemerging community we shouldn't be looking for differences, we should be looking for ways to work together."
Regardless of the differences the plan to sustain the growing community is clear, "Education, more teaching, more programming, giving more possible ways for Jews to express their Judaism. Through learning, through culture, through art, through prayer, just to constantly create opportunities for Jews to do something Jewish."
Rabbi Schudrich is proposing to the Israeli Ministry of Education, "That every Jewish group that comes to Poland who is visiting so many places of horror, should also include in their itinerary visiting the grave of one Polish family killed for trying to save Jews. And while that is a very difficult thing for young people to see they are seeing so many other difficult things that in some way this may give hope."
One of the people the rabbi was working with for this project was the Head of the Institute of National Memory. This person was one of the many that was on the Presidential plane that crashed in April killing the President and a number of high level Polish dignitaries. "I received his letter on Friday April 9th, I had no time to read it before Shabbat. I read the letter on April 11th and he was no longer alive. I have a particular obligation to do this," he recalls.
As widely reported, Rabbi Schudrich was scheduled to be on that plane, however he turned down the offer because they were flying on Shabbat. "I can tell you I felt no sense of happiness that I wasn't on the plane. I just felt incredible grief that so many of my friends were killed. I don't know if one can ever really assimilate and come to terms with such an experience. The thought is there… I assume it will always be there."
Rabbi Schudrich is a very busy man and when asked about the possibility of writing a book he replied, "When between 2 and 3 in the morning? Not likely. You see, some people write about history and some people make history."
Interviewed by Jessica Zwaiman Lerner
(Issue December 2010/January 2011)