I lived in Belgium most of my life and I was living in Brussels, only 30 minutes by car to Mont Saint Guibert where I was hidden as a child, but each time I felt like going back there, something stopped me!
Eight years ago, I went back to Belgium for a friend's wedding. The ceremony was held ten kilometres from Mont Saint Guibert. Suddenly, I felt an impulsion to find the place where I was hidden during the war.
Two images remained in my mind. First, was the grotto, a replica of the original in Lourdes famous for the Bernadette Soubirous's visions. We had these replicas of the grottos in the garden and as children we played there. Second, was the memory of a big garden connected with an upper street, a little bit hilly. That is all I had to go on.
I stopped a taxi in the street and asked about this grotto in the village but the taxi driver answered there are many grottos in the village. He suggested going to the main street where there is a café where many people gather on Sunday.
The café owner remembered a place with a grotto that belonged to the Marist Brotherhood. She came with me, leaving her busy café.
When we met the last surviving monk, he recounted the story of the castle which belonged to the Prince d'Arenberg family during the First World War. Later it became a monastery and today it is a school but Father Augustijns still remains.
He was cutting the lawn while sitting on a tractor and was covered in mud. I explained to him that I was a hid-den Jewish child during the war and Christian people like him saved my life. With that, we fell into each other's arms. He then said something I will remember for the rest of my life, "It's not unusual, Jesus was Jewish!" In the park, he showed me several small grottos representing the Stations of the Cross. But nothing looked like the grotto in my memory.
Returning to the wedding I met a friend who I had last seen when I was 16!
From that friend I learned about an organisation called The Hidden Child in Brussels, which keeps a record of all the Jewish children that were hidden during the war.
Back in Brussels:
The next day I went to The Hidden Child. All the related records were there with the address and the name of the villa called "Massabielle" (after the name of the grotto in Lourdes). They also gave me the telephone number of Annie, another child hidden with me, who was the same age as my sister.
Annie was living in Brussels, so I called her immediately. We met the next morning and after decades apart we fell into each others' arms crying. Unfortunately her mother was deported but she still had her father after the war. I asked Annie, "Did you go back to Mont Saint Guibert?" and she answered, "I could not." Today she is a grandmother, has her own company and has had a successful life in Brussels, but she could never face going back! I told her that I had the address and was determined to discover the villa "Massabielle."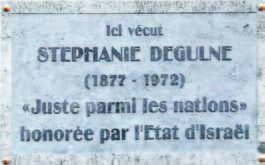 I went back to Mont Saint Guibert - nothing could stop me from finding the Villa. Once I reached number 19, I went into the garden, but the grotto was not there. The owner of the villa came over and invited me into the house. They had bought the house only a few years before. However, the previous owner of the villa was born in Mont Saint Guibert and knew everyone in the village. We called her straight away and she asked for my name, I said that I had changed my name, it was now Gilbert
She replied, "I am Jacqueline Pilloy: you are Sylvain, the brother of Marie-Antoinette..." (my sister was her age and they went to class together). "Yes, of course," she said, "and Annie, the other girl."
She explained that the town authorities had changed the numbers of the villas in the street - but everything else was more or less how it used to be. She told me to go a little further along the street and I will be able to find the villa Massabielle. I walked for two minutes and recognised the place immediately!
Again I ran up the stairs into the garden and there it  was: I had found the grotto.... there was no doubt. Still in the grotto, in the same place, was the Virgin Mary statue exactly as before, as the memory of a child of 5 years. The lady owner of this villa came out and again I explained that I was hidden in this villa during the war... as a child. She immediately invited me inside.
As soon as I entered I recognised the stone pavement and the beautiful art deco glass doors. Looking into the living room there was a piano. I remembered there was a piano (another one) exactly in the same place.
The lady asked her husband and children to come to hear the history of their villa. They were astonished to discover such a past. I explained to the children that one and a half million Jewish children were murdered for being Jewish.
I asked the name of the little girl: "Fanny!" she said. It was the same name as our foster mother "Tante (aunt) Fanny". I don't think those are just coincidences: I believe it must be my destiny.
I went back to Brussels and asked Annie to join me on my next visit. As she was 3 years older than me she remembered many more details. It was a moment of great emotion to find the bedroom where we slept as four little children together in fear and without our parents. Winters were freezing cold and we didn't have coal to heat the bedroom.
The trauma has remained with us all our lives. Finally, after a lifetime, I succeeded in finding the villa where we were hidden. That was a deliverance, a relief after so many years.
The birth of an idea:
I had an idea, a feeling, that I had to pay tribute to this Tante Fanny who saved us four children. She had passed away of course a long time ago, in the 1970s. I contacted Yad Vashem in Jerusalem and they made investigations and tried to find her surviving family. After two years, still no successors were found. Finally, Sabine, my wife, found a descendant. It was not easy because "Tante Fanny" was not married but did have a brother, who had also passed away, but we located his daughter-in-law, now a widow and her two children. Sabine decided to check the telephone book and started to call all the people with Degulne surname and she finally was successful.
On 4 June 2009, I was able to organise, in co-operation with Mont Saint Guibert City Hall and the mayor, and with Yad Vashem, a ceremony to recognise Tante Fanny as a Righteous Among the Nations (A recognition to a non-Jew who saved the life of a Jew during the Holocaust).
4 June 2009, Mont Saint Guibert:
It was a day full of surprises. First of all, upon arrival I saw on the City Hall the flag of Belgium, the flag of Wallonia, and also the flag of Israel.
After so many years, returning to a village which had barely changed and looking at the Israeli flag proudly flying above the city hall was very, very moving. My sister came from Paris, Annie was present and the Ambassador of Israel Mrs Tamar Shamash also attended.
The mayor had not been aware of this tragic episode that happened during WW2 in his village. For him and for many villagers it was a revelation that during this period the people of Mont Saint Guibert saved 21 Jewish children.
I took the opportunity to speak at City Hall and explained what had happened then. Everyone was crying. We also spoke to teenagers sharing the same message of tolerance and to accept each other, just as we are. This is the same message I am sharing with students in Hong Kong schools.
I learned this the hard way, because, after the war, we children had become Catholic, no longer Jewish. Abandoned, we had to be with strangers, with different names, speaking different languages, practicing different faiths.
When we found our parents again, they were strangers and again it was a shock. We had to leave our foster mother, who had become our mother. The person who we lived with everyday and who gave us love, food, education, in a word everything. We loved her very much because she was a good person and made important decisions for us.
The ceremony was beautiful. The mayor, Mr Breuer, had organised a buffet to celebrate the event. He then came up with another brilliant idea. He said November 11, Armistice Day, which commemorates the victims of WW1 was to become the tribute day to "Tante Fanny" and we will place a stone plaque on the villa. The new owners of the villa had agreed and were delighted with this suggestion. 11 November 2009, Mont Saint Guibert.
I went back to Belgium for another memorable day. All the veterans with their flags and town dignitaries were present with a military band, and the flag of Israel covering the stone plaque. The Ambassador of Israel came again.
Radio and television networks (RTL and TVI) were present. Later I was on the news in a long interview. The story aired twice that day on prime Belgium TV channels.
On that day I had an enormous surprise. Parking the car in front of a house on the main square, a lady came out, looked at me in a concentrated manner and said, "You are little Sylvain. I recognise you by the sparkle in your eyes." Immediately she invited me inside her house where she explained that in 1943 (we arrived in the villa in 1942) there was an alert and Tante Fanny did not know where to go with us. Very afraid, she brought us during the night to this house which was the only grocery store in the village. It was quite dangerous don't forget there was a curfew, nobody was allowed on the street after 10pm.
This lady Denise, now 83, was 17 years-old at that time. An orphan herself, she was helping the lady who managed a little store and was Tante Fanny's very close friend. She remembered that we were hidden in this house for more than two weeks. She gave many details. She also told me something very moving. I used to say: "Why do we always have to hide?"
What was also quite incredible in the villa Massabielle was that, being a very large villa, the Germans occupied part of it during the entire war. They never even suspected that there were Jewish children hidden there. So during three years every day we were living among them.
Sabine and I decided to come back to the village two days later and make a video of Denise and another older lady, Colettte Marchal. Colette already 80 years old told me that her father was the post office chief during the war. There were people who sent letters that would have incriminated certain villagers, but he destroyed those letters. In fact, there were a lot of partisans in the Resistance in the village. This man saved a lot of people. He was killed two days before the end of the war. Since she was his daughter she took over the post office. She was fifteen at the time and kept this position all her life. She told me that I was often playing with two other boys of my age at the back of the garden where they had their home. At this moment I realized why I remembered the garden so well.
The ceremony:
The ceremony was very special, particularly to have the veterans there. Many groups of children were present. It was a public holiday but instead of going elsewhere they choose to be part of that special day with us.
After the ceremony, a party was held in City Hall with food and drinks but also a question time for the young people. At least 200 children were present, and I explained our terrible experience during the war.
The children asked very good questions. Some other hidden children (our guests) told their own odyssey. All in all it was memorable. As for most of the people in the village this story was unknown. They realized how courageous and brave Tante Fanny was along with the other families who risked their lives to save 21 Jewish children.
Finally, I had been successful in having Tante Fanny's name commemorated with all the other Righteous in Jerusalem at Yad Vashem. As a Catholic devoted to God, her name is there in Jerusalem, the same city where Jesus was crucified, and I think if she hears me today ( I am sure she does) she will see me, the little Sylvain who was 5 years old during the Shoah and grew up as a man of 72 years old today, who is grateful for ever because she saved my life.
I think I cannot give her a better tribute. Merci - thank you - Toda raba Tante Fanny.
Sylvain Gilbert (Hong Kong March 2010)
For more talks and life participations related to Holocaust events, Sylvain can be reached by email on This e-mail address is being protected from spambots. You need JavaScript enabled to view it .
Special thanks to:
• Yad Vashem
• Mr Breuer, Mayor of Mont Saint Guibert.
• The present owners of Villa Massabielle for allowing the stone plaque to be placed on the villa.
• Denise and Colette for their vibrant memory.
• Family Degulne who gave me pictures of Tante Fanny.
• And, to all the people of Mont Saint Guibert who directly or indirectly changed my life.
(Issue April 2010)