| | |
| --- | --- |
| A CHINESE COMPANY TO OPERATE ISRAEL'S NEW PORT IN HAIFA | |
A further strengthening of infrastructure co-operation between Israel and China was implemented with the recent announcement that a Chinese company, The Shanghai International Port (Group) Co., Ltd (SIPG), has obtained the right to run a new port in Haifa, northern Israel.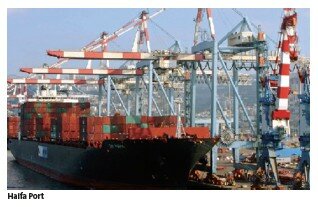 SIPG won the bid in March to operate the new port in Haifa for 25 years starting from 2021. The new port is currently under construction by Shapir Engineering and the Ashtrom group at a cost of around US$1 billion, and is expected to be completed by 2020. It will be able to handle 1.86 million standard containers, which will make it the largest harbour in Israel.
"The Chinese firm will bring its capabilities to the port development and strengthen relations between China and Israel," said Israeli Transport and Intelligence Minister Yisrael Katz during the signing ceremony.
Chen Xuyuan, SIPG chairman, told Xinhua news agency that SIPG will employ its rich experience and technologies in managing ports as well as its long-term relations with shipping lines to develop Haifa's new port into a regional transport hub.
Chen said that under the agreement, SIPG will invest around US$2 billion to build facilities at the harbour and purchase equipment for it. In the first stage of investment, a 700-metre-long harbour will be built. It will eventually be extended to 1,500 metres.
Sholomo Breiman, CEO of the Israel Ports Development and Assets Company, reinforced his expectations that SIPG would deliver a very competitive port. "The SIPG is one of the best companies all over the world, and we are looking for such a company to bring new methods of operation to Israel in order to increase the level of service."
Please login or register to see the full article
| | |
| --- | --- |
| Israel and China sign simplified customs rules | |

Israel and China have signed a roadmap agreement laying out policies that are expected to significantly boost trade.

The Authorized Economic Operator (AEO) agreement simplifies the customs approval procedure, settling on a recognised standard set of rules.

Once the final agreement is signed, approved Israeli companies will be able to take a "bureaucratic shortcut" for their exports, getting an expedited approval process and having to deal with fewer logistical hurdles. "The mutual recognition programme streamlines and simplifies trade between two countries, in this case between Israel and China, while maintaining a high level of enforcement," Israel Tax Authority director Moshe Asher said.

"The relief granted to members of the trade community due to their participation in the programme is expressed through saving time and money, which is of beneficial interest in Israeli companies, exporters and importers and makes them more attractive to global trade market," he said.

Please login or register to see the full article

| | | |
| --- | --- | --- |
| Israeli killed in Myanmar crash | | |

A 62-year-old Israeli from Tel Aviv was killed in May in a traffic accident near the city of Bagan, some 500 kilometres north of Myanmar's largest city, Yangon. His wife and son were slightly wounded in the crash. The son had been travelling in the country, where his parents joined him recently for a trip.

The family was travelling in a minibus when it crashed into a truck; from the force of the impact, the minibus was diverted, coming to a stop after hitting a house.

The man died at the scene and his wife and son were evacuated to a hospital in a nearby town. Israel's embassy in Myanmar managed to secure the body for burial in Israel.

(Issue July/August 2015)

 

| | |
| --- | --- |
| Ice-cream cones named after Adolf Hitler | |

In yet another Hitler-related marketing incident in India, boxes of Hitler ice cream cones bearing the unsmiling image of the Nazi leader dressed in a military uniform are apparently available throughout India.

With temperatures soaring in India, ice-cream is a creamy and refreshing way to cool down. Unfortunately the eye catching ice-cream cones provides unpleasant enjoyment!

In 2012, municipal authorities in the Indian state of Gujarat removed the sign for a men's clothing store named Hitler. The sign, on which the letter "i" was dotted with a swastika, was removed after hundreds of complaints from both within and outside of the Jewish community.

A year earlier, an Indian network premièred a daily soap opera called "Hitler Didi", or "Auntie Hitler", in which the lead character was a young woman known in her locality as a strict disciplinarian who took a no-nonsense attitude with her family.

Please login or register to see the full article

| | |
| --- | --- |
| Tony Blair to head international group fighting racism and anti-Semitism | |

Former British Prime Minister Tony Blair has been appointed to head an international organisation that fights racism, anti-Semitism and xenophobia.

Blair's appointment as chairman of the European Council on Tolerance and Reconciliation (ECTR), heading a board of former European presidents and prime ministers, was announced in June.

The appointment comes after Blair announced that he will step down as the special Middle East peace envoy of the Quartet, the diplomatic group representing the US, the European Union, Russia and the United Nations, a post he has held since 2007.

"Incidents of extremism, rising anti-Semitism and surging nationalist forces who seek to cultivate a spirit of resentment by playing on people's fears, threaten our European ideals of freedom, equality and a desire for peace," said Blair in a statement.

"But such intolerance has been rejected before in our history and must be rejected again today. The ECTR stands against such closed-minded views – and I am delighted to have this opportunity to work with them to promote our shared vision for the future: societies based on an open-minded, inclusive and tolerant worldview."

Please login or register to see the full article
<<

Start

<

Prev

1

2 Next > End >>


Page 1 of 2