| | |
| --- | --- |
| Tower of David Innovation Lab opens at museum in Jerusalem | |
The Tower of David Museum in Jerusalem launched  its new ToD Innovation Lab program in October. The ToD Innovation Lab specialises in the integration, piloting and development of tech solutions that support and enhance the visitor experience.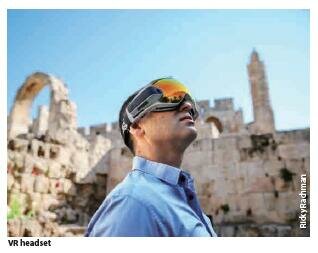 As of 1 January, 2018, the ToD Innovation Lab will offer a workspace, equipment and a real-time beta site for startups and industry leaders, providing content and support, all within the magnificent historic citadel.

The Lab will actively connect developers, entrepreneurs, startups and corporations to the museum/national heritage site world, delivering content to the developers while simultaneously offering visitors to the Tower of David Museum the opportunity to experiment with the different projects sponsored by the lab in real time.

The Lab has an AR (augmented reality) and VR (virtual reality) focus, so visitors will soon be able to don headsets such as the Samsung Gear + Galaxy, HTC Vive, Oculus Rift, Google Daydream View + Pixel and Rideon headsets and, for example, be transported into the world of knights and peasants in the Middle Ages in the Citadel, or to experience generally closed-to-the-public places in the Old City whilst sitting among the ancient stones of the citadel.

The ToD Innovation Lab believes that technology is the key to telling the story, in order to engage, educate and impact visitors worldwide. The Lab will also have an inclusion component to help enhance the visitor experience for populations with special needs through tech solutions.
Please login or register to see the full article
| | |
| --- | --- |
| Remains of decapitated toads found in 4,000-year-old tomb | |

Intriguing evidence of burial customs in the Canaanite period uncovered near the Jerusalem Biblical Zoo has revealed the remains of decapitated toads, as well as evidence of the cultivation of date palms and myrtle bushes, perhaps as part of funerary rituals.

The research was launched by the Israel Antiquities Authority (IAA) in co-operation with several academic institutions. The archaeological excavation took place in 2014 with funding from the Housing Ministry (the Arim Urban Development Company) prior to the expansion of the Manaḥat neighbourhood, and the results were presented to the public for the first time at a conference titled "New Studies in the Archaeology of Jerusalem and its Region", held at the Hebrew University of Jerusalem on 18 October.

In the new research, remains that were found in vessels placed in the tomb as funerary offerings were examined using advanced scientific methods. The task was a co-operative effort between various academic institutions, led by Shua Kisilevitz and Zohar Turgeman-Yaffe, IAA, with Dr Dafna Langgut of Tel Aviv's Institute of Archaeology and Steinhardt Museum of Natural History; Dr Lior Weisbrod of the Zinman Institute of Archaeology at the University of Haifa; Dr David Ilan, director of the Nelson Glueck School of Biblical Archaeology at the Hebrew Union College, and Nathan Ben-Ari of IAA.

The excavation directors explained: "This section of the Nahal Repha'im basin was fertile ground for settlement throughout time, especially during the Canaanite period. In recent years, excavations in the area have uncovered two settlement sites, two temples and a number of cemeteries, which provide new insight into the life of the local population at that time."

Please login or register to see the full article

| | |
| --- | --- |
| Taiwanese volunteers spend summer vacation in Israel | |

In a café in Jerusalem's Cinema City complex in August, over plates of Israeli breakfast, shakshuka and a communal bowl of fries, a group of seven young Taiwanese volunteers shared their experiences during their time in Israel and recounted with humour the similarities and differences between the two cultures, Jerusalem Post reported.

"I still remember Independence Day, there was supposed to be a celebration party in Gilo Park, and originally they told me it started at 8 o'clock and I was there until 9, maybe a little later, and they finally started and I thought, 'Okay, this kind of reminds me of home'," recounted Cindy, a volunteer who had spent the previous past five months at the Gilo branch of ILAN, the Israel foundation for handicapped children. She added: "Transportation is really different here; when you cross the street, the cars stop."

She and six other volunteers were taking time off from their studies or careers to explore Israel and to serve some of its most needy citizens, working with organisations such as ILAN, the Israeli society for autistic children ALUT, and Elwyn, which is dedicated to helping people with disabilities.

Both Israeli and Taiwanese cultures put a strong emphasis on the family, and when asked about how their families took the news that their children would be spending an extended period of time in the Middle East, one volunteer explained: "Our parents tried to stop us from coming, but I take a lot of pictures and send them so they feel better about me being here." This comment was met with emphatic head nods and hand-over-mouth laughter from the rest of the group.

Please login or register to see the full article
<< Start < Prev 1

2

3 4 5 6 7 8 9 10 Next > End >>


Page 2 of 55