One to One Interview
| | | |
| --- | --- | --- |
| From F-16s to Boeings EL AL chief sees only blue skies ahead | | |
Elyezer Shkedy, President and CEO of EL AL Israel Airlines joined the airline in January 2010 after a distinguished career of nearly 33 years in the Israeli Air Force, earning the rank of Major General.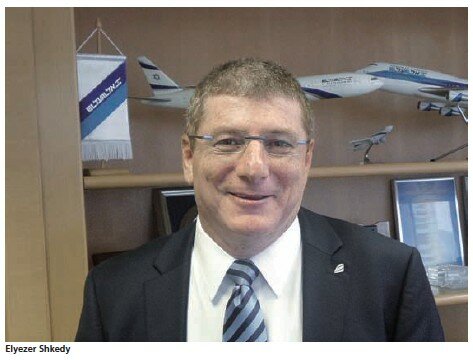 Shkedy was visiting Hong Kong in June, Jewish Times Asia sat down with EL AL's president to discuss the airlines position in Asia and his personal experiences as a fighter pilot.
Jewish Times Asia: What is the situation regarding Asia in the development plans of EL AL?
We are trying to put Asia more clearly on our map. We fly into four places in Asia: Hong Kong, Mumbai, Bangkok, and Beijing. We are trying to increase flight frequency. Lately, a year ago, I decided to make a change and we enlarged the capacity into Asia and added flights into Hong Kong, Mumbai and Beijing and that was quite a dramatic change.
It is complicated to get 'slots', especially in Beijing. One slot we got into Beijing was not attractive so we did not take it. We know what we want and that slot did not fit our requirements. The capacity in 2011 became much bigger than before.
Read more...
| | | |
| --- | --- | --- |
| Ruth Kahanoff speaks about Israel in Asia and opposite directions | | |

Ruth Kahanoff, Deputy Director General, Asia and the Pacific, Ministry of Foreign Affairs, Government of Israel was in Hong Kong as a guest of the Hong Kong government Department of Information Services in January, 2012. Jewish Times Asia had the opportunity to speak with her and ask her about Israel in Asia.

Jewish Times Asia: You are no stranger to Hong Kong, nor Asia, how do you see things now?

It has been many years since I was here working in Hong Kong so I was pleased to get this invitation and be here to see all the changes and reacquaint myself with the region. The visit has already reminded us of the importance of Hong Kong.

Hong Kong itself has many opportunities for us and Hong Kong in partnerships to do things in China is also interesting, especially in South China. I believe we need to explore the opportunities on top of what the very able consul-general is doing.

We can consolidate the work going on in Guangzhou, so it is a good moment for us to get a feeling for the place and to get more ideas on where we can operate, economically, but also in research and development and with the academic communities, besides in cultural affairs.

Read more...

| | | |
| --- | --- | --- |
| "Move on with the political process"- ex-head Shin Bet | | |

Carmi Gillon, ex-head of Shin Bet - the Internal General Security Service of Israel (ISA) - passed though Hong Kong on a speaking tour in October, 2011. He speaks with some authority on Israel-Palestine issues as he was head of the ISA at the time of the political process with the Palestinians in the early 90s - while at the same time Hamas suicide bombers were newly on the street.

It was said then that: 'You have to continue with the political process as though there was no terrorism; and you fight terrorism like there was no political process'. He still says, "I think from then until now, 2011, that is the best way to tackle the situation and the best way to deal with it."

He was not speaking to Jewish Times Asia on behalf of the Israeli government but as a very loyal citizen of Israel, as he stated his position: "I believe we should proceed with the peace process with the Palestinians taking any opportunity possible. I think that the risks are not that high and we should take the risk."

"On the other hand, we need to be strong when we combat terrorism in our different ways," he continued. "And, because of this latter stance and opinion, I was publicly attacked by human rights organisations like Amnesty and others. But, I feel those terrorist acts of killing children, women, and old people - on behalf of an ideology, a criminal ideology - that by adopting such policies as we did, then we could give the right answers to those rockets from Gaza as we had to redeploy settlements and carry out other such problem operations. I believed Israel had no alternative."

Jumping into the present Jewish Times Asia asked: what are the most promising avenues for peace in the immediate future?

Gillon: "To answer that let me begin by saying, to hark back again, that the good thing about Yasser Arafat was, he was very powerful. The bad thing about Yasser Arafat was, he had no intention to reach peace, not inside him. I met Arafat at least one hundred times - and that's a real number - when he came into Gaza now and then, from July 1994 onwards.

Read more...
<< Start < Prev 1

2

3 4 5 6 7 8 9 10 Next > End >>