Regional
| | |
| --- | --- |
| Remembering Munich 1972: Ceremony to be held during the 2020 Olympic Games | |
The Olympic Committee of Israel has announced plans to conduct a ceremony in Tokyo during the 2020 Olympics in honour of the 11 Israelis killed during the 1972 Munich Olympics.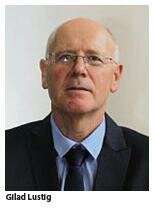 International Olympic Committee (IOC) President Thomas Bach is expected to attend the event on 2 August 2020, along with representatives from the Tokyo Metropolitan Government, the central government, the Japanese Olympic Committee, and spouses of the 11 victims. At the ceremony, 11 candles will be lit and prayers will be offered.
Memorial services for the Munich victims have been held during the Summer Olympics since the 2000 Sydney games. "The goal is to ensure this kind of terrorist act does not occur again. This is a reminder, something we must not forget," said Gilad Lustig, Executive Director of the Olympic Committee of Israel.
Invitations are to be sent to national Olympic committees attending the Tokyo Games.
Please login or register to see the full article
| | | |
| --- | --- | --- |
| Indian Defence Ministry visit Israel | | |

A Defence Ministry delegation from India, led by senior officials from the Department of Defence Production and comprising members of the Society of Indian Defence Manufacturers (SIDM), visited Israel last month to explore avenues for joint business opportunities for global markets.

The delegation was met by India's Deputy Chief of Commission in Israel Tshering W Sherpa who organised their itinerary. Whilst also in the country, the officials attended the opening session of the conference, entitled: India-Israel Cooperation: Opportunities for Global Markets, on 3 June. Sherpa also met with young, bright Indian entrepreneurs currently in Israel to participate in Startup Showcase event Mass Challenge Israel.

| | |
| --- | --- |
| New Zealand government website removes Israel off the map | |

Immigration New Zealand, an official government website, published a fact sheet with a map of the Middle East that showed a "Palestine," but not Israel.

Following a barrage of complaints on social media, the web page was removed, though screen shots remain.

The Israel Institute of New Zealand called for a retraction of the map.

"The most immediately obvious of the errors was a map mis-labeling the whole of modern-day Israel as 'Palestine,'" said the institute's director, Ashley Church.

"This is incredibly offensive and the equivalent of New Zealand Immigration displaying a map of the UK which removes Scotland and Wales and refers to the entirety of the British Isles as England."

The fact sheet, which offered information about Palestinian immigrants to New Zealand, also identified East Jerusalem as "the designated capital of the State of Palestine."

Please login or register to see the full article

| | |
| --- | --- |
| Bezalel Arts Academy and University of Tokyo collaborate on Science x Design | |

Israel's Ambassador to Japan, Yaffa Ben-Ari, hosted a reception at her residence on 3 June in honour of a unique science and design collaboration by a joint team from the University of Tokyo and the Bezalel Arts and Design Academy, Jerusalem.

The joint team has developed a novel system which transforms microscopic images of human capillaries into musical tunes. The latest research by Associate Professor Yukiko Matsunaga of the Institute of Industrial Science (University of Tokyo) has revealed that shapes of capillaries can indicate one's health condition, and the team led by Dr. Romi Mikulinsky of the Bezalel Arts and Design Academy has enabled the creation of individualised, unique music from images of capillaries.

Ambassador Ben-Ari said in her opening remarks that she is "Very pleased that not only has this collaboration merged science and design [sectors between] Japan and Israel, but also that the teams are led by two women from Israel and Japan."

Welcoming remarks were given by Prof. Teruo Fujii (Executive Vice President of the University of Tokyo), Prof. Kisho (Director-General of the Institute of Industrial Science), and Prof. Nino (Vice Chair of the DLX Platform).

Please login or register to see the full article

| | |
| --- | --- |
| Philippine police to undergo Israel counter-terrorism training | |

The Philippine National Police (PNP) has asked the Israeli police to train its personnel on anti-terrorism.

PNP chief General Oscar Albayalde said he requested the training from the Israeli police during a week-long seminar he and other PNP officials attended in Israel from 27 May to 1 June.

"They see threats everydaythat is why they are good when it comes to anti-terrorism operations," he said in a press briefing at Camp Crame in Quezon City, noting the Israeli police force has to deal with suicide attackers on an almost daily basis.

"Our discussion with the Israeli counterparts focused on the challenges being faced by the PNPour campaign against terrorism, specifically ISISand our continuing efforts to fight this menace," Albayalde said.

He said the PNP continues to closely coordinate and cooperate with their international counterparts in the light of previous terror attacks worldwide.

Please login or register to see the full article
<< Start < Prev

11

12 13 14 15 16 17 18 19 20 Next > End >>