| | |
| --- | --- |
| "Asphalt Exodus" @ Bangkok Street Show | |
Multi-skilled Israeli comedians who play music whilst simultaneously performing acrobatics and tricks entertained audiences at the Bangkok Street Show 2015 at Lumpini Park in December.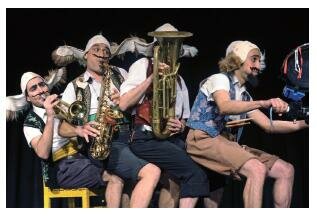 Founded in 1997, the group has a unique style of musical clowning. The four actors all perform acrobatics, juggling and drama while masterfully playing a musical instrument.
Whether on the road with "Fanfara Asphalt" or on stage with "Asphalt Exodus", the four well-tempered ambassadors from an imaginary land named Chorbastan kidnap the audience and take them on a comedic journey from reality to the Promised Land.
(Issue February 2016)