Business
| | |
| --- | --- |
| Shiji Group acquires Tel-Aviv based MyCheck | |
Beijing-headquartered Shiji Group, which provides software and services for the hospitality, retail, and entertainment industries, will acquire Tel-Aviv-based MyCheck.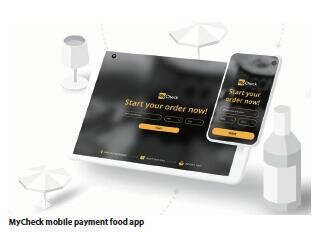 Otherwise incorporated as Quick Check, the company announced the acquisition in June. No financial data of the deal was disclosed.
MyCheck, which offers a mobile payment app with a focus on the hospitality industry, was co-founded in 2011 by CEOs Shlomit Kugler, Tal Nethanel, Erez Spatz, and Asaf Talmor Wertheimer (the stepson of Israeli businessman Eitan Wertheimer, who also invested in the company).
In 2015, after raising over US$20 million, the company pivoted from a B2B product to a B2C product. In late 2017 the company ran into financial trouble as stakeholders barred further investments, leading the company to request — and receive — a stay of proceedings order in February 2018.
A month later the company was acquired for NIS 4.6 million by O.G. Tech Partners, an early stage fund owned by Israeli real estate and shipping magnate Eyal Ofer.
"The company has been on a growth trajectory in the past year," Kugler said, "In a large part thanks to the connections of the Ofer Global group in the hospitality industry. [Thanks to them,] We have gained customers in the UK and in Asia."
Please login or register to see the full article
| | |
| --- | --- |
| EL AL to launch flights to Tokyo | |

El Al Israel Airlines Ltd recently announced that it will begin operating Tel-Aviv – Tokyo flights. The thrice-weekly flights will start from March 2020.

These will be the first direct scheduled flights between Israel and Japan, although El Al's seasonal and chartered services unit, Sun D'Or, will begin operating charter services for the Fly East Travel Company from September 2019.

At present, Israeli passengers flying to Japan must take connection flights. Flight time between Tel-Aviv and Tokyo's Narita airport will be 11 hours and 15 minutes, with the return journey taking 12 hours 30 minutes.

Demand among Israelis for Japan, as both a vacation and business destination, has grown exponentially in recent years; 40,000 Israelis visited Japan in 2018, while 20,000 Japanese came to Israel. The numbers of Israelis visiting Japan is likely to increase significantly next year with Tokyo hosting the Olympic games.

Please login or register to see the full article

| | |
| --- | --- |
| IIA announce partnership with Singapore Technologies Engineering | |

The Israel Innovation Authority (IIA), the Israeli government's funding arm for research and development (R&D) and innovation, announced in June a partnership with Singapore Technologies Engineering (ST Engineering), a global tech and engineering group, to scout for Israeli tech.

This programme "offers a unique framework for technological cooperation between MNCs and innovative Israeli companies," an IIA spokesperson said.

As part of the deal, the IIA will support ST Engineering by helping to identify tech development,s and scout Israeli companies that fall within its sphere. Funding will be provided for these Israeli startups by the IIA, and ST Engineering will support their testing, marketing, and other global endeavours.

"The Innovation Authority is pleased to announce the first MNC Collaboration agreement with a Singapore-based engineering and technology group, ST Engineering," said Aharon Aharon, CEO of the Israel Innovation Authority, "It will serve to strengthen R&D and commercialisation relationships between the two countries," he explained, noting the agreement is in addition to the SIIRD Foundation (Singapore Israel Industrial Research and Development) agreement between the Israel Innovation Authority and Enterprise Singapore.

"R&D collaboration with the government of Israel marks an important milestone for ST Engineering, as it facilitates our work with the Israel Innovation Authority and leading Israeli companies who can become technology partners for our mobility solutions," said Dr. Lee Shiang Long, President of ST Engineering's Land Systems sector.

Please login or register to see the full article

| | |
| --- | --- |
| China-Israel Innovation Hub in Shanghai established | |

In the continuing effort to bolster cooperation between both nations, China and Israel have now officially launched the China-Israel Innovation Hub.

Located at the Taopu Smart City in Shanghai, the complex is intended as a symbol of the two nations' aim of promoting and developing scientific innovation. The hub, which is situated near the Putuo District in Shanghai, will mainly be housing firms and institutions that will work on different research and development projects from both nations.

Different universities, research institutions, and tech firms from Israel will also be invited to set up their respective bases of operations within the innovation hub.

To further spur innovation and research projects, both countries have set up a US$145 million innovation fund, which will be part of the first phase of the hub itself. According to China's Minister of Science and Technology Wang Zhigang, the main goal of the hub is "To promote different breakthroughs and achievements in the science and technology fields."

The innovation hub will also serve to attract financial capital from investors, as well as being a melting pot for top talents from both countries. Wang hopes that the hub will set an example for the rest of the world to promote global cooperation to spur further innovation in various industries. Wang also stated that they are welcoming all scientists, engineers, and businessmen from all over the world to work and invest in China.

Please login or register to see the full article

| | |
| --- | --- |
| Miniso in expansion drive in Israel | |

Retailer giant Miniso is opening new stores in Israel at an investment of NIS 6 million, according to Globes.

Almost a year after its official launch in August 2018, Miniso Israel, managed by CEO Einat Portugali, is expanding. Headquartered in Japan, Miniso operates 1,800 low-cost variety stores across Asia, Europe, Australia, Africa, North America and South America.

Miniso discount chain currently has seven branches across Israel, and will be making the move to set up at popular shopping malls later this year.

According to the chain's business plan, it plans to double its current numbers, with an envisaged network of 18 stores by the end of 2019.

Please login or register to see the full article
<< Start < Prev 1 2 3 4 5 6

7

8 9 10 Next > End >>