Business
| | |
| --- | --- |
| Yozma Group to fund local start-ups in South Korea | |
Yozma Group, one of Israel's largest venture capitalists, announced in September the opening of an office in Seoul and will later open the group's first campus to help develop promising start-ups.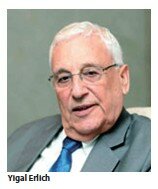 Through its campus the group will form a fund worth around 1 trillion Won (US$987 million) over the next three years, investing about 300 billion Won each year in cooperation with its partners that participated in Israel's Yozma Fund in 1993, an historic venture fund that transformed Israel into a start-up country. That venture capital will come from various countries including the US, Singapore and the UK.
The campus will give customised business education and hands-on training based on each start-up's goals, as well as a lab for manufacturing prototypes. Plans for the 606-square-metre campus are in full swing, but the location has not been finalised. The three most likely locations will be either in Seoul, Incheon or Gyeonggi.
Local start-ups that specialise in big data and cyber security will be Yozma Group's main focus. The investor hopes that the start-ups will eventually be acquired by global tech companies.
"I think Korea already has reached a more advanced technological level than its fellow Asian countries like Taiwan and China," Yigal Erlich, founder and managing partner of Yozma Group, said in a statement. "Foreign investors like us think that the main reason that the Korean start-up market has stayed weak is not the technology. It is a problem of globalisation."
Please login or register to see the full article
| | |
| --- | --- |
| Israel eyes agribusiness partners in Davao City | |

An economic and trade mission from Israel met with members of the business sector and key government agencies in Davao City, Philippines, to explore partnerships and the use of agricultural technology.

"They are here for business matching and exploratory talks as they are looking for partners from the city's agricultural industry," said Ivan C. Cortez, chief of the Davao City Investment and Promotions Center.

"Israel has developed an expertise in biotechnology and we can benefit from their expertise considering that our agriculture is faced with the challenge of how to combat pests in our coconut and even banana industries," he added.

Cortez also noted that Israel is also a major exporter of fresh produce, prefering the use of environment-safe biotechnology such as introducing natural predators to fight destructive insects. Luciano Frederick Puyod III, Davao City Chamber of Commerce and Industries vice president for agribusiness, said the Israeli visitors are keen on bringing their technology here and providing training.

Please login or register to see the full article

| | |
| --- | --- |
| Israel Diamond Pavilion expands its presence at the Hong Kong September Jewellery Show | |

The Israel Diamond Pavilion once again had a large presence at this year's September Hong Kong Jewellery & Gem Fair, which was held between 15-19 September.

The pavilion, organised by the Israel Diamond Institute Group of Companies (IDI), was expanded to more than 1200 square metres and featured 96 companies, seven more than last year.

In addition there were about 30 other Israeli companies exhibiting at various other locations throughout the show.

This year's pavilion, although expanded, was not able to meet the demand by Israeli companies to participate in the September show. A waiting list included close to 40 companies who were not able to participate.

The Israel Diamond Pavilion was located in Hall 7, 9 and 11 of the Asia World Expo. A special lounge area for buyers was located at the heart of the pavilion serving refreshments throughout the day, and in addition to tables and chairs, was outfitted with terminals featuring the 'Find Your Diamond' system.

This computerised database of all goods offered by Israeli exhibitors at the show will enable buyers to easily locate exactly the goods they are seeking.

Please login or register to see the full article

| | |
| --- | --- |
| JNA Awards honours best in practice including an Israeli owned company | |

This year's Jewellery News Asia (JNA Awards) ceremony and gala dinner event drew more than 600 industry stakeholders at the InterContinental Hong Kong on 16 September.

Organised by JNA, the awards event was the culmination of a year-long effort to recognise individuals and companies that are raising the bar for quality, innovation and excellence in the jewellery industry.

The event was held on the sidelines of the September Hong Kong Jewellery & Gem Fair. In all there were 20 awards given out during the evening. Highlights included, Brand of the Year for Retail awarded to Australian pearl company Paspaley. Retailer of the Year awarded to Chow Tai Fook Jewellery Group Ltd, Hong Kong and Manufacturer of the Year to Gem-Set Jewellery based in China. This year's Industry Innovation of the Year awards for Manufacturing and Technology included, for the first time, Diamond Services Ltd, an Israeli owned Hong Kong company.

Diamond Services Ltd aims to resolve the question -are your diamonds natural? Established by Joseph Kuzi, seasoned veteran in the diamond industry with roots in the Israeli hi tech industry, who steered the company to launch its first innovative product, the DiamaPen. A pocket-sized instant device that helps with the preliminary screening of diamonds. "It is an affordable tool to evaluate yellow diamonds and separate synthetics from natural stones," commented Kuzi.

Earlier this year, Diamond Services launched its second product, a service called DiamaTest, which can screen hundreds of fancy color (not just diamonds) stones in minutes, whether these are loose or mounted, at an outstandingly high rate of accuracy, the company said. DiamaTest can screen stones of any size including those smaller than 0.01 carat.

Please login or register to see the full article

| | |
| --- | --- |
| South Korea interested in Iron Dome Defense System | |

South Korea has expressed its interest to acquire Israel's Iron Dome anti-missile defense system, according to Rafael Advanced Defense Systems.

Yedidya Yaari, CEO of Israel's state owned Rafael Advanced Defense Systems, has sent representatives of the defense company to South Korea to discuss the possible procurement of the Iron Dome, he said during an interview with Israel's Army Radio. "South Korea is very worried not only about rockets, but other things aswell...You can certainly include them in the club of interested countries. The high success rate of the system has impressed South Korea and other foreign militaries," Yaari was quoted as saying.

Sources within the defense industry have also cited India, Singapore and Poland to be in negotiations to acquire the system.

The Iron Dome successfully intercepted 90% of the rockets fired by Palestinian militants from the Gaza Strip during the recent conflict between the two parties, according to Israeli defense officials.

South Korea's capital, Seoul, is only 35 km away from the Demilitarized Zone and the border of North Korea. The anti-missile system is capable of striking targets with a range of 70 km making it an essential part of South Korea's defense if it were to acquire it.

Please login or register to see the full article
<< Start < Prev 1 2 3 4 5 6 7 8 9

10

Next > End >>