Business
| | |
| --- | --- |
| Yahoo! Japan selects Mellanox Technologies InfiniBand solutions | |
Mellanox Technologies, a leading supplier of end-to-end InfiniBand and Ethernet interconnect solutions and services for servers and storage, announced that Yahoo! Japan Corporation has deployed its InfiniBand solutions for database acceleration at several data centre sites in Japan.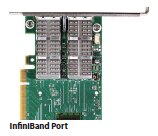 "Due to the tremendous amount of traffic hitting our databases, it's important that we have a resilient, high-performance networking solution," said Hiromune Ozaki, manager of the Data Solution Division, System Management Group at Yahoo! Japan. "Mellanox's FDR InfiniBand solutions enable us to handle the growth in our data in the most efficient way and improve our capability to serve our users," Ozaki added.
Yahoo! Japan deployed Mellanox's end-to-end FDR InfiniBand for database and storage servers to support its daily business services that require high performance and reliability, such as services provided by Yahoo! Japan's websites and its internal operations.
By switching to Mellanox InfiniBand solutions, Yahoo! Japan improved its system and user I/O by approximately 50% from its previous 10GbE solution. The company also reduced its job processing time by nearly one-tenth and its database backup time by 80%.
Please login or register to see the full article
| | |
| --- | --- |
| The 'Shabbos App' ready for launch | |

Apps seem to be developing for all types of uses and necessities on abundance are we now ready for the Shabbos App?

The Shabbos App is a new Android application claimed by its creators, YidTec, Inc. to enable Orthodox Jews, and all Jewish Sabbath-observers, to use a smart phone to text on the Jewish Sabbath.

Developers of the new app have stated that the application will be released on Google Play on 1 December, 2014.

Many rabbis are not pleased with the development. Last month the app caused an uproar. Under Jewish law, Halachically one is not allowed to turn electricity on or off on the Sabbath, an exception to these prohibitions is those situations that involve saving lives. In addition, the developers claim that it is built in a manner that avoids Halacha relating to texting.

According to Popular Mechanics magazine in the US, it reported that the Shabbos App will keep the smartphone's screen on during the entire Sabbath (avoiding turning the screen on and off, according to its Kickstarter page).

The magazine also added that the app will have an option that can delete texts (addressing the Jewish religious Sabbath prohibition on writing permanent characters). In addition it will have an indicator that alerts users when they can connect their phone to a charger without immediately initiating a charging action. Completing an electrical circuit on the Sabbath is forbidden.

Please login or register to see the full article

| | |
| --- | --- |
| NICE deployed in India | |

Israeli company NICE Systems announced on 29 September it has deployed its Safe City solution in Nanded City, India, a city with more than half a million citizens.

NICE's solution provides Nanded's law enforcement agencies with real-time situational awareness for both dayto-day operations and disaster handling.

At the heart of the Nanded Safe City project is what has aptly been named the C-Cube, the command, control and communication centre located in the city's police headquarters. Nanded Safe City also includes NiceVision intelligent IP video surveillance and crowd control video analytics.

The crowd control video analytics allow police to identify potential safety threats stemming from overcrowding, an ongoing concern due to the city's influx of visitors. Situator's ability to maintain, manage and enforce pre-configured standard operating procedures (SOPs) enables Nanded law enforcement to provide consistent, effective and compliant responses to unfolding security and disaster management events.

Uniquely, Situator supports multi-language interfaces, so the system and SOPs are in the local Marathi language. Mr. G Sreekanth, Municipal Commissioner of Nanded City, said: "Nanded's historical and religious significance make safety and security a high priority. The C-Cube was designed to facilitate better communications between law enforcement officials and the public, and to centralise safety and security management."

Please login or register to see the full article

| | |
| --- | --- |
| China to build new Ashdod port | |

A Beijing based contracting firm, China Harbor, has been chosen to build a new port in Ashdod. According to the Israeli government the new South Port is expected to cost around Israel NIS 3.3 billion (US$930 million). The new port will be built about a kilometre north of the current Ashdod Port.

It will consist of a 1,000-metre pier and 2,800-metre breakwater. The pier will have facilities for loading and offloading ships, warehouses and storage areas, office space, and more. Construction is set to begin at the end of the year and will take about seven years to complete, officials said. The government is also planning to build a new port in Haifa, and the decision on a contractor will be made in about a month, the officials said in a statement.

The new Ashdod port is part of the government's effort to offer Israel as a safe alternative for east-west trade. China Harbor, via its Mediterranean Engineering PMEC, is also a candidate to build the cross-Negev railway, which will begin in Eilat and/or neighbouring Aqaba in Jordan and terminate in Ashdod – at the new port.

According to the government's vision, laid out by Prime Minister Netanyahu in a speech last year, goods will be transported by ship from China and offloaded in Eilat/Aqaba, sideby-side ports at the northern end of the Red Sea, then transported by train to Ashdod and reloaded onto ships bound for Europe. The new route will offer shippers a safe and price-competitive alternative to the current Suez Canal route, Netanyahu said in the speech.

Please login or register to see the full article

| | |
| --- | --- |
| Indian Carpet Expo held | |

The 28th Indian Carpet Expo was recently organised from 10-13 October and held at Sampurnanand Sanskrit University (SSU) in Varanasi, India.

It was an opportunity for traders to directly deal with buyers. Manufacturers from across India exhibited a wide range of hand-knitted, tufted carpets and floor coverings at the expo.

Around 400 carpet importers from 57 countries, including Australia, Brazil, China, Russia, Germany, Britain and US also participated. Buyers from countries like Bulgaria, Malaysia, Israel, Mauritius, Thailand and other 14 countries also attended the expo.

Carpet Export Promotion Council organised the expo with the support of the Union Ministry of Commerce.

The guest of honour was SSU Vice-Chancellor Prithvish Nag and textiles secretary Sanjay Kumar Panda.

Please login or register to see the full article
<< Start < Prev 1 2 3 4 5 6 7 8 9

10

Next > End >>