Business
| | |
| --- | --- |
| Singapore's Jewish Business Forum invites Sheldon and Miriam Adelson | |
Singapore's Jewish Business Forum (JBF) celebrated its 3rd and largest event on 5 August – a Q&A session with the American business magnate and philanthropist couple Sheldon and Dr. Miriam Adelson.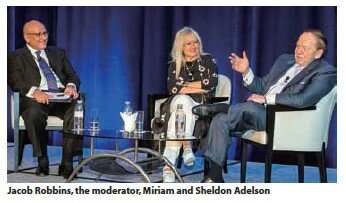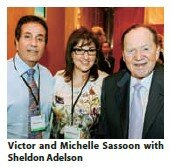 Over 340 members from across the spectrum of the business community gathered at the Marina Bay Sands for cocktails, kosher dinner and networking, followed by the dialogue session. This provided members with an opportunity to mingle and create new connections, a key goal of the Jewish business forum.
During the two-hour long conversation, Mr Adelson shared his views on Israelipolitics, the peace process, Jewish life, philanthropy, and of course, business. Those present learned his formula for success, such as "always change the status quo" and "make sure you understand financing and marketing, everything else can be done by the product experts." Mr. Adelson also regaled the crowd with stories of his rags-to-riches upbringing and described how the son of two immigrant parents became the 15th richest billionaire, according to Forbes. He spoke at length about his philanthropic endeavours which focus heavily on Israel and the Jewish people,two causes which have become the couple's highest priority.
Dr. Miriam Adelson shared her passion for Jewish causes, education and public health. She also stressed the importance of remaining humble and teaching your children the value of hard work and charity.
The event was followed by a delicious dessert reception, where a farewell cake was served to Israeli Ambassador and JBF Honorary Member Amira Arnon, who will be returning to Israel shortly.
Please login or register to see the full article
| | |
| --- | --- |
| Israel-China free trade agreement being studied | |

On a recent official visit to China in July, Minister of the Economy Naftali Bennett, announced that he has reached an agreement with leading figures in the Chinese administration to conduct a special survey to examine the degree to which a free trade policy would be worthwhile, prior to signing a free trade agreement.

According to Globes newswires, sources in Bennett's entourage said that Israel has recently expressed major interest in conducting such a survey. Bennett was leading a delegation to China of leading Israeli ministry officials and industrialists. Officials in the Ministry of the Economy said that prior to Bennett's current round of meetings with Chinese leaders, both sides had already conducted internal surveys of how worthwhile such a bilateral free trade agreement would be and indications were that economic activity between the two countries would grow.

Estimates are that it will take one to two years to complete the survey and its results will form the basis for a free trade agreement. Bennett told Globes,"Trade between Israel and China totals about US$8 billion annually and forecasts are that such an agreementwould considerably increase the amount so that more and more small and medium Israeli companies could become involved in bilateral economic activities with China."

Please login or register to see the full article

| | | |
| --- | --- | --- |
| Samsung Electronics acquires Boxee | | |

South Korea's Samsung Electronics Company has confirmed the acquisition of Israel's digital recorder firm Boxee Inc, a manufacturer of set-top boxes that can record television broadcasts and at the same time stream online videos.

Samsung refused to disclose terms of the purchase transaction but well-placed sources claim that the deal cost about US$30 million. It also reportedly agreed to continue employment of the acquired firm's 40 workers.

Boxee also creates video-streaming applications that are specifically for devices that are based on Apple Inc'siOS operating system and Google Inc's Android. The acquisition would help the South Korean company to further improve its line of products, particularly online connected devices.

| | |
| --- | --- |
| Israeli companies at Thai Water 2013 Expo | |

Ten Israeli companies with diversified water management expertise exhibited under the Israel Pavilion at the Thai Water 2013 Expo. The exhibition was held during 5-8 June at BITEC-Bangna, Bangkok.

Thai Water 2013, was the 2nd international exhibition providing working solutions in water, waste-water technology, desalination, irrigation and water resource management.

Admission was for trade professionals, government agencies, private organisations and to the general public.

In addition to the Israel pavilion, other countries exhibited including; Canada, China, Taiwan, Singapore and SouthKorea. Many forums were arranged for participants.

Please login or register to see the full article

| | |
| --- | --- |
| Finding a good honey for the Jewish New Year | |

With the Jewish New Year / Rosh Hashanah just around the corner, it is customary for families to purchase a new honey for the New Year festival.

Apart from the special blessing we make on the eve of Rosh Hashanah with the symbolic dipping of honey with apple, the consumption of honey is also to substitute the use of salt during hamotzei for the Shabbat and for the 7 day Festival of Sukkot. It is worth looking at some premium honey products for the coming High Holidays.

NZFOCUS located in the Wanchai district of Hong Kong offers a wide range of carefully selected natural and high-quality imported products from New Zealand. This includes Manuka honey which is a monofloral honey produced only in New Zealand and Australia from the nectar of the manuka tree.

The product is world famous for its rarity and its unique properties even therapeutic ones. Different from other honey, the Manuka honey is very stable and resistant to heat, light as well as certain enzymes in the body. It protects against bacteria, assists on natural healing of wounds and improves the immune system. Honey also helps symptoms of sore throat, constipation and indigestion and some times in healing cuts, wounds, eczema and stomach ulcers.

Please login or register to see the full article
<< Start < Prev 1 2 3 4 5 6 7 8 9

10

Next > End >>