Business
| | |
| --- | --- |
| China-Israel Diamond Week in Shenzhen | |
The first China-Israel Diamond Week was held in Shenzhen from 1 to 4 April. It was organised jointly by the Israel Diamond Exchange (IDE), the Shanghai Diamond Exchange (SDE) and Guangdong Land Holding Ltd. (GDLand).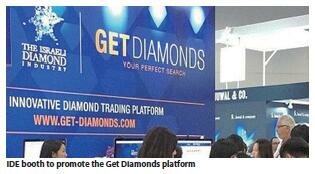 The event included a daylong seminar, the China-Israel Diamond Forum, at which each of the organisers had an opportunity to give presentations and introduce their services. The forum culminated with the signing of a memorandum of co-operation between all of the parties.
The highlight of the event was the China-Israel Diamond Sales Meet, where Israeli exhibitors presented their goods to Chinese diamond buyers. The event also included special visits to diamond jewellery manufacturing facilities in the area, as well as social and networking events.
Please login or register to see the full article
| | |
| --- | --- |
| Family business educates clients about investing in precious metals | |

Affluent individuals have an abundance of choices for investing their funds, and one alternative or complementary vehicle for building or diversifying an investment portfolio is precious metals.

One company that helps such individuals to understand the importance of gold and other precious commodities is J. Rotbart & Co, which recently celebrated its third anniversary in Hong Kong. The company hosted a special reception for invited guests in March.

Israeli-born Joshua Rotbart is the founder and managing partner. He previously worked for Malca-Amit, a secure logistics company in Hong Kong, and has advised hundreds of clients on their portfolios of physical precious metals.

His brother Zvika Rotbart is responsible for business development, and a third brother, Jonathan Rotbart, is a fellow director. Together with their team, the three brothers have quickly established a niche operation, helping high-net-worth individuals, investment firms and private banks to invest in physical precious metals – gold, silver, platinum and palladium.

Please login or register to see the full article

| | |
| --- | --- |
| Nepal Airlines looking to expand flight destinations – Israel on the radar | |

Local media in Nepal reported recently that state-owned Nepal Airlines Corporation (NAC) is planning to fly to new destinations, including Israel. New aircraft have been ordered, and the country has despatched technical teams to many destinations to hold discussions.

For now, NAC's top priority destination is Japan, followed by China and Saudi Arabia, according to NAC Executive Chairman Madan Kharel. "We will then focus on extending flights to Israel," he said. NAC has sought permission to use Saudi Arabia's airspace to fly to Israel. "If we get the permission, we will immediately start flying to Israel," Kharel said.

NAC is also planning to fly to countries with a significant Buddhist population. This preparation is being made as the first phase of construction of Gautam Buddha International Airport is nearing completion. The new international airport is located near Lumbini, the birthplace of Buddha. "Lots of tourists from Sri Lanka, Vietnam and Cambodia visit Lumbini," said Kharel.

Currently, NAC is conducting international flights with two wide-body and two narrowbody Airbus aircraft and one Boeing 757 to eight international destinations: New Delhi, Bangalore, Mumbai, Kuala Lumpur, Bangkok, Hong Kong, Doha and Dubai.

Please login or register to see the full article

| | |
| --- | --- |
| InfinityAR joins Alibaba Group's Israel operations | |

Israeli startup Infinity Augmented Reality, based in Ramat Gan, announced on 21 March that it has been acquired by Chinese ecommerce company Alibaba Group.

It will join Alibaba's Israel Machine Vision Laboratory after a three-year partnership, a collaborative effort to accelerate the development of frontier technologies, including AR, computer vision and AI.

"We look forward to be joining Alibaba, a world-class, innovative global technology company. Alibaba's expertise in turning technologies into next-generation products will be a great platform for the future technologies of computer vision, AR and AI," said Motti Kushnir, Chief Executive Officer and Co-founder of Infinity Augmented Reality.

Prof. Lihi Zelnik-Manor, head of Alibaba Israel Machine Vision Laboratory, said: "Alibaba is delighted to be working with InfinityAR as one team after three years of partnership. The talented team brings unique know-how in sensor fusion, computer vision and navigation technologies. We look forward to exploring these leading technologies and offering additional benefits to customers, partners and developers."

InfinityAR's research and development team will now be working from Alibaba's lab in Israel, which is one of the labs rolled out by Alibaba's DAMO Academy to explore fundamental technologies such as computer vision and navigation.

Please login or register to see the full article

| | |
| --- | --- |
| Thailand's Singha beer company partners with SOSA | |

Thailand's Singha Corporation Co. Ltd., the holding company of the maker of Singha beer, has joined the network of Tel Avivand New York-based open innovation platform hub South of Salame (SOSA).

The Singha Corporation is a leading Thai conglomerate producing alcoholic and non-alcoholic beverages, food products and other consumer goods sold in more than 50 countries worldwide.

SOSA was founded in Israel in 2014 by a group of angel investors and venture firms, and started out by offering coworking facilities. SOSA operates in Tel Aviv and New York, and reports a network of more than 10,000 startups and 150 venture capital and corporate investors.

Please login or register to see the full article
<< Start < Prev 11 12 13

14

15 16 17 18 19 20 Next > End >>