News
| | |
| --- | --- |
| Chinese media centre launched in Israel | |
A college in Israel has launched a Chinese media centre the first of its kind in the Middle East.
The Chinese Media Centre at the College of ManagementAcademic Studies in Rishon Lezion is part of the School of Media Studies.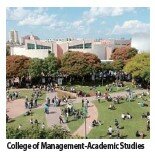 According to the college, the centre will maintain a "proactive dialogue" with the Chinese media and conduct research of the media systems in greater China. The centre will be in regular contact with Chinese media to facilitate a greater understanding of Israel by the Chinese media. It also expects to have scholarly and professional exchanges of students and journalists.
"Chinese media is highly interested in Israel, particularly in non-political content," according to Alex Pevzner, the center's founding director. "Stories about Israel, which focus on Israel's strengths in fields of high importance to the Chinese, such as food security and agri-tech, high-tech, med-tech and clean energy, can help cement both economic and political ties between the two nations."
Please login or register to see the full article
| | |
| --- | --- |
| South Korea to purchase Israeli radars for air surveillance | |

In response to the discoveries of three suspected North Korean drones in less than a month on South Korean soil, the government in Seoul said that it would be adopting Israel's tactical air surveillance radar system.

A government source said an emergency budget of around US$19 million will be drawn up to purchase 10 low-altitude radars this year. The RPS-42 radars will be deployed at key government facilities, including the presidential office and on the west coast next year.

South Korea's current radars are not capable of detecting the North's small-sized drones, but the newly adopted Israeli system is. It can detect all types of aerial objects as small as half a metre in size within a 30-kilo-metre radius, and has an altitude range of 10 kilometres.

Please login or register to see the full article

| | |
| --- | --- |
| CHINA - ISRAEL TRADE TO DOUBLE ACCORDING TO NEW ECONOMIC REPORT | |

Extracts recently released from an Annual Report 2013 from the Bank of Israel, the central bank of the State of Israel has examined the impact of China's economy on Israel's exports to China.

As China's economy develops to be the most significant economic power in global trade, the report sites that China's imports will make it possible to double China's share in Israel's xports, from 5% currently to 10 % by the year 2035.

The report expects Israel's share of Chinese imports to remain constant in the future. Israeli exports are not sensitive to changes in the level of development of destination ountries, and because based on previous experience, the composition of imports in East Asian countries (Japan, South
Korea and Taiwan) did not change markedly as a result of their development processes.

Israel's share of China's mports has been maintained over recent years, which is an achievement in view of the increasing shift of Chinese trade to within the Asian bloc.

However, the report indicates that this success has been limited to just two industries: fertilizers and electronics (electronic components). For the forecasted rowth to be maintained the report highlights development in additional export fields, such as environmental, agricultural and water technologies key areas in which China has a need and Israel has a relative advantage.

Please login or register to see the full article

| | |
| --- | --- |
| Asian bidder looking to buy Israeli satellite operator | |

Hong Kong's Asia Satellite Telecommunications Company Limited (AsiaSat), announced it is one of the bidders to buy Space Com a leading global fixed satellite operator, operating the advanced AMOS satellite fleet.

Space Com's controlling shareholder Eurocom Group, which holds a 64.5% stake in the company is reportedly interested in selling Space Com for 2 billion shekels (US$700.6 million) double its current market value on the Tel Aviv Stock Exchange.

Eurocom is Israel's largest privately owned communication group; additional shareholders of Space Com include Clal Group, Mer Services Group and General Satellite Services Co. Space Com has hired investment bank J.P. Morgan to advise it regarding any possible deals. However, the company stated in its announcement that a possible sale was still only in the preliminary stages and there was no guarantee that any deal would take place. Its operating profit during the past 12-month period was US$63 million.

Space Com provides satellite communication services through its satellites Amos 2, Amos 3 and Amos 5. Last year the company launched its satellite Amos 4 to provide satellite communication services to East Asia, Russia and the Middle East. The company signed an agreement with Israel Aerospace Industries to purchase a new satellite, the Amos 6, to upgrade the services it provides and replace the Amos 2, which is expected to cease commercial use in 2016.

Please login or register to see the full article

| | |
| --- | --- |
| India's Army Chief visits Israel | |

General Bikram Singh, Chief of the Army Staff of India, arrived in Israel on an official visit on 21 March for a four day visit.

The IDF Honour Guard formally welcomed General Singh at Camp Rabbin (Kiriya) in Tel Aviv. The military general met with the IDF Chief of the General Staff, Lieutenant General Benjamin "Benny" Gantz and the Commander of IDF Ground Forces, Major General Guy Tzur.

These meetings focused on the close military cooperation between the two states. The military chief also toured Israeli military bases, where he was briefed on the operational procedures of the Ground Forces.

General Singh discussed ongoing defence projects and ways of further strengthening military ties. The issue of delays in the completion of the mediumrange surface-to-air missile systems was expected to come up for discussion during the talks, a spokesperson for India's Army official commented. Israel is one of the major suppliers of weapon systems to the Indian armed forces including critical equipment such as assault rifles for the Special Forces.

Major General Guy Zur had visited India last year and discussed the security situation in and around the region with the top military and political leadership. Israel has been building strong military-to-military relations with India in recent years and has emerged as the second largest defence supplier to India behind only Russia in the last decade-and-a-half.

Please login or register to see the full article
<< Start < Prev 1 2 3

4

5 6 7 8 9 10 Next > End >>