News
| | |
| --- | --- |
| Israel finishes in second place in solar competition | |
Israel's recent participation at the Solar Decathlon China design competition was a success. The Israel house took second place in the architecture category. It was the first time that a team from Israel participated in a solar decathlon.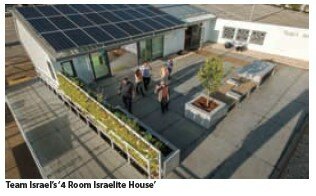 Originally founded by the US Department of Energy, the solar decathlon competition encourages architecture, design, and engineering students to build a small, transportable solar powered home using the most current technology available.
Israel's innovative design was based on pre-industrial ingenuity without the benefit of "smart systems" other than their own. It draws much of its inspiration from the Mediterranean "4 Room Israelite House," an ancient building archetype found in archaeological remains in the region from 3500 years ago, with rooms built around a central courtyard. Windows, walls, and floors are made to collect, store, and distribute solar energy in the form of heat in the winter and reject excessive heat in the summer.
Please login or register to see the full article
| | | |
| --- | --- | --- |
| Israel and China look to expand air traffic | | |

Israel's Transportation Minister Yisrael Katz announced the signing of an agreement in August between Israel and China that will significantly increase the frequency of flights between the two countries.

The agreement also included provisions for additional airlines in the two countries to operate regular flights. In addition, the airlines of each country will be able to operate 14 passenger flights and 7 cargo flights a week.

Direct government involvement over recent years partly fueled by inward China tourism to Israel and increase trade has led to increase demand for more frequency of flights. This has been a major stumbling block to implement by the two countries.

(Issue October 2013)

| | |
| --- | --- |
| New Chief Rabbi announced for UK and Commonwealth | |

Rabbi Ephraim Mirvis has been installed as the new Chief Rabbi of the UK and Commonwealth in a special ceremony held in August at St Johns Wood Synagogue.

The former Chief Rabbi of Ireland succeeds Lord Jonathan Sacks, who has held the post since 1991. The Prince of Wales and other faith leaders attended the event.

Rabbi Mirvis becomes the 11th Chief Rabbi. He was chosen after a two-year search. The son and grandson of rabbis, he was born in Johannesburg, South Africa. In 1956 he became Chief Rabbi of Ireland at the age of 28. Rabbi Mirvis was a rabbi in Dublin before his appointment in 1985, a post he held until 1992.

Since 1996, Rabbi Mirvis, was the rabbi at Finchley Kinloss Synagogue in north London one of the biggest congregations in London. There, he created the Kinloss Learning Centre, a successful community education programme which served as a model for other Jewish communities. He also founded the Morasha Jewish Primary School, of which he is honorary principal, and the Kinloss Community Kollel, an institute for advanced study of the Talmud.

Please login or register to see the full article

| | |
| --- | --- |
| Foreign workers from Asia make up largest sector | |

Figures released by Central Bureau of Statistics revealed at the end of 2012 Israel had 109,000 foreign workers who entered the country with a work permit.

Of the foreign workers, around 68% are from Asia. Former Soviet Union countries top the list with some 5,800 workers. This is followed by the Philippines with 5,000 workers, Thailand with 3,800 workers and India with some 3,400 workers.

In addition, about 2,100 workers came from Sri Lanka, 1,900 from China and 1,600 from Nepal. Their average age is 39.4, and 52% of them are men.

Last year, for the first time, more foreign workers arrived from Bulgaria than from Romania respectively).

Please login or register to see the full article

| | |
| --- | --- |
| HONG KONG-CHINA TEAM WIN 10 MEDALS AT THE 19TH MACCABIAH GAMES | |

A victorious and jubilant Hong Kong-China team of athletes arrived back on 4 August from the 19th Maccabiah Games held in Israel. Otherwise known as the Jewish Olympics, the 17-person delegation won 10 medals, a remarkable achievement by such a small number of participants.

This was the second delegation from Hong Kong-China to participate in the Games which ran from 18-30 July. Approximately 9000 athletes, delegations from more than 70 countries participated in more than forty different sporting competitions. The games are divided into four separate competitions: Juniors, Open, Masters and Paralympics.

The very first Maccabiah Games took place in 1932 and they are now the third largest sporting event in the world, after the Olympics and the Commonwealth Games. They take place every four years, all of the athletes are Jewish and the games are always held in Israel.

The opening ceremony took place at the Teddy Kollek Stadium in Jerusalem, Israel's national stadium, before a crowd of 35,000 in the presence of Israel's President Shimon Peres, Prime Minister Benjamin Netanyahu and numerous ambassadors from around the world. US President Barak Obama and UK's Prime Minister David Cameron gave speeches by video.

The Hong Kong-China delegation proudly marched into the stadium carrying the Hong Kong and China flags. The Hong Kong flag bearer was Aaron Zweig, para-swimmer athlete and the China flag bearer was Bernie Pomeranc, tennis participant. The team received overwhelming support from a large delegation of Hong Kong supporters who travelled to Israel, together with a large contingent of supporters re-located from Hong Kong to Israel and supporters from the Chinese community in Israel.

Hong Kong's progress to be part of a major global Jewish event was orchestrated through the tireless effort and hard work of Rafael Aharoni, Chairman of the Maccabi World Union Hong Kong chapter which he founded in 2004. Mr Aharoni remembers the first delegation which was sent out from the region for the 2005 games which included 12 athletes. Under the chairmanship of Rafael Aharoni and the leadership of Neil Hyman and Daniel Gordon, Maccabi has grown significantly in Hong Kong over the last five years.

Please login or register to see the full article
<< Start < Prev 1 2 3

4

5 6 7 8 9 10 Next > End >>