News
| | |
| --- | --- |
| Israel's Deputy Foreign Minister visits Vietnam | |
Israel's Deputy Foreign Minister Tzipi Hotovely completed an official visit to Vietnam in August.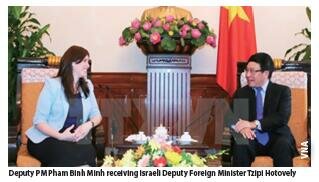 This was her first visit to South East Asia since her appointment, and was further evidence of Israel's commitment to strengthening the bilateral relationship with Vietnam.
At her meetings with Deputy Prime Minister and Foreign Minister Pham Binh Minh, Vice Foreign Minister Vu Hong Nam and senior Communist Party members, Deputy Foreign Minister Hotovely discussed a variety of political and economic topics. Including the promotion of a free trade agreement, reducing barriers for Israeli businessmen, industrial and agricultural R&D agreements, technological cooperation, and new opportunities that will elevate the trade and economic co-operation between Israel and Vietnam to new heights.
Please login or register to see the full article
| | |
| --- | --- |
| Nazi train worth millions of dollars has likely been found in Poland | |

With evidence mounting that a Nazi train loaded with millions of dollars worth of plundered items has been found in Poland, the World Jewish Congress urged the Polish government to ensure that any goods stolen are returned to their legitimate owners or their heirs.

Polish Deputy Culture Minister Piotr Zuchowski announced that he has seen a ground-penetrating radar image indicating that the train, which two unidentified individuals claimed to have located recently, likely exists.

Soon after the announcement, World Jewish Congress CEO Robert Singer said in a statement: "To the extent that any items now being discovered in Poland may have been stolen from Jews before they were sent to death, concentration or forced labour camps, it is essential that every measure is taken to return the property to its rightful owners or to their heirs."

The train is believed to be one that reportedly disappeared in 1945 loaded with gold, gems, art and guns bound for Berlin. It was allegedly one of several trains the Nazis used in an attempt to save their war plunder from the advancing Allies. According to local lore, the train vanished after entering a network of tunnels under the Owl Mountains.

Please login or register to see the full article

| | |
| --- | --- |
| ASIAN CARRIERS NOW GETTING CLEARANCE TO FLY ISRAEL | |

Flying direct between Israel and various cities in Asia will soon be a reality as yet another aviation agreement was signed in Tokyo in July, between Israel and Japan.

With high demand around the region for flights to Israel as a tourist and business destination, the opportunity to add more flights and routes has been a major sticking point in the region for many years. Israel's national carrier, EL AL Israel Airlines, has been the major provider.

Israeli and Japanese airlines will jointly operate up to 14 weekly flights in each direction. The new aviation agreement will allow for the introduction of a regular route between the two countries, although no official starting date has yet been approved.

Currently, there are no direct flights, apart from several charter flights between Osaka and Tel-Aviv for groups of workers from a seaweed factory. Attending the Tokyo talks were Joel Feldschuh, director-general of the Civil Aviation Authority of Israel (CAAI), other CAAI officials, their Japanese counterparts, and representatives of Japan's biggest airlines, Japan Airlines and All Nippon.

During discussion talks, participants also agreed to lift certain restrictions, such as the option to only operate direct flights between Tel-Aviv and Osaka. From now on, the airlines will be permitted to fly to Tokyo and other cities in Japan as well. According to Israel's Tourism Ministry, about 13,000 tourists and businesspeople arrived in Israel from Japan in 2014. Israel's Transportation Minister Yisrael Katz confirmed the details, describing the new aviation agreement as "really good news". Katz added: "This agreement is a direct continuation of my policy to open the skies. I believe that adding destinations in Japan itself, as well as flights, will increase the number of tourists arriving in Israel in the near future. The agreement is also an important component in the government's policy to strengthen Israel's relations with Japan."

Currently, passengers who travel from Israel to Japan do so via connecting flights from Hong Kong or Seoul, where Korean Air operates a direct flight to Tel-Aviv. EL AL provides direct flights from Hong Kong, and also operates to TelAviv from Beijing, Bangkok and Mumbai.

Please login or register to see the full article

| | |
| --- | --- |
| Israeli bees sent to Japan following mass death of local hives | |

As we celebrate the Jewish New Year by traditionally eating honey, colonies of Israeli specialist bumblebees were sent to Japan. They arrived in July to help farmers overcome the damage caused by the severe Japanese bee shortage, which has worsened due to the use of pesticides in rice fields.

The bees flew in airy hives, each including a fertile queen accompanied by fifty drones that take care of all her needs. These particular bees have a a more direct impact on the local farmers and were not raised for honey.

Members of Bio-Bee, in Kibbutz Sde Eliyahu in northern Israel, nurtured and shipped the bees. Upon their arrival in greenhouses across Japan, the Israeli bees got busy pollinating vegetable crops. Without bees, it is nearly impossible to raise some crops.

Bio-Bee bumblebees do not produce honey; they only pollinate. They have been bred to carry out their work even when the weather gets cold, cloudy and rainy, when honey bees turn inactive and prefer to gather inside the hive. While extracting nectar from the flowers, the bees spread the pollen around.

Please login or register to see the full article

| | |
| --- | --- |
| Taipei Economic and Cultural Office and Hebrew University sign MOU | |

Mr. Yun-sheng Chi, Representative of the Taipei Economic and Cultural Office in Tel Aviv, and Professor Dror Wahrman, Dean of the Faculty of Humanities at the Hebrew University of Jerusalem, signed a Memorandum of Understanding (MOU) on 10 August to promote Taiwan Studies.

This MOU is part of a global project of Taiwan's Ministry of Education, in seeking international partnerships to promote worldwide research on Taiwan by offering funding for relevant research and teaching projects.

The Taipei Economic and Cultural Office in Tel Aviv is assisting the Hebrew University to receive the funding. In the coming three years the fund will be used to offer courses related to Taiwanese culture or society in the Department of Asian Studies, to invite Taiwanese scholars to give lectures or workshops, and to purchase databases from Academica Sinica, the Taiwanese academic research centre.

Please login or register to see the full article
<< Start < Prev 1 2 3 4 5

6

7 8 9 10 Next > End >>