News
| | |
| --- | --- |
| Police in the Philippines uncover online scam by Israeli nationals | |
Ongoing investigations are still underway as at least eight Israelis suspected of a multimillion-dollar online scam are in custody in the Philippines after being denied bail by the Philippine Justice Department, according to Philippine media reports.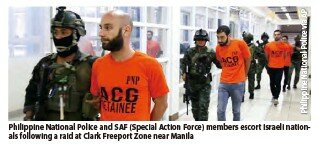 In June almost 500 people were arrested in three adjacent call centre offices run by Israelis. This operation may be the tip of the iceberg and may result in other similar operations worldwide being investigated by Israeli law enforcement.
Police chief Oscar Albayalde said that in one of the Philippines' biggest anti-cybercrime busts in years, 474 Filipino employees and the Israelis were taken into custody following the raid on three buildings in Clark Freeport, a former US Air Force base north of Manila, where the alleged online fraud was committed.
The suspects lured victims into investing in foreign stocks in a purportedly flourishing London-based company then took their money through an online app after obtaining their bank account and credit card details, said Chief Superintendent Marni Marcos, who heads the national police AntiCybercrime Group. The Israeli men were arrested "while in the act of managing, operating and manning the three target buildings," while the Filipinos were caught communicating and doing online transactions with foreign clients from Europe, New Zealand, Australia, South Africa and Russia, Albayalde said in a statement.
Please login or register to see the full article
| | |
| --- | --- |
| Israel to reduce visa fee for Indian travellers | |

To strengthen its relationship with India, the Israeli Government has reduced the visa fee for Indian travellers from Indian Rupees 1,700 to 1,100. The revised fee is applicable to the B2 visa category, which is for people travelling for business, meeting/conference or tourism purposes.

In the past three years, the number of Indian tourists visiting the country has increased significantly. Hassan Madah, Director, Israel Ministry of Tourism Director (India & Philippines), said: "We are happy to announce the reduction in visa fees for Indian travellers with immediate effect. I am confident that this move will encourage more people to choose Israel as a holiday destination and boost inbound numbers from India."

He mentioned that with the introduction of Fast Track visa processing few months back, Israel experienced a significant boost in its travel industry and that he was confident the reduced visa application fee would help raise those numbers.

Please login or register to see the full article

| | |
| --- | --- |
| Australia will not move its embassy | |

Australia's Foreign Affairs Minister, Julie Bishop, has said that Australia will not be moving its embassy to Jerusalem, despite her Liberal Party's support for the move.

The party approved a nonbinding resolution supporting the move and calling for a suspension of aid to Palestine until it stops paying jailed terrorists and their families. The motion was approved by a vote of 43 to 31, the British newspaper The Guardian reported. "While I understand the sentiment behind this resolution, the Australian Government will not be moving our embassy to Jerusalem," Bishop said, according to the newspaper.

Please login or register to see the full article

| | | |
| --- | --- | --- |
| Jewish veteran receives MBE from the Queen | | |

A 101-year-old Jewish British veteran of WWII received an honour from the Queen on 1 June for his services to education. Mordaunt Cohen received an MBE (Member of the Order of the British Empire).

Cohen told the Jewish Chronicle he was "deeply humbled" to have been recognised for the years he spent teaching young people about the war and his experiences. Born in Sunderland, he joined the British Army after hearing about the plight of the Jews in Nazi Germany. He served in the jungles of Burma, now Myanmar, with the 251 West African Heavy Anti-Aircraft Unit, commanding Nigerian volunteers. After the war he became chairman of the Association of Jewish ExServicemen, through which he worked to ensure the memory of the thousands of Jewish soldiers who served in the British Army was not forgotten.

(Issue Jul/Aug 2018)

| | |
| --- | --- |
| SINGAPORE AND ISRAEL STOCK EXCHANGES ANNOUNCE PARTNERSHIP TO RAISE CAPITAL | |

Forging closer ties, the Tel Aviv Stock Exchange (TASE) and the Singapore Exchange (SGX) announced on 14 May a partnership focusing on growing capital-raising opportunities for companies, particularly in the technology sector.

SGX is also as a potential bidder for a stake in the Tel Aviv bourse, among a number of foreign stock exchanges that have signed non-disclosure agreements and expressed interest in buying into the exchange. TASE said in January that it was in the process of finding a strategic investor after a slump in trading volumes and around 200 delistings over the past decade, according to Reuters news agency.

TASE and SGX will work together to support technology and healthcare companies that are looking to tap the capital markets to fund their growth plans in Asia and globally. The two exchanges will pro-actively engage with technology companies seeking to penetrate Asian markets, to list on both exchanges. This will include assisting companies during the pre-listing stage, facilitating the listing process and providing issuers with post-listing support by leveraging the networks and platforms of the two exchanges.

Israel enjoys the world's highest per capita number of startups, venture capital investments and amount of R&D spending. Singapore, with the government's supportive policies and commitment to invest in research and innovation, has an established reputation as one of the strongest and most diverse startup ecosystems globally. In the recent "2018 Global Startup Ecosystem Report", Tel Aviv and Singapore were ranked among the top 10 ecosystems in the world. Besides listings, SGX and TASE will explore other related areas of collaboration, including the potential development of a private-market eco-system in Israel and the enhancement of the posttrade connectivity and services between the two markets.

Please login or register to see the full article
<< Start < Prev 1 2 3 4 5 6 7 8 9

10

Next > End >>