News
| | |
| --- | --- |
| CHINESE STUDENTS DEEMED ISRAEL'S GREATEST POTENTIAL AMBASSADORS | |
Another strengthening demonstration of closer academic ties between China and Israel, dozens of Chinese students recently marked the end of the largest-ever extracurricular academic trip to Israel.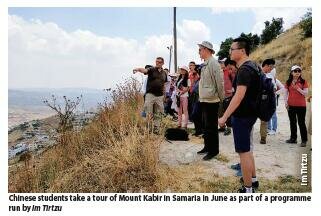 The programme, intended for students from China, is run by non-profit organisation Im Tirtzu (IMTI). They work to nurture the values of Zionism, encouraging sentiment of Israel as a Jewish and democratic state. IMTI are regarded as one of the country's largest, most influential grassroots Zionist organisations. It consists of tours and lectures in Chinese and English, the aims of which being to help the visiting students become "ambassadors for Israel" upon their return to China.
Now finishing its second year at the Hebrew University in Jerusalem, the programme has already brought dozens of Chinese students around the country to places like Hebron, Jerusalem, Sderot, Samaria, Gush Etzion, and the Negev Desert.
According to IMTI, ensuring that these students learn the truth about Israel, and can effectively advocate on behalf of the country whilst in China, is invaluable to it.
Dov Trachtman, who oversees the project for IMTI, said that more and more Chinese students are requesting to join the programme. "The students have a tremendous desire to learn more about Israel and see it firsthand," said Trachtman. "The students especially want to visit Judea, Samaria, and the Gaza periphery, which are integral parts of the Land of Israel that, if not for our programme, they would not have had the opportunity to see."
Please login or register to see the full article
| | |
| --- | --- |
| Nechama Rivlin, wife of Israel's president, dies at 73 | |

Nechama Rivlin, first lady wife to President Reuven Rivlin, died 4 June at the age of 73, a day before her 74th birthday. Her funeral took place a day later on 5 June in Jerusalem.

Mrs. Rivlin was a popular first lady whose interests were trained on the arts, the environment, and children with special needs. She was a trusted adviser to her husband.
The First Lady underwent a lung transplant in March at the Beilinson Hospital in Petah Tikva, having suffered from pulmonary fibrosis for many years. Nine days after the transplant, she underwent another surgical procedure to support the transplant.
 
A statement from the family on 4 June said: "The Rivlin family wishes to thank the people of Israel and religious leaders who have continued to be concerned about Nechama's welfare, who have sent letters and children's drawings to the hospital and the President's Residence and who have prayed for her recovery every day, every hour."
 
The family also expressed their gratitude to "The staff of the Beilinson Hospital in Petah Tikva for their devoted, sensitive and professional treatment during the past few months, night and day, with open hearts and shining faces."

Please login or register to see the full article

| | |
| --- | --- |
| India votes with Israel at UN against group with ties to terror | |

For the first time ever, India voted with Israel at the United Nations against granting observer status to a Palestinian human-rights organisation named Shahed.

As reported by JNS, the motion in June at the UN Economic and Social Council was rejected by a 28-14 tally.

"This is a good sign. [...] India was the first country to support us amongst the Asia group," said Maya Kadosh, Deputy Chief of Mission at the Israel Embassy in India.

According to Kadosh Shahed is connected to the terrorist groups Hezbollah and the Palestinian Islamic Jihad.

Please login or register to see the full article

| | | |
| --- | --- | --- |
| Japanese Military Chief visits Israel | | |

The Chief of Staff of the Japanese Self-Defense Forces, General Kōji Yamazaki, visited Israel on 21 June during a multi-nation Middle East swing.

At the Israel Defense Forces (IDF ) headquarters in Tel-Aviv, Yamazaki was hosted by his Israeli counterpart, Lt. Gen. Aviv Kochavi.

The two discussed the regional security situation and the "potential to further partnership between their militaries," the IDF said.

While in Israel, Yamazaki also met with the commanders of the Air Force and Navy, among other top IDF officers. This marked the first visit to Israel by the Head of Japan's military since the countries established diplomatic relations in the 1950s.

| | |
| --- | --- |
| Istanbul's new airport to house two Synagogues | |

Turkey's new international airport, which will eventually be the world's largest after construction of all terminals completed, has two dedicated Jewish prayer rooms for both Ashkenazi and Sephardic communities, initiated by Turkish Airlines. The new airport officially opened in April 2019.

The prayer rooms are situated in the airport's regular and business class lounges. The city's old Istanbul Atatürk Airport, located on the eastern side of the city, did not have a dedicated Jewish prayer room.

The new airport is the global hub for Turkish Airlines, the world's largest passenger carrier. It conducts flights to 122 countries, including ten daily flights between Tel-Aviv and Istanbul.

"There are more Turkish Airlines flights from Tel-Aviv to Istanbul then from Istanbul to London," said Rabbi Mendy Chitrik, the Chabad emissary and Ashkenazi rabbi of Turkey. "They supply between 600 and 5,000 Kosher meals daily, certified by the Rabbinate of Turkey, under my supervision."

Please login or register to see the full article
<< Start < Prev 1 2 3 4

5

6 7 8 9 10 Next > End >>