News
| | |
| --- | --- |
| JEWISH CITIZEN OF PAKISTAN SEEKS PERMISSION TO TRAVEL TO ISRAEL | |
Fishel Khalid, the only official Jewish resident in Pakistan, is currently appealing to the country's government for clearance to allow him to travel to Israel in time for the Pesach festival in April next year.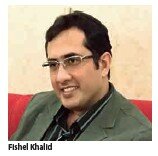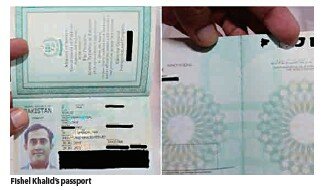 Khalid, who also goes by the name Fishel Benkald, tweeted his request to senior government officials, along with images of his Pakistani passport showing his religion listed as Judaism and specifying that the passport was valid "for all countries of the world except Israel".
Some on social media suggested alternative ways for Khalid to travel to Israel, but the Pakistani Jewish activist has insisted on obtaining an Israeli visa for his Pakistani passport.
In a recent op-ed in Islamabad's Daily Times newspaper, Khalid argued that Pakistan's ban on travel to Israel was a violation of the religious rights afforded to citizens by the country's constitution. He noted that Muslims, Christians and Jews in Pakistan were unable to exercise their right to make religious pilgrimages as a result of the ban on travel to Israel.
As reported in the May 2017 issue of Jewish Times Asia, Pakistan, for the first time since the 1980s, allowed one of its 180 million citizens to publicly register as a Jew.
Fischel Benkald was notified in March 2017 that his religious status in his National Database and Registration Authority profile could be changed from Muslim to Jew.
Please login or register to see the full article
| | |
| --- | --- |
| Philippine President to visit Israel | |

Philippine President Rodrigo Roa Duterte will make an official state visit to Israel from 2 to 5 September. The visit will be the first by a Philippine President since diplomatic ties were established between the two countries 61 years ago, in 1957.

The historic visit will highlight the friendship between Filipinos and Israelis, which began when President Manuel L. Quezon opened the doors of the Philippines as a sanctuary to an estimated 1,300 Jewish refugees who were fleeing the Holocaust.

The President and Israel's Prime Minister Benjamin Netanyahu are expected to discuss common concerns. Duterte will also meet with the President of Israel, Reuven Rivlin.

A business delegation representing various sectors of the Philippine economy will join the visit and participate in a business forum to be keynoted by President Duterte. During the visit, the two governments hope to sign agreements on air traffic, combatting drug trafficking, security issues and agricultural co-operation.

Please login or register to see the full article

| | | |
| --- | --- | --- |
| Indian lawmaker impersonates Hitler | | |

An Indian politician, Naramalli Sivaprasad, showed up to parliament on 9 August dressed as Adolf Hitler, in an attempt to push for more funding for his south-Indian state, Andhra Pradesh.

Apparently this was not the first time that the Indian actorturned-politician had worn a costume to a session of parliament – he has previously dressed as famous characters from Hindu mythology and as a Hindu god.

In his stunt on 9 August, Sivaprasad spoke in character as Hitler: "I started as a soldier in the German army and earned great respect, but I was greedy for power and as a result became responsible for WWII, which resulted in the death of several people and I also killed myself."

(Issue Sep 2018)

| | |
| --- | --- |
| Gujarat grants minority status to its Jewish community | |

The Indian state of Gujarat granted minority status to its Jewish community in July. The decision makes Gujarat the third state in India, after Maharashtra and West Bengal, to recognise Jews as a minority community.

The recognition means that Jews there "shall get benefits of welfare schemes formulated for religious minority communities within the jurisdiction of Gujarat," its government said in a statement, according to The Times of India.

Gujarat is home to about 170 Jews, mostly centered in the western city of Ahmedabad. The city is also home to the only synagogue in the state, the Magen Abraham Synagogue, built in 1934.

Please login or register to see the full article

| | |
| --- | --- |
| Nepal's Energy Minister seeks Israeli investment in the country's energy sector | |

Israel's Ambassador to Nepal Benny Omer paid a courtesy call on Nepali Minister for Energy, Water Resources and Irrigation Barshaman Singh Pun on 30 July. During the meeting at Minister Pun's office, they discussed issues relating to mutual co-operation between the two countries.

Minister Pun, stating that a new era of stability had dawned in the country following the promulgation of a new constitution, urged Ambassador Omer to help create an environment conducive to Israeli investment in Nepal's energy sector.

The Minister said: "There's demand for 10,000 MW of electricity for Nepal in 10 years. We have a favourable investment climate in Nepal for investors in the energy sector. Thus, I urge Israeli investors to consider investment in this sector."

Please login or register to see the full article
<< Start < Prev 1 2 3 4

5

6 7 8 9 10 Next > End >>