| | |
| --- | --- |
| Israeli student wins the International Bible Contest | |
Eyal Yitzhak Matas, a 15-year-old studying at the Darchei Noam High School Yeshiva in Petah Tikva, was declared the winner of this year's International Bible Contest, held in Jerusalem.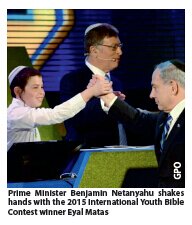 In second place was Udi Algrabli (17) from Jerusalem, a student at the Horev Yeshiva High School in Jerusalem. The two made it to the final stage after answering a series of questions posed by Israel's Prime Minister Benjamin Netanyahu and a panel of judges.
Four Israeli teenagers, as well as three from the US, Canada and Mexico, and other contestants from Panama, Belarus and South Africa competed for the coveted title, showing extraordinary proficiency in the books of the Bible. In third place was Arad Kotzer from Ashdod, and in fourth place was Ryan Raphael Ripsman from Canada. Of the 67 contestants in the preliminary contest, there were 33 different countries represented, which made for a truly international event.
The event, one of Independence Day's major traditions, was held for the 52nd time this year, and its theme was Kibbutz Galuyot (ingathering of the Diasporas).
Please login or register to see the full article