Shanghai
| | | |
| --- | --- | --- |
| The Historic Community of Shanghai, China | | |
The Jewish community of old-Shanghai boasts a rich  history made of distinct waves of immigration and a diverse community representing Bag-hdad, India, Russia, London and most of Eastern and Western Europe once it fell to the Germans.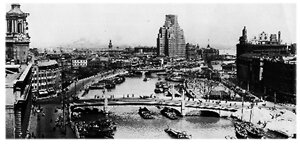 This busy port on the Yangtze River truly made an international name for itself in the nineteenth century as a major port of trade for opium. In the same treaty that ceded Hong Kong to the British, Shanghai, along with four other key ports, was opened to foreign traders as well.
Read more...
| | | |
| --- | --- | --- |
| Shanghai, China Jewish Community | | |

Shanghai sits on the banks of the Yangtze River Delta in East China. The Huangpu River divides Shanghai, segregating Puxi, the city proper, from a newer financial district in Pudong.

It is the largest city in China and serves as one of the country's most important cultural, commercial, financial, industrial and communications centres. It is the largest cargo port in the world and the third busiest in terms of container traffic.

Read more...