| | | |
| --- | --- | --- |
| Dror Cohen- going for the gold | | |
Everything about Dror Cohen says winner: his athletic ability, his drive, his intelligence, his natural charm and his good looks. This gold medal winner is truly larger than life.
And he is confined to a wheelchair. When speaking with Dror about his accomplishments, this fact can somehow become a footnote, an afterthought. It is his character and soul that soar despite his handicap.
But in his words, "it is in the small moments" that the reality of his situation hits- like trying to navigate down a crowded driveway in a wheelchair in order to hail a taxi cab or his inability to pick up his toddler nephew and toss him into the air. This is how he expresses having to "wake up and again realise what you have lost."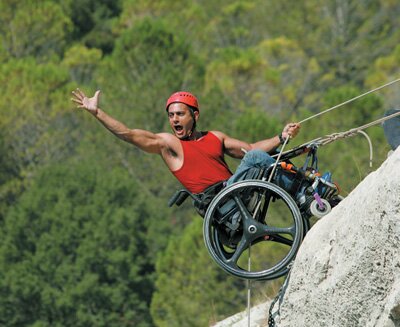 For Dror, the "small moment" that he constantly returns to is watching a couple stroll effortlessly hand in hand down a beach. For Dror this will never be possible.
In 1992 at the age of 24 he was in a car accident that took that walk on the beach away from him for good. Prior to the accident, Dror compared himself to Tom Cruise in Top Gun.
He was once a rising star in the Israeli Air Force, an F-16 combat pilot who worked hard and played hard too. Dror explains, "I was born to be a winner. It was in my soul."
Then one evening, on a seemingly routine transfer to another base, the car Dror was riding in was in an accident. While the other three passengers and the driver virtually dusted themselves off and walked away with only minor injuries, Dror awoke 24 hours later, paralysed from the waist down.
Following "a year of many downs", Dror was able to again harness his winning spirit and as he explains, not reinvent himself, but rather shift focus. When asked about replaying 'what if' scenarios in his mind, Dror is clear that he doesn't allow this. It simply "is not productive or of any use." He retells the story of a friends wedding where, in the early months following the accident, he really felt his loss and broke down.
The wedding was his wakeup call. He explained that it was then that he realised then that "no one wants to be around someone who is down." So Dror searched in his soul and recovered his winning spirit.
Paralysis is his reality as much as winning is. He insists that the accident did not change who he was as a person, his success, he explains comes down to "who he was before." He was forced to "start a new life without a choice." He credits his parents, and the education they provided, for instilling this winning spirit in him.
The former F-16 pilot is a confessed adrenaline junkie and needed an outlet that fi t with his physical limitations. He chose extreme sports. While it is clear that both before and after the accident, he is the type that would try almost anything, he is neither haphazard nor reckless.
He explains the tedious process of first reviewing the sport, recognising his own disability and then tailoring his participation in the particular sport. This often relies on the use of specialised equipment that he admits would not have been available twenty years ago.
Dror Cohen, a gold medallist and world champion in the Paralympics for sailing, is now also an accomplished snow skier, water skier, surfer, diver, rock climber, bungee jumper, race car driver, basketball player and tennis player.
Despite limitless possibilities and the tools to excel in all of them, Dror chose sailing to focus on in part because of his passion for the sea and nostalgia from his childhood, and partly because of logistical considerations.
He has a clear love of snow skiing but as he explains that pursuing this sport on the Paralympics level would have required him to leave Israel in order to train year round. This is where Dror draws the line.
He compares sailing to playing chess, "a real game of smarts", and gets lost in his description of his love of the sea, the wind and the power of natural forces. To Dror, sailing is a true extreme sport because it is nature and the wind that defi ne the conditions and up to the sportsmen to conquer them.
Each sail is a unique challenge. In 2004 he won the gold medal in the Athens Paralympic Games in sailing (Sonar Class) along with Arnon Efrati and Beny Vexler, both IDF disabled veterans.
Their team is amidst the final training preparations for competition in the Beijing Paralympics in August, just two weeks after the "abled Olympics". They are there to defend the gold. Dror describes the feeling of knowing, for that moment, that you are the best in the world in something.
As if the gold medal was not enough, Dror has also made headlines for his participation in the Paris Dakar Rally, the largest off-road rally in the world. He was the first disabled participant in this major world event in which participants race acrossthousands of miles from France to Senegal.
Despite a few bumps in the road, which included a geer shift problem in 2002 and a last minute cancellation of the 2004 event due to a terrorist threat, Dror is focused on participating in this event again in 2010. He was forced to put off Paris Dakar as it was not possible to raise the half million in US dollars he required for the event while simultaneously focusing on the Paralympics sponsorship.
He relishes in the moment his team was given the gold medal and the flag of Israel was raised to the tune of Hatikvah. But when asked what his motivation is for doing all of this is: himself, others in his situation or his country, he says, "make no mistake. All these things are important but this is primarily for me." 
That aside, in 1995 he became one of the founders of Etgarim, which translates to 'challenges'. This Association is a non-profi t organisation that promotes various outdoor sports for the disabled in order to enhance their physical, social and recreational well-being.
While in Hong Kong, he met with Aaron Zweig a student at Carmel School who lost a leg following a severe infection of the heart. He was impressed by Aaron's strength and the strength of the support of his family and the entire Hong Kong Jewish community. Dror hopes that his own message will encourage Aaron to not allow his disability to interfere with his life.
When asked who his hero is, Dror hesitates for perhaps the first time in the interview. He tells the story of his roommate in the rehabilitation facility, a young man who was rendered a quadriplegic after an accident. He says, "That guy-that guy is my hero. I wouldn't be able to do it." He talks about Christopher Reeve and his belief that one day he would walk again and his ability to continue to smile for his family.
Dror does not engage in this sort of discourse or belief. He lives in the moment and moves from one challenge to the next. He explains that, "Life has taught me that he who dares, wins." This is the philosophy that pulled him from that hospital bed and into the spotlight. For him there quite simply is no other way.
Dror Cohen is someone who we would be reading about even in the absence of the accident. He is clear that the accident only put him on a different path. He was someone who was going for the gold all along.
What is the next challenge for Dror? He smiles and says, "Maybe it is time to think about starting a family of my own." It seems that he is preparing to enter a new chapter in his life.
He lives each day by his motto, "believe in what you do." While he will miss out on what he calls the "small moments like a walk on the beach hand in hand," he has many big moments ahead.
 
(Issue May 2008)Â