| | | |
| --- | --- | --- |
| Rabbi Marvin Tokayer - rediscovering Jewish history in Asia | | |
Rabbi Marvin Tokayer continues to travel on unknown roads that reveal the history of our people in Asia. He has traveled many miles from his birthplace in Brooklyn, New York, from West to East and back again countless times on the most unusual journey.
Following his study at the Jewish Theological Seminary of American and his Orthodox Rabbinic ordination in 1962, he enlisted in the United States Air Force as he was informed that, unlike the draftees, he would be able to choose his base. So Europe he chose and to Japan he was sent.
Unbeknownst to him, this trip east would be the spark that would later ignite an incredible life adventure of startling discovery. From 1962- 1964 he served as a chaplain in the U.S. Air Force. While technically based in Japan, he was on a circuit through Asia. Confined to life on the base, he had no opportunity to get a sense of life in Asia.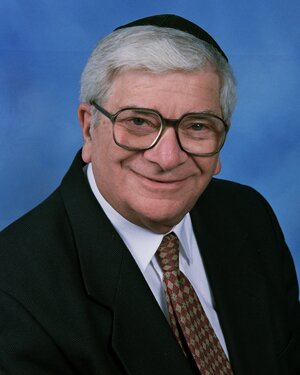 Following his return to the United States and civilian life, he served as a congregational rabbi in New York from 1964-1968. His path seemed clear, that is until an incredible and unexpected encounter with the Rebbe.
While attending a lecture in New York, he raised several questions that the lecturer was unable to respond to other than by replying that, "the Rebbe knows the answer." Although not a member of the Lubavitch movement, he was never-the-less encouraged to write directly to the Rebbe, which to his surprise prompted a two hour face to face encounter with the Rebbe himself.  
When he announced his engagement to Israeli-born Mazal, it was suggested that he send the invitation to the Rebbe who would perhaps make a bracha for him on the occasion of his wedding in 1967.
The Rebbe requested another face to face meeting with Rabbi Tokayer. Rabbi Tokayer explains that, "No matter how I attempted to steer the conversation, the Rebbe was able to direct it back to points east towards Japan." The Rebbe insisted that he and Mazal must go to Japan to serve the Jewish community there. He spoke of his vision with a "Peace Corps like mentality" and stressed that we can not, as Jews, abandon any community.
Rabbi Tokayer describes that despite protests and his "thanks, but no thanks," the rebbe looked at him with his deep blue eyes and said, "now is the time for you to go." Quite frankly, Rabbi Tokayer explains that he was chosen to go to because no one else was willing to go nor capable of uniting this near forgotten community.
Finally, the newly wed couple agreed to go for two years. It was over a decade and four children later before they were able to say ja-ne to their community in Japan where he served at the Rabbi of Japan as well as Vice President and Director of Culture, Religion and Education for the Jewish Communities of the Far East. For many of his years in Japan, he was the only rabbi in the Far East, requiring him to simultaneously serve the needs of communities that includes India, Thailand, Hong Kong, Singapore and Korea.
When he arrived in Japan, the community of Tokyo was comprised of under 1,000 Jews, with a smaller community in Kobe. While there were American Jews and Israelis as well, this was a community with its roots born in the ravages of war. The congregation was made up of Jews from Siberia, Russia, Europe and Iraq who arrived on routes that often took them first through China.
Rabbi Tokayer was unaware that he was about to open the cover and step inside a "community of talking history books". These were truly "rare" books, waiting to be discovered.
His welcoming party alone, was a prologue waiting to be written as community members introduced themselves as Manchurian or Japanese, with family roots that traced the history of the Jewish people in Asia as far back to events such as the establishment of the Trans-Siberian railway or even to early days of Jewish merchants who moved in and out of China, bridging two then very far off worlds.
Once the cover was opened and the prologue beginning to take shape, Rabbi Tokayer needed to learn more about the history of the Jews in China, India and Japan.
Then one day an entire history book in the making was handed to him. A community member revealed that he was in the possession of over 8,000 pages of classified Japanese government documents created between 1934 through 1940 outlining the Fugu Plan to create a haven for Jews in Japan.
Had this plan been implements, countless numbers of Jews could have been saved and the course of history changed. His book, The Fugu Plan: The Untold Story of the Japanese and the Jews During World War II, co-authored by Mary Swartz, details the unbelievable story of the Japanese's plan to harbour Jews in a complex plan to develop relations with the United States and to simultaneously capitalise on the 'extraordinary abilities' possessed by Jews.
The government had 'carefully researched' the Jews based on  the sources available to their intelligence agencies. These 'sources'  even included the Protocols of the Elders of Zion.
While many of their 'sources' were fictionalised and anti-Semitic, the Japanese decided that a 'if you can't beat them, join them' approach would be the most beneficial to the growth of Japan, thus the Fugu Plan was born.
Through his book, based on these intelligence file documents and the testimony of many who lived through this remarkable episode, The Fugu Plan was revealed to the world. Rabbi Tokayer's writing career had been launched and he has been prolific ever since. His works are however inaccessible to most Westerners.
Rabbi Tokayer has published well over twenty books in Japanese and contributed nearly as many articles to Encyclopedia Judaica in Japanese. His first book, in Japanese, Wisdom of the Talmud has sold well over half a million copies and has since been translated into Chinese and Korean. He has written on Jewish wisdom, Jewish humour and similarities between the Jews and the Japanese. It seems as though the Japanese are unable to learn enough about the Jews, but now from true sources.
While still writing, Rabbi Tokayer also serves as a lecturer for Jewish communities worldwide, equally eager to learn more about points east. He has been leading a number of Jewish tour groups through the Far East, giving him the opportunity to travel often between Asia and his home in the United States. On these tours he is able to share the incredible wealth of Jewish history that lies buried in remote and surprising places. Â 
Rabbi Tokayer agrees that life as an expat affords one the opportunity to reinvent oneself. Rabbi Tokayer guided many of his congregants in Asia on exciting journeys inwards into their own souls to rediscover or reconnect with their Judaism. For Rabbi Tokayer, the journey was also outward.
His congregants in Asia guided him on exciting journeys back into the rich histories of the Jews of Asia. The cover has been dusted and the stories of the Jews in Asia have again come alive.
 
(Issue March 2008)