| | | |
| --- | --- | --- |
| Introducing Consul-General Dan Ben Eliezer | | |
Hong Kong said goodbye in June to Eli and Ornit Avidar, the former Consul General of the State of Israel and his wife. The community recently welcomed his replacement, Consul General Dan Ben- Eliezer.
Consul-General Ben-Eliezer moved to Hong Kong after two years as Ambassador to the Kingdom of Nepal, a country that is at the same time both close to and worlds away from the SAR.
Israel and Nepal are connected through tourism. "Eleven thousand Israelis visited Nepal in 2004," remarked Consul- General Ben-Eliezer, "Eleven hundred attended a seder in Kathmandu last spring."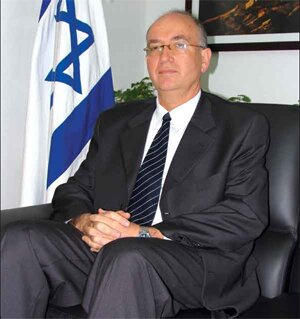 But not all Israeli trekkers are young people "seeing the world" after their military service. And sometimes an ambassador with just the right contacts can really help people in need. It was through an Israeli tourist that Ambassador Ben- Eliezer was able to help a gutsy young Nepali woman, 22-yearold Roma Neupane.
Ms. Neupane lost a leg as a child, but that didn't dampen her enthusiasm for dancing. When her situation was brought to Ambassador Ben-Eliezer's attention, he contacted Professor Eli Isakov, the head of orthopaedic rehabilitation at Lowenstein Hospital, who happened to be trekking at the time in the Himalayan kingdom. In August 2004, Ms. Neupane went to Israel to be fitted with a prosthesis.
During Ambassador Ben- Eliezer's tenure, Israel was actively helping Nepal, a largely agricultural nation, to benefit from Israeli agricultural technology. Other areas in which the two governments were working together are telecommunications, microfinancing projects for women, and early child education, in collaboration with Unesco.
Add to this the occasional trekker needing rescue and you have a more complete picture of the contrast between a diplomat's activities in Nepal and Hong Kong.
But even before his Nepal posting, Consul-General Ben- Eliezer was involved in projects that involved nation-building and infrastructure. He served as Director of the Projects Department for the Center for International Cooperation (MASHAV) of the Ministry of Foreign Affairs in Israel.
Conceived by David Ben-Gurion in the 1950's, the Center's mission is making available to developing countries and countries in transition expertise the state of Israel gained through its own establishment and structural development.
Projects in infrastructure development, agriculture, women's and children's welfare, the environment, and public health are supported by theCentre by means of the secondment of staff to developing nations as project managers and facilitators.
During his tenure at MASHAV, Consul-General Ben-Eliezer won the Director General's Award for his work promoting and sharing Israeli know-how and technology, helping to implement projects in developing countries and countries in transition.
Consul-General Ben Eliezer holds a BA in Political Science from Hebrew University and an MA from Tel Aviv University. He joined the Foreign Ministry in 1978. He served as attaché in the Israeli Embassy in Bonn (for the former West Germany); as First Secretary in the Israeli Embassy in Greece, as First Secretary in Fiji, and as Consul for Press and Information in the Consulate General in Los Angeles. Two years in the UN as Deputy Director of the International Economic Organizations Department followed.
As Consul-General in Hong Kong, Mr. Ben-Eliezer won't be rescuing any stranded trekkers. He sees his role as helping to strengthen ties between Hong Kong and Israel, and also working to broaden ties between Hong Kong, Israel and China.
Hong Kong is Israel's biggest trading partner in Asia, with over US$3 billion worth of trade exchange in 2005. High-tech and diamonds are among the strong areas of trade now, but Consul-General Ben- Eliezer hopes to broaden the scope of trade to areas such as environmental technology, renewable energy, and solid waste management. .
With desertification in northern China a real concern, water-purification technology, in which Israel is a leader, is another trade avenue that Consul- General Ben-Eliezer hopes to explore, along with increased involvement with small- and medium-sized enterprises.
Consul-General Ben- Eliezer believes that Cepa, the Closer Economic Partnership Agreement, is a valuable pathway for Israeli and Hong Kong businesses to cooperate more in projects in China. In addition, two organizations have recently been formed to promote tri-lateral trade.
One of them, the China/ Hong Kong-Israel Investment Council, held its sixth meeting in January 2006. In attendance were representatives from the Chinese government, the Consulate General of Israel in Hong Kong and the Israeli Embassy in Beijing, Hong Kong companies in investment banking, infrastructure, telecommunications and technology, and Israeli companies in venture capital, safety and security, and environmental technology. Dr. Miron Mushkat is the chairman.
Local entrepreneur Jonathan Choi, President of the SunwahGroup, who headed a delegation to Telecom Israel 2004 Exhibition, is also the chairman of China HK Israel Technology Center, a non-government, non-profit organization with the principal objective to promote technology and business cooperation.
Asked if there were any plans for Hong Kong Chief Executive Donald Tsang to visit Israel, Consul General Ben-Eliezer remarked that Mr. Tsang had been part of former Chief Executive Tung Chee-Hwa's delegation in 1999, and while there were no immediate plans for a visit, he would be most welcome to do so.
Consul General Ben-Eliezer visited Macau in March, meeting with the Chief Executive, as part of another trade initiative. Casinos use Israeli technology,and discussions are ongoing regarding air cargo opportunities at the Macau Airport and other fields of cooperation.
When asked what his hobbies are, Consul-General Ben-Eliezer remarked, "Israelidiplomats never relax!" But having said that, he admitted that he enjoys both outdoor and cultural activities. The new Consul General also admits to being a "geographic bachelor."
His wife, who runs a successful real estate business in Israel, will be joining him here from time to time. Two grown daughters complete the Ben- Eliezer family, one in Israel and the other studying in Australia after ten months in Osaka University.