| | |
| --- | --- |
| Philippine rescue of Jews – AJC symposium | |
The Philippine humanitarian effort to provide sanctuary to Jewish refugees during the Holocaust gained further recognition at a recent symposium held in Jerusalem.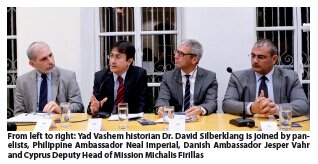 Philippine Ambassador to Israel Neal Imperial was invited to speak on the Jewish rescue on 14 April in a symposium entitled "Ensuring History Doesn't Repeat Itself: Commemorating the Holocaust", organised by the American Jewish Committee (AJC) Jerusalem, a leading global Jewish advocacy organisation. The symposium was part of AJC's activities this year leading up to Holocaust Remembrance Day (Yom HaShoah).
The panelists in the symposium, Ambassador Imperial, Danish Ambassador Jesper Vahr and the Cyprus Embassy's Deputy Head of Mission Michalis Firillas, each spoke of the contribution of their country in assisting Jews to escape persecution in Nazi Germany. Yad Vashem historian and university professor Dr. David Silberklang moderated the panel discussion.
Professor Silberklang highlighted the important role played by Denmark, Cyprus and the Philippines in providing refuge to a large number of Jewish refugees, and the need for these stories of compassion and heroism amid the backdrop of extreme inhumanity and genocide to be told at a time of rising anti-Semitism in Europe.
Imperial cited the role of President Manuel Quezon in the rescue of European Jews who found sanctuary in the Philippines in the late 1930s to early 1940s. President Quezon authorised 10,000 visas for Jews escaping Nazi tyranny, but only about 1,300 were able to reach the Philippines due to the Japanese invasion in 1941.
Please login or register to see the full article