| | | |
| --- | --- | --- |
| Luyu's Present reality TV show shot in Israel | | |
An influx of Chinese tourists to Israel is expected as a popular reality TV show is aired in China.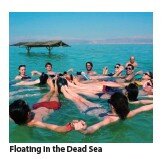 According to Haaretz, Chinese television producer Yin Junjie reported that the number of Chinese tourists visiting the Dead Sea, Masada and a kibbutz called Ortal in the Golan Heights is likely to rise due to the recent filming of a Chinese reality TV show in those locations.
The show, Luyu's Present, is hosted by Chen Yulu, who has been dubbed "China's Oprah". It focuses on Chinese couples who must complete various tasks in foreign locations. The show recently shot part of its upcoming second season during a two-week period in Israel. "Israel is going to be on the map," Yin Junjie said.
(Issue July/August 2015)