| | |
| --- | --- |
| The Jerusalem Season of Culture – celebrating the city | |
The Jerusalem Season of Culture (JSOC) will take place this year from 27 July to 4 September, with a plethora of festivals and highquality events that will expose Jerusalem, celebrate the city, and compel it to confront itself and tell its complex and inspiring story, with the help of both local and international art and creativity.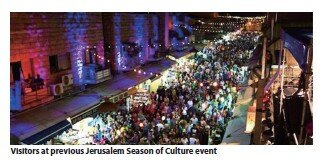 The programme is jampacked with diverse and unique artistic works that showcase Jerusalem as a city with many faces, vibrant and multi-dimensional.
Among the highlights:
The In-House Festival, 27-31 July. This festival features original productions in the city's most intriguing homes. It will extend the idea of what constitutes a home even further and explore the meaning of "home" in public spaces. In the HaKol Galui project, for example, participants, in collaboration with the architectural department of the Bezalel Academy of Art and Design, will exprience a fascinating sound work among the abandoned homes of the Lifta village, where Palestinians lived before being replaced by immigrants from Yemen and Kurdistan.
Contact Point, 6 August. Dozens of artists will gather in the Israel Museum for one frenzied night of live, onetime-only artistic experiences. The museum's 50th anniversary celebrations will include "The Exhibition of Exhibitions that Never Were", showcasing exhibitions that were not staged for various reasons, and "Catalogues", displaying catalogues that have been issued by the museum over the past 50 years.
Knock Knock, 9-13 August. In a standard hotel room in the centre of Jerusalem, you approach the reception desk, check in and receive your key. This is the first step in a unique theatrical experience that will bring the audience together with actors, musicians, chefs, chambermaids, dancers, broadcasters and directors, who will create intimate, surprising and very special experiences.
Please login or register to see the full article