| | |
| --- | --- |
| Hong Kong Jewish Film Festival delivers a wide range of films to suit all tastes | |
The Asia Society's unique rooftop garden, with its stunning views of the Hong Kong skyline, provided the setting for the opening night celebration of the 16th annual Hong Kong Jewish Film Festival on 14 November.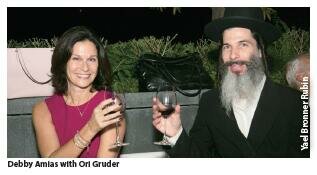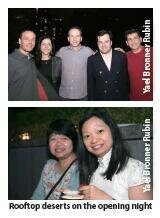 Over 200 people mingled in the warm night air and enjoyed wine, cheese and a delicious array of desserts following a screening of the Hong Kong première of Sabena Hijacking: My Version. The docudrama recalls a real-life episode that riveted the Israeli public in 1972, and the story also kept the opening night audience on the edge of their seats.
The rooftop party kicked off a packed week-long programme of films to suit all tastes, on the theme of "Resilience". Viewers were inspired by films with strong storylines and brave protagonists taking fate into their hands and overcoming a multitude of challenges.
Also well attended were films that were followed by lively Q&A sessions. Ori Gruder captivated the audience with the story of his personal religious journey and the making of Sacred Sperm. Galia Albin spoke movingly about My Mayim, which offers a child's perspective of divorce, while Osnat Sharon led a discussion about "chained women" following the packed screening of The Gett: The Trial of Viviane Amsalem. Hong Kong resident Hadar Shabat presented her experiences of serving in the IDF following Beneath the Helmet, and on the last day of the festival Denes Ban offered insights into the roller-coaster world of startups after the screening of Silicon Wadi. As in previous years, audiences were asked to vote for the best documentary and feature. Winner of the 2015 Feature Award was Fauda, while Rock n the Red Zone won the 2015 Documentary Film Award.
Please login or register to see the full article