| | |
| --- | --- |
| En-route. On Foot. Up Hill screened in Nepal | |
A special screening of the Israeli documentary film Enroute. On Foot. Up Hill took place at the Nepal Tourism Board (NTB) on 15 December, in memory of the late Laxman Ghimire, Managing Director of Swissa Rafting and Trekking Expedition.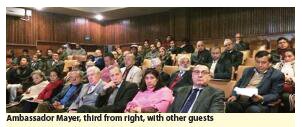 The screening was jointly organised by the Embassy of Israel in Nepal and NTB to acknowledge Laxman and his special friendship with Israel and his care for Israeli tourists. It was also a small step to promote tourism in Nepal.
A special recorded message from Shuka Ravek, the lead in the documentary film and a close friend of Laxman, was shown before the screening. The documentary film, directed by Israeli film-maker Barak Tal, tells an adventure story of a failed attempt by a group of Israelis to cross the highest mountain pass in the Himalayas, which had never been crossed before. On a deeper level, it is a film about the reality in Israel, even though its plot takes place in a different part of the world. Led by an octogenarian who frequently leads people to mountain expeditions, the documentary tells the story of a journey towards fulfillment, reality, passion and the difficulties of life and failure, depicted in a simple yet enthralling way.
Please login or register to see the full article