| | | |
| --- | --- | --- |
| Biography & Memoirs | | |
The Zookeeper's Wife: A War Story
By Diane Ackerman
2008, W.W. Norton & Co., New York, New York 368 pages
Under the Third Reich, animals became noble, mythic, almost angelic -- including humans, of course, but not Slavs, Gypsies, Catholics, or Jews. Although Mengele's subjects could be operated on without any painkillers at all, a remarkable example of Nazi zoophilia is that a leading biologist was once punished for not giving worms enough anesthesia during an experiment.
Diane Ackerman, best known perhaps for her A Natural History of the Senses, is a wonderful and highly acclaimed nature writer. The Zookeeper's Wife is the true story of Jan and Antonia Kabinski, keepers of the Warsaw Zoo. The story of how they became heroes during World War II is truly remarkable. Together they sheltered three hundred Jews from the Warsaw ghetto and managed to hide them in animal cages and sheds. Ackerman has an true talent for crafting visceral descriptions. Her writing is poetry and this unique story was a great read from her unique perspective as a nature writer in a way that can draw in readers of many different genres.
(Reviewed in JTA Issue February 09)
The Man in the White Sharkskin Suit
By Lucette Lagnado
2007, HarperCollins Publishers, New York, New York, 340 pages
Eventually, I came to understand that I was the chosen one, entrusted with the impossible task of taking our shattered family and our lost home... My point of reference became the photograph, so that I found myself always trying to recapture the promise of the wedding portrait and more potent still, the vision of that dashing man in white sharkskin wooing the pretty dark-haired girl in a café in old, vanished Cairo.
The Man in the White Sharkskin Suit is the moving and heartbreaking true tale of Lucette Lagnado's family's journey from Cairo to Paris to New York. Lagnado is able to capture the essence of her family, particularly her father, Leon. Leon is an unforgettable character that comes across almost larger then life. It is the story of the journey of her entire family but truly a portrait of Leon's fall and a daughter's mission to piece together the incredible story of her family's exodus. Lagnado has a wonderful writing story that adds to this epic tale and brings her characters to life.
(Reviewed in JTA Issue Dec 08/Jan 09)
The Rabbi's Daughter
By Reva Mann
2007, A Dial Press Book, New York, , 355 pages
Even though I am on a similar quest, I am different from her…I am the daughter of an Orthodox rabbi, the granddaughter of a Chief Rabbi of Israel. This religious world is familiar to me…Yet I am also learning that there is far more to this world than I was aware of.
The Rabbi's Daughter is the autobiographical journey of Reva Mann to find spirituality. Mann traces her life from her seemingly empty existence as the daughter of an Orthodox rabbi in the UK to a world of drugs, partying and cohabitation with a non-Jewish man. Though lost, a small gesture on the part of her father sends her on a path for spiritual fulfilment in an ultraorthodox women's yeshiva in Israel, but from there her path is still anything but clear. The book is brutally honest and very graphic at times. It questions identity and self acceptance and leaves the reader wondering how anyone in Mann's life can move on after reading this.
(Reviewed in JTA Issue November 2008)
The Jews of Harbin Live on in My Heart
 By Teddy Kaufman
2006, Tel Aviv, Israel, Profil-Design, Production and Publishing Ltd., 191 pages.
In addition to being my parents, my father and mother symbolize for me the history of the Jews of Harbin…I am proud and honoured to be part of it. The love and spiritual link between my father and myself remained strong even during the years of his captivity. When he was finally released, I felt I was given a new father and the close relationship between father and son became stronger.
In the forward to this book, Yossi Klein, refers to Teddy Kaufman as a "walking encyclopedia with regard to the Jewish community of Harbin." While this book is the most comprehensive historical record of this unique Jewish community, it is so much more. Kaufman truly puts his heart in this book that records the personal stories of men and women, like his own parents, who contributed to the building of this Jewish oasis in China. The book is a fascinating account that beautifully preserves a vibrant community of the past.
(Reviewed in JTA Issue August 2007)
Strange Haven — A Jewish Childhood in Wartime Shanghai
By Sigmund Tobias
1999, Chicago, Illinois, University of Illinois Press, 154
When they were not following foreigners or well-dressed Chinese, the beggars sat on the sidewalk, propped up against a wall with flies buzzing all around them, and wailed their sad stories while waving a cup at anyone passing by. At first the beggars cried especially loudly when they saw any of the Jewish refuges, but they soon learned that that we had little to give.
Sigmund Tobias relates the details of his life in Shanghai as a refugee during the Holocaust. His story begins with Kristallnacht, through the eyes of a six year child. Tobias takes the reader on a journey from Germany to the crowded and colourful streets of Shanghai. In Shanghai, while escaping the horrors of Europe, he grows and struggles with many of the same issues common to all young boys. The refugee story is kept alive through this well written personal narrative.
(Reviewed in JTA Issue August 2007)
The Fortune Teller's Kiss
By Brenda Serotte
2006, Lincoln, Nebraska, University of Nebraska Press, 220 pages
Most Turks wore something to ward off the Evil Eye: a bead, a real looking blue eye, a tiny hand, or a small sack of garlic mixed with cloves that was pinned to the underclothing. Beautiful children were the number one target of the Evil Eye, and for that reason they were never to be excessively praised or complimented. Beauty was a curse; combined with talent, it invited disaster.
This is the author's own memoir of growing up in the Bronx as a Sephardic Jew in the 1950s. Serotte recalls how ironically, she was struck by polio just months before the vaccine was perfected. The Fortune Tellers' Kiss is the vivid story of her struggle to recover imbued with anecdotes from her colorful family. She creates a colorful portrait of an immigrant Sephardic family, complete with the richness of their traditions and superstitions from the 'old world'. Serotte's family comes to life in the reader's imagination.
(Reviewed in JTA Issue March 2007)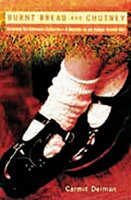 Burnt Bread and Chutney: Growing Up Between Cultures- A Memoir of an Indian Jewish Girl
By Carmit Delman
2002, New York, New York, Ballantine Books, 288 pages
From the outside, no matter the gradations of my mixed heritage, the shadow of my Indian brown skin caused others to automatically perceive me as Hindu or Muslim…Still, I trekked through life with the spirit of a Jew, fleshed out by the unique challenges and wonders of a combined brown-and-white tradition.

Carmit Delman, descendant from Bene Israel, grew up in America. This novel is her 'coming of age' story of her reflections on a unique cultural identity.  She
takes the reader on a wonderful and colorful journey through her experiences
and traditions. She beautiful interweaves tales of her female ancestors from India, as they sing to her through her consciousness. It is a novel that traces her path towards self-acceptance as a child and reconciliation of the pieces that make up her identity. 
(Reviewed in JTA Issue February 2007)
Everything is Illuminated
By Jonathan Safran Foer
2002, New York, New York, Houghton Mifflin Company, 276 pages
It is not out of weakness that I will go to the bath when I am sure that you are asleep, and it is not because I cannot endure. Do you understand? I am complete with happiness, and it is what I must do, and I will do it. Do you understand me? I will walk without noise, and I will open the door in darkness, and I will.
In this debut novel, the author recreates the world of his grandfather.  He journeys through time to find the truths that his family buried long ago and to find the women he believes saved his grandfather's life. This search for one man's roots illuminates the world of European Jewry destroyed by the Nazis. Safron is able to beautifully weave past, present and future using innovative story telling techniques.  Generations are linked to one another and the reader is pulled into that link that breaks the barriers between dream and day.
(Reviewed in JTA Issue November 2006)
Rahel Varnhagen
The Life of a Jewess
By Hannah Arendt, Edited by Liliane Weissberg
Translated by Richard and Claire Winston
1997, The Johns Hopkins University Press, 388 pages
She had let herself be driven by the winds, had stubbornly insisted upon her rights, had resolutely refused to share the general fate of the Jews... And the more she did these things, the more typically Jewish her fate turned out to be.
This work is biography and autobiography interwoven together.  Arendt both retells and creates history.  The birth of this book, in 1933, itself was interrupted when Hitler rose to power forcing Arendt to begin her journey of emigration and leave behind most of her origin sources.  It is the portrait of two extraordinary Jewish women, author and subject, one who lived in the twentieth century and one who lived in the eighteenth century, both of whom struggled for emancipation.  Arendt's fascinating portrait of Rahel Varnhagen transcends time and allows even the modern reader to identify with her personal struggles.
(Reviewed in JTA Issue November 2006)
Journey from the Land of No: A Girlhood Caught in Revolutionary Iran
By Roya Hakakian
2005, New York, Three Rivers Press, 272 pages
When you have been a refugee, abandoned all your loves and belongings, your memories become your belongings.  Images of the past, snippets of old conversations, furnish the work within your mind.  When you have nothing to guard, you guard your memories.  You guard them with silence.  You do not draw your treasures into the light, lest exposure soften their sharp --- sad or gay --- details (the best lesson I ever learned from visiting museums).    
Hakakian's memories become permanently etched into the mind of the reader.  With her poetic-like prose, she is able to take the reader on a journey to the land of No, the Iran of her childhood.  Hakakian recounts her life as a young Jewish girl during the takeover of Ayatollah Khomeini and the radical changes that took place there overnight. The novel not only recounts history, but also traces her own personal evolution and struggle to reconcile her past with her present.
(Reviewed in JTA Issue September 2006)
What do you like to read?

Please submit your book reviews to
Jewish Times Asia.  Please include an excerpt from the book.

Please email: This e-mail address is being protected from spambots. You need JavaScript enabled to view it