| | | |
| --- | --- | --- |
| Spirituality & Faith | | |
The Rebbe's Army
By Sue Fishkoff
2003, Random House, New York, New York, 352 pages
Yes, Chabad is about lighting huge menorahs outside the White House. It's about star-studded telethons and multimillion-dollar girls' schools…But for me, Chabad will always be about a short white-bearded man in a long lack coat running back to an airport terminal to hand me a brown paper bag with a kosher lunch inside, so I shouldn't be hungry on my flight.
This book is a well written and careful examination of the Chabad Lubavitch movement. The author, an award winning journalist, embarks on a one year journey to understand the Lubavitch movement and does not come out untouched by the devotion they have towards Jewish values. The book takes the reader on a journey around the United States to better understand what drives the shlichim to continue to selfl essly work at their task of Jewish outreach. It changes the lense through which the reader will view the Lubavitch movement.
 (Reviewed in JTA Issue October 2008)
Dancing on the Edge of the World
Collected and edited by Miriyam Glazer
2000, Lowell House, Lincolnwood, Illinois, 256 pages
Like an ecstatic artist, an adoring Jewish mother, God gazed out at the living creatures of the newly created Earth and declared, "Be fruitful and multiply!" By creating us in the Divine Image and giving us torah, perhaps God meant to add, "and like me, tell stories." For Torah, the living tree of the Jewish people, overfl ows with stories.
Editor Miriyam Glazer has carefully chosen a vast array of personal memoirs, fi ction, Talmud, poetry and inspiring fables that answer more than just the question of what it means to be Jewish, but speak to the question of truly what it means to be human. The selected passages span the centuries and the continents, but all speak directly to our souls, dancing on the edge of the world. The book is a walk through time and Jewish history connecting us all through our humanity and spirit. Miriyam Glazer's own passage, the namesake of the book, was particularly thought provoking, though each piece will touch the reader in some way.
(Reviewed in JTA Issue April 2008)
 The Blessing of a Skinned Knee
By Wendy Mogel, Ph.D.
2001, New York, New York, Penguin Group, 300 pages
If you don't want to get caught up in the anxiety, materialism, and competition all around us, you must choose some path to walk on with your children. You must name it, follow it, and plan the curriculum for their spiritual education as thoughtfully and intelligently as you plan their academic education.
Mogel, a child psychologist, discusses how in the course of her practice, she lost her 'faith' and began to search for a new approach to counseling. She embarked on a serious study of Judaism as she sought to integrate the age-old lessons into her approach as a psychologist. The book is a beautiful guide as to how to integrate Judaism into our own approach to meeting the emotional needs of our children. She draws on the wisdom of the Torah and the Talmud to help others prioritise their own lives and values. It is an important book for anyone raising Jewish children in our complex modern world.
(Reviewed in JTA Issue June 2007)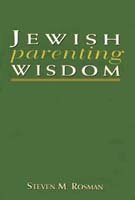 Jewish Parenting Wisdom
By Steven M. Rosman
1997, Jason Aronson Inc., Northvale, New Jersey, 163 pages
Our children are our moral heirs. We are their moral benefactors, their primary moral educators, and their most significant moral mentors and guides. This, above all, may be our chief legacy to our children: morality-an inheritance bequeathed bit by bit, word by word, action by action.

Rabbi Steven Rosman is a holistic psychotherapist, sports nutrition specialist, writer and story-teller. He draws on all of these disciplines to create this guide for parents seeking to enhance their spiritual relationship with their children. The book is divided into chapters, each one titled with a letter of the Hebrew alphabet and presenting a characteristic or guide that speaks to the positive attributes and blessings of our children. Jewish wisdom, Torah and moral teachings come together to guide parents in the creation of a healthy and fulfilling spiritual world for themselves and their children.
(Reviewed in JTA Issue June 2007)Â 
We Jews – Who Are We and What Should We Do?
By Rabbi Adin Steinsaltz
2005, Jossey-Bass/ Wiley, San Francisco, California, 202 pages
Jews in the Diaspora have only two choices. Either they can give up, close shop and say "We are defeated," or they can create a new way, a new hope. If people want to go on, if they have a feeling that there is something in it, if the memory of the half-obliterated document still possesses some compelling power, then the Jewish life…must be rebuilt.
In this thought provoking work, Rabbi Steinsaltz identifies and deconstructs some of the most critical question that we as Jews face. He gives answers to Jews of all denominations and backgrounds to critical questions unique to Jews in the modern world including: Are we a nation or a religion, Are the stereotypes of Jews really true? Is money our God? Are we shattered into pieces? What will become of the Jewish people? We Jews is a must have for all Jews struggling with important questions.
(Reviewed in JTA Issue June 2007)

Jewish with Feeling
By Rabbi Zalman Schachter-Shalomi
2005, Riverhead Books/ Penguin, New York, New York, 267 pages
One of the greatest needs this planet has for healing is a blessing. It is underblessed. Underblessed reality is like empty calories. A blessing enhances the possibilities for good. Like an enzyme for growth, like a catalyst in a chemical process, blessings serve to help a living process surmount the barriers that obstruct it.
Rabbi Zalman Schachter-Shalomi writes this book as a challenge to Jews everywhere to open up and dare to approach our lives with more meaning. He urges us to take responsibility for our own spirituality and guides us through the beginning steps in the process of finding a spiritual and mystical path. He gives suggestions for guiding our children on  the journey along with us but reminds that the change must come from the heart. This is a book that moves the reader to change for themselves, their children and the future of Judaism.
(Reviewed in JTA Issue June 2007)

Moving Home: My Path to Jewish Observance
By Ramona R. Freedman
2004, Jerusalem, Israel, Gefen Books, 195 pages
I closely read the many wedding cards we had received, with wishes for us to create our own faithful Jewish home. Our family and friends hoped that in addition to the physical components, our home would have an atmosphere of spiritual nourishment…I traveled a six-year journey toward Jewish observance, the decision to change my lifestyle and the adjustments and new understanding that these changes entailed.

This is the rich and moving real journey that takes the reader with Ramona Freedman as she connects with her ancestors on a spiritual level. It is an open and honest account of a woman's quest for understanding and comfort. The reader can use this as an instructive map to help them find their way home towards self-improvement, spirituality, understanding and peace.
(Reviewed in JTA Issue February 2007)
Chicken Soup with Chopsticks: A Jew's Struggle for Truth in an Interfaith Relationship
By Jack Botwinik
2006, Ottawa, Canada, Paper Spider, 224 pages
Does God care if I marry a gentile? Even as I started dating a Chinese girl, I knew I was embarking on a remarkable adventure, I just had no idea where and how far the adventure would take me. The more events unfolded, the more I realised that my view of the world and how I lived in it were being profoundly and permanently altered.

This is an autobiographical work that traces the journey of a Jewish man and his Hong Kong Chinese girlfriend. It is an honest disclosure of the struggle of Jack Botwinik to reconcile two very distinct cultures.  This is one man's story that has relevance to many readers living in multicultural societies.  The reader watches though Jack's eyes, as Belinda is transformed into Bina Esther.
(Reviewed in JTA Issue February 2007)
Tears of Sorrow, Seeds of Hope
A Jewish Spiritual Companion for Infertility and Pregnancy Loss
By Rabbi Nina Beth Cardin
1999, Woodstock, Vermont, Jewish Lights Publishing, 172 pages
Rituals support our world, fashion our environment, reinforce our values, and help give form and meaning to that would otherwise be a life of chaos. Rituals speak to us beyond the power of words, through our muscles and skin and breath...Through them, we become more than we are and more fully what we are.  Rituals seek change, not of God, but of us.
Rabbi Cardin creates a moving spiritual companion for women.  The reader is aided in the creation of rituals to fill voids and mourn losses.  Traditional texts are drawn upon and given new meaning, and new sets of prayers and rituals are created.  Out of her experiences, she created this guide to hope and healing. She begins with love poems and mikveh prayers and follows with: prayers for conceptions, prayers for the holidays, mourning loss, medical intervention, pregnancy, stillbirth and ultimately finding peace.
(Reviewed in JTA Issue October 2006)
The Sunflower
On the Possibilities and Limits of Forgiveness
By Simon Wiesenthal
1998 (reprint) New York, New York, New York Schocken Books, 289 pages
The crux of the matter is, of course, the question of forgiveness.  Forgetting is something that time alone takes care of, but forgiveness is an act of volition, and only the sufferer is qualified to make the decision.  You who have just read this sad and tragic episode in my life, can mentally change places with me and ask yourself the crucial question, "What would I have done?"
This book begins with an extraordinary episode during Simon Wiesenthal's imprisonment in a concentration camp.  He was taken to the bedside of a dying SS man who confessed his crimes and sought absolution.  Wiesenthal responded with silence and remained haunted.  Fifty-three world leaders in politics, authorship, law, psychiatrics, human rights advocacy and theology, as well as survivors of the Holocaust and recent attempted genocides, are called upon to answer the same question.  Readers are forced to define their own limits for compassion and forgiveness.
(Reviewed in JTA Issue October 2006)
I am Jewish
Personal Reflections Inspired by the Last Words of Daniel Pearl
Edited by Judea and Ruth Pearl
2004, Woodstock, Vermont, Jewish Lights Press, 260 pages
History will record a tide of horror and madness that swept our planet in the beginning of the third millennium. The basic rules of civilization were violated, and all theories of cognition, common sense, and human values laid shattered and betrayed. History will also record, that in the midst of this chaos, there was a young man who, in a moment of extreme crisis, looked straight in the eye of evil and said: "I am Jewish."
The Pearl's book is an inspiring collection of responses from around the world from artists, entertainers, government leaders, scientists, rabbis, scholars, community organisers, media personalities, and authors, spanning a diverse range of backgrounds and experiences.  The individual pieces explore a number of themes including identity, heritage, faith, chosenness, humanity, ethnicity, justice and tikkun olam. The book is inspiring, emotional and thought provoking.
(Reviewed in JTA Issue October 2006)
THE HASIDIC MASTERS' GUIDE TO MANAGEMENT
By Moshe Kranc
Devora Publishing (Israel), 2004, 262 pages
"Sometimes your best bet is to wait for the Prince to die."
I did a double take when I saw this book on the shelf. But the premise is quite ingenious: Moshe Kranc (who, according to family tradition, is descended from R. Jacob Kranc, the Magid of Dubno, and has worked for over 25 years in hi-tech) uses Hasidic tales to illustrate management points. The result is an informative and entertaining read (doable over Shabbat if you don't take a nap).
The application of Hasidic tales to management works in two ways; firstly, to illustrate a point, and secondly, to directly touch someone on a level outside the point where "management" usually occurs. The truth is that most of us, whether managers or simple employees, are kids at heart, and love a good story.
(Reviewed in JTA Issue June 2006)
THE THIRTEEN-PETALLED ROSE
By Rabbi Adin Steinsaltz
Translated by Yehuda Hanegbi
Basic Books, 181 pages
"The physical world in which we live… is only a part of an inconceivably vast system of worlds. Most … are spiritual in essence… of a different order from our known world."
If your immediate reaction to this is "Huh?" don't react by putting down the book; it is a wonderful read. Rabbi Steinsaltz is much better understood in print than aurally. This short work doesn't continue in this mystical fashion, it's subtitled: A Discourse on the Essence of Jewish Existence and Belief, and has chapters on holiness, Torah, repentance, mitzvoth, as well as "The Search for Oneself" and "An Answer to Ethics." Rabbi Steinsaltz's prose is simple and clear, but elegant, and his ideas, while complex, are not difficult to comprehend. This book outlines a holistic approach to Jewish life that avoids peachiness and introversion.
(Reviewed in JTA Issue June 2006)
What do you like to read?

Please submit your book reviews to
Jewish Times Asia.  Please include an excerpt from the book.

Please email: This e-mail address is being protected from spambots. You need JavaScript enabled to view it